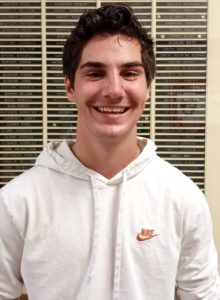 Zach Payment of Lawrence High School Baseball is our WSJM Sports Van Buren/Cass Student Athlete of the Week for the week of April 11, 2021.
Zach helped lead the Tigers to a 3-0 start to begin the season with a win over Marcellus and a doubleheader sweep of Eau Claire. On the mound, he allowed just one hit in going the distance against Eau Claire. He also pitched two innings of relief against Marcellus. At the plate, Zach went 4-8 with three singles, a double, five RBIs, and five runs scored.
Zach is also a member of the Lawrence Football, Basketball, and Track teams, National Honor Society, and Student Council. In the classroom, he carries a 4.08 grade point average.
Zach is the son of Brad and Allison Payment of Lawrence.
Other finalists for the week were Kadyn Hoyt of South Haven Softball, Chris Rainey of South Haven Track, and Addie Curtis of Marcellus Track.
Catch Zach's conversation with Phil McDonald below…
Podcast: Play in new window | Download | Embed
Subscribe: Google Podcasts | Spotify | Stitcher | Email | RSS | More