NCAAMBKB – Men's College Basketball
Last Night
NIT – Round 1
Michigan 90, Toledo 80
Michigan 90, Toledo 80 – Bufkin, Baker lead Michigan past Toledo 90-80 in NIT
Kobe Bufkin scored 23 points, Joey Baker added 21 and Michigan beat Toledo 90-80 in the first round of the NIT. Bufkin sank 8 of 13 shots with three 3-pointers for the Wolverines (18-15), who will advance to play Vanderbilt in a second-round match-up Saturday at noon. Bufkin added eight rebounds and five assists. Baker hit 8 of 11 shots, including 5 of 7 from 3-point range. Hunter Dickinson pitched in with 19 points and nine rebounds. Dug McDaniel finished with 16 points and eight assists. Setric Millner Jr. led the Rockets (27-8) with 19 points.
NCAA First Four – UD Arena, Dayton, OH
16 Texas A&M Corpus Christi 75, 16 Southeast Missouri State 71                      South Region
11 Pittsburgh 60, 11 Mississippi State 59                                                     Midwest Region
Tonight
NCAA First Four – UD Arena, Dayton, OH
Fairleigh Dickinson vs. Texas Southern, 6:40 p.m.                                        East Region
Nevada vs. Arizona State, 9:10 p.m.                                                          West Region
NCAAMBKB – March Madness and Michigan State synonymous under Tom Izzo
Michigan State coach Tom Izzo is the first coach to earn 25 straight bids to the NCAA men's basketball tournament. The seventh-seeded Spartans will face No. 10 Southern California on Friday in Columbus, Ohio, in the East Region. Izzo's streak breaks the record he shared with former Duke coach Mike Krzyzewski. The Basketball Hall of Fame coach was praised by the school's university president for bringing the community together in the days following last month's shootings on campus that killed three students and hospitalized five students.
NBA – National Basketball Association
Last Night
Washington Wizards 117, Detroit Pistons 97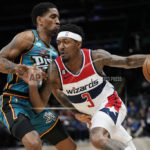 Wizards 117, Pistons 97 – Wizards snap 3-game skid with 117-97 rout of Pistons
Bradley Beal scored 36 points, and the Washington Wizards snapped their three-game losing streak with a 117-97 victory over the Detroit Pistons. Playing without Kyle Kuzma, the Wizards still raced out to a 22-point advantage in the first quarter, and although they've had issues holding those types of leads this season, the last-place Pistons represented little threat. Killian Hayes led Detroit with 20 points. Washington moved percentage points ahead of Chicago for the final play-in spot in the Eastern Conference.
Tonight
Sacramento Kings at Chicago Bulls, 8:00 p.m.
NHL – National Hockey League
Last Night
Nashville Predators 2, Detroit Red Wings 1
Chicago Blackhawks 6, Boston Bruins 3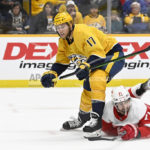 Predators 2, Red Wings 1 – Predators beat Red Wings 2-1 for 3rd straight victory
Kiefer Sherwood had a goal and an assist, Juuse Saros made 28 saves and the Nashville Predators beat the Detroit Red Wings 2-1 on Tuesday night. Tommy Novak also scored to help Nashville win its third straight. The Predators were coming off a 4-1-1 trip. Nashville trails Winnipeg by four points in the rush for the Western Conference's second wild-card berth, with Nashville having played three fewer games. Alex Chiasson scored and Ville Husso made 14 saves for Detroit. The Red Wings have lost two of three.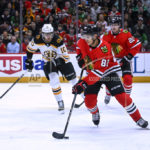 Blackhawks 6, Bruins 3 – Red-hot Raddysh nets hat trick, Blackhawks top Bruins 6-3
Taylor Raddysh scored three goals and the Chicago Blackhawks beat Boston 6-3, handing the NHL-leading Bruins a second straight regulation loss for the first time this season. Raddysh's first career hat trick gave him 20 goals this season and six in his last four games. Chicago ended a three-game slide. Boris Katchouk scored a tiebreaking goal at 6:59 of the third period and added two assists for his first three-point game. Joey Anderson had a goal and an assist, and MacKenzie Entwistle also scored for Chicago, which entered tied for last place in the Western Conference.
MLB – Major League Baseball – Spring Training
Yesterday
Detroit Tigers 6, Boston Red Sox 2
Chicago White Sox 5, Oakland A's 4
Colorado Rockies 5, Chicago Cubs 2
Today
Chicago White Sox at San Francisco Giants, 4:05 p.m.
Chicago Cubs at Cincinnati Reds 9:05 p.m.
Tigers are off
NFL – AP source: Lions add David Montogmery, Emmanuel Moseley
The Detroit Lions and running back David Montgomery have agreed on an $18 million, three-year deal, a person familiar with the deal told The Associated Press on Tuesday. Montgomery's deal includes $11 million in guaranteed money. The Lions also agreed with cornerback Emmanuel Moseley on a $6 million, one-year contract, a person familiar with that deal told the AP. Both people spoke on condition of anonymity because the deals can't be announced until Wednesday. Montgomery ran for 801 yards and five touchdowns last season in his fourth year with the Chicago Bears. He averaged 902 yards per season and 3.9 yards per carry with 26 career TDs.
NFL – Bears agree to deal with Titans DE DeMarcus Walker
The Chicago Bears have added help on the defensive line, agreeing to a deal with former Tennessee Titans defensive end DeMarcus Walker. Walker tweeted that he has an agreement in place with Chicago. The Bears agreed to a two-year contract extension with fullback Khari Blasingame through the 2025 season and a one-year extension with long snapper Patrick Scales. Offensive lineman Dieter Eiselen — an exclusive rights free agent — signed a one-year contract. Walker is coming off his best year, with a career-high seven sacks in his lone season with the Titans. He played for Denver from 2017 to 2020 and Houston in 2021. The Bears sorely needed help on the defensive line after finishing with a league-worst 20 sacks, their lowest total since the 2003 team had 18.
FIFA – FIFA expands 2026 World Cup again to create 104-game program
The expanded World Cup in North America has gotten even more supersized. The governing body of soccer increased the size of the 2026 tournament for a second time. FIFA has created a bigger opening stage with four-team groups in a 104-game schedule. The tournament will now last nearly six weeks in June-July in the United States, Canada and Mexico. The decision adds 24 more games for the 16 host cities. That should further fuel FIFA's expected record revenue of at least $11 billion through 2026. The 1998 World Cup in France was the first with 32 teams.
USA Soccer – US Soccer: Berhalter eligible to coach after investigation
The U.S. Soccer Federation says Gregg Berhalter remains a candidate to stay on as men's national team coach after a report by a law firm concluded he did not improperly withhold information about a 1992 domestic violence allegation involving the woman who later became his wife. The report also concluded that Berhalter's conduct "likely constituted the misdemeanor crime of assault on a female" but that it was an isolated event. He can't be prosecuted because of the two-year statute of limitations for misdemeanors. The law firm Alston and Bird was retained after the Reyna family reported the 30-year-old incident to the USSF.
Iditarod – Grandson of Iditarod co-founder wins Alaska sled dog race
Ryan Redington has won the Iditarod Trail Sled Dog Race, which his grandfather helped co-found. Redington's dog team pulled him down Nome's main street shortly after noon on Tuesday, sliding him under the iconic burled arch finish line. The 40-year-old Redington will pocket about $50,000 for the win. Redington's grandfather, Joe Redington Sr., helped start the Iditarod, which had its first race in 1973. Ryan Redington, who is Inupiat, becomes the sixth Alaska Native musher to win the world's most famous sled dog race. This is first Iditarod victory, but he won the Junior Iditarod in both 1999 and 2000.
MHSAA – High School Sports
Last Night
Girls Basketball – State Quarterfinals
Division 3 at Bangor
Hart 45, Buchanan 41
Division 4 at Bellevue
Adrian Lenawee Christian 49, Kalamazoo Hackett 36
Tonight
Boys Basketball – Regionals Finals
Division 1 at DeWitt
East Lansing vs. Battle Creek Central, 7:00 p.m.
Division 3 at Coloma
Brandywine vs. Centreville, 7:00 p.m.
Division 4 at Bellevue
Kalamazoo Phoenix vs. Colon, 7:00 p.m.