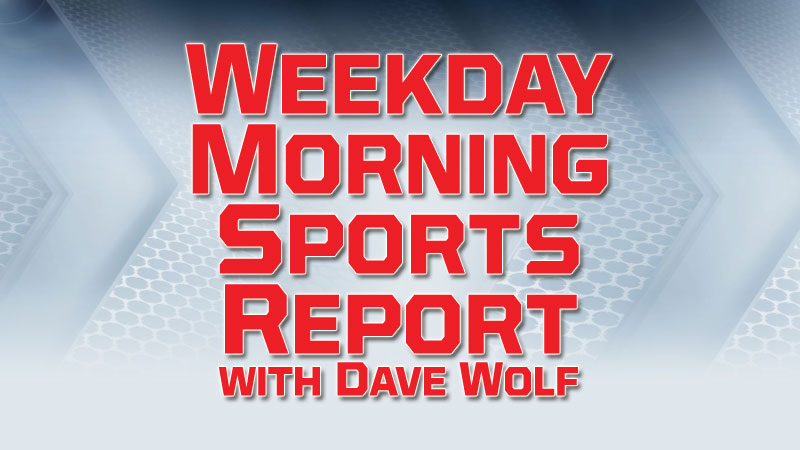 NCAABSB – NCAA Baseball – College World Series – Championship Series (Best of 3)
Last Night
TD Ameritrade Park, Omaha, NE
Vanderbilt 4, Michigan 1                                                              (Series tied 1-1)
Vanderbilt 4, Michigan 1 – Vanderbilt stretches CWS to limit
Vanderbilt has forced a third and final game in the College World Series. Kumar Rocker struck out 11 while pitching 6 1/3 innings of three-hit ball in the Commodores' 4-1 victory over Michigan. Vanderbilt scored an unearned run in the fifth inning before scoring twice on wild pitches by Jack Weisenberger.  Philip Clarke's ninth homer made it 4-0.  Game 3 is Wednesday at Omaha.
Tonight
TD Ameritrade Park, Omaha, NE
Michigan vs. Vanderbilt, 7:00 p.m.                                               (Series tied 1-1, Game 3)
MLB – Major League Baseball
Yesterday
Texas Rangers 5, Detroit Tigers 3
Boston Red Sox 6, Chicago White Sox 3
Atlanta Braves 3, Chicago Cubs 2
Rangers 5, Tigers 3 – Rangers beat Detroit 5-3, handing Tigers another home loss
Jesse Chavez pitched into the seventh inning in his longest outing in over two years, and the Texas Rangers became the latest visiting team to win in Detroit, beating the Tigers 5-3 on Tuesday night.  Detroit has lost 18 of its last 20 home games, and that does not include a game last month that was suspended with the Tigers trailing.  Chavez (3-2) allowed an unearned run and five hits in 6 1/3 innings, striking out seven with no walks. The right-hander has pitched mostly in relief this season, but before Tuesday's game, Texas manager Chris Woodward said Chavez had a chance to pitch five or six innings if he was efficient.  He surpassed that. This was his longest outing since he went seven innings on June 16, 2017.  Ronald Guzman homered for Texas, and Ronny Rodriguez went deep in the ninth inning for Detroit.  Jordan Zimmermann (0-5) allowed three runs in five innings. Detroit has lost five straight and nine of 10.
Red Sox 6, White Sox 3 – Bogaerts homers, Red Sox beat White Sox 6-3 in rain
Xander Bogaerts hit a two-run homer, David Price struck out nine and the Red Sox beat the White Sox 6-3 Tuesday on a rainy night at Fenway Park.  The start of the game was delayed 24 minutes because of rain, which continued to fall — heavily at times — through the first five innings. The slick conditions may have contributed to a frightening moment in the fifth inning when Chicago shortstop Tim Anderson sprained his right ankle on a fielding play. Anderson was carried off the field on the shoulders of manager Rick Renteria and a trainer.  Price (5-2) worked through the conditions for six innings, holding Chicago to three runs on eight hits. Brandon Workman pitched the ninth for his third save.  José Ruiz (0-1) took the loss after allowing Bogaerts' two-run shot in the fifth, breaking a 3-all tie.  Jon Jay was 3-for-4 for Chicago and Anderson had a pair of hits before his injury.
Braves 3, Cubs 2 – Albies, Acuña hit homers to lead Braves past Cubs 3-2
Ozzie Albies and Ronald Acuña Jr. homered, Max Fried pitched six innings of two-hit ball and the Atlanta Braves beat the Chicago Cubs 3-2 Tuesday night.  Acuña crushed the first pitch of the game from Cubs rookie Adbert Alzolay into the left-field bleachers for his 19th homer of the season. Albies hit a towering two-run shot to right center off Mike Montgomery (1-2) in the seventh that gave Atlanta the lead.  Fried (9-3) got the win in the second of a four-game set between the NL division leaders. The 25-year-old left-hander struck out eight, walked a season-high five and allowed two runs in winning his second straight start.
Today
Chicago White Sox (Lopez 4-7) at Boston (Sale 3-7), 1:05 p.m.
Texas (Minor 7-4) at Detroit (Boyd 5-5), 7:10 p.m.             WSJM Sports/Cosy-FM 6:45
Atlanta (Keuchel 0-1) at Chicago Cubs (Darvish 2-3), 8:05 p.m.
MLB – Rays owner says shared season with Montreal is best option
The principal owner of the Rays says it's unrealistic for his team to play full time in the Tampa Bay area, and a shared season with Montreal is the best option. Stu Sternberg said at a news conference Tuesday he would be "hard-pressed" for the team to stay exclusively in Tampa or St. Petersburg. He believes "strongly in the sister-city concept" with Montreal and is "asking for open minds." Tampa Bay is averaging less than 15,000 fans a game. Commissioner Rob Manfred says the Rays have "broad permission to explore what's available." An agreement between the Rays and St. Petersburg for Tropicana Field runs through 2027. St. Petersburg's mayor has shot down the two-city possibility. The Expos left Montreal after the 2004 season and became the Washington Nationals.
NHL – Berube gets extension after Stanley Cup win
Craig Berube is being rewarded for coaching the St. Louis Blues to their first Stanley Cup championship. The Blues have signed him to a three-year contract and stripped the interim tag off his title. Berube oversaw a club that was mired in last place in the NHL the morning of Jan. 3 before reeling off an 11-game winning streak. Berube took over as interim coach in November for Mike Yeo and guided the team to a 38-19-6 record and within one point of the Central Division title. The Blues then knocked off the Jets, Stars and Sharks in the Western Conference playoffs before outlasting the Bruins in a seven-game Stanley Cup final.
Hayley Wickenheiser headlines 2019 Hockey Hall of Fame class
Canadian women's star Hayley Wickenheiser was elected to the Hockey Hall of Fame in her first year of eligibility. Wickenheiser headlines the 2019 Hall of Fame class that also includes former NHL players Sergei Zubov and Guy Carbonneau, Czech hockey star Vaclav Nedomansky and builders Jim Rutherford and Jerry York. Hall chairman Lanny McDonald announced the inductees Tuesday. In 79 international games, Wickenheiser recorded 58 goals and 88 assists for 146 points. She won four Olympic gold medals, seven world championship golds, one Olympic silver and six world championship silvers. Wickenheiser won three Women's World Hockey League titles and a Canadian Women's Hockey League title. She is currently assistant director of player development for the Toronto Maple Leafs.
FIFA – 2019 Women's World Cup – France – Knockout Stage
Yesterday
Italy 2, China 0
Netherlands 2, Japan 1
Today
No games today
NCAA – California rethinks endorsement deals for college athletes
California lawmakers are debating whether to let student athletes sign endorsement deals and hire agents in a move that could upend the multibillion-dollar business of college sports. A proposed law wending through the state Assembly would scrap policies that strictly limit the ways in which college athletes can profit from their name, image and likeness, raising the prospect of private sponsorships long off-limits for students. The bill comes amid an ongoing national debate over the extent to which students can financially benefit from their athletic performance. The legislation's backers argue it is a matter of fairness.
Olympics – Breakdancing a step closer to becoming Olympic sport
Breakdancing has moved a step closer to the 2024 Olympics, and now organizers can look to book a street venue in Paris. IOC members have formally endorsed requests from Paris in February and their executive board in March to provisionally add breakdancing to the program, pending a final decision in December 2020. Paris wants to add four sports to its program, though the other three, skateboarding, sport climbing, and surfing _ will make Olympic debuts in Tokyo next year. Breakdancing will have 16 competitors in each of the men's and women's events.
MWL – Midwest League Baseball
Last Night
Lansing 6, Lake County 4
South Bend 10, Fort Wayne 4
West Michigan 3, Dayton 1
Bowling Green 5, Great Lakes 2
Today
Lake County at Lansing, 12:05 p.m.
South Bend at Fort Wayne, 12:05 p.m.
Dayton at West Michigan, 7:05 p.m.
Great Lakes at Bowling Green, 7:35 p.m.