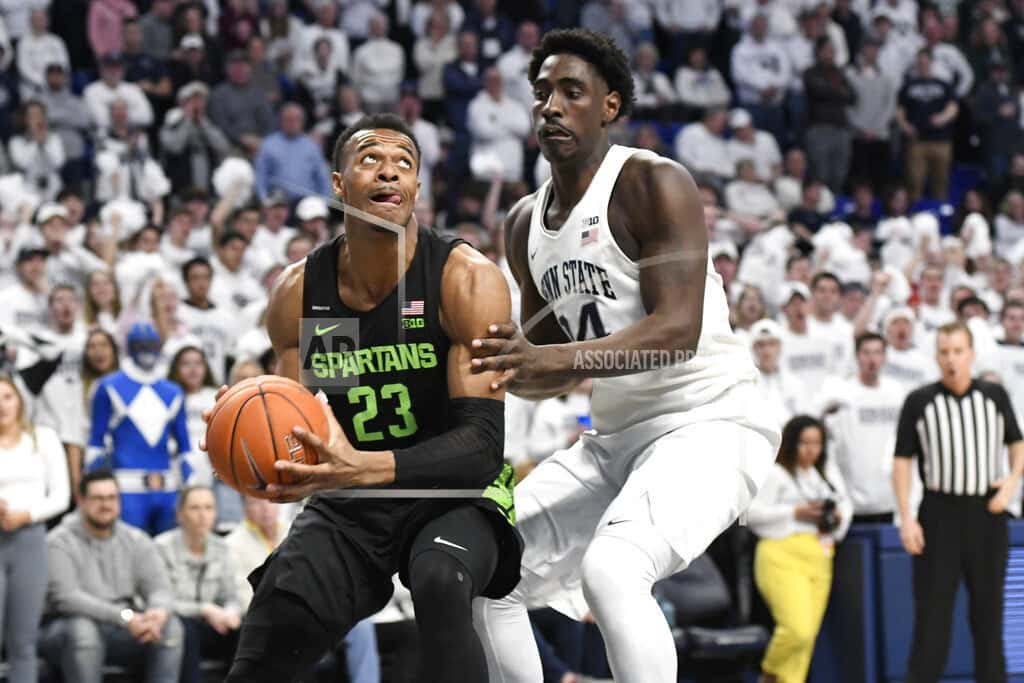 NCAAMBB – Men's College Basketball
Last Night
(16) Michigan State 79, (20) Penn State 71
Western Michigan 70, Eastern Michigan 54
Ball State 85, Central Michigan 68
(16) MSU 79, (20) Penn St. 71 – Spartans beat Nittany Lions, catch Terrapins
Michigan State has pulled into a first-place tie with Maryland in the Big Ten. The 16th-ranked Spartans are 13-6 in the conference after turning a 19-point, first-half deficit into a 78-71 victory at No. 20 Penn State. Xavier Tillman Sr. scored 23 points and had 15 rebounds for Michigan State, which trailed 46-31 at intermission before scoring the first nine points of the second. Rocket Watts added 18 points, Cassius Winston had 14 and Aaron Henry chipped in 12 for the Spartans.
WMU 70, EMU 54 – Johnson leads W. Michigan over E. Michigan 70-54
Brandon Johnson had 20 points and 12 rebounds as Western Michigan defeated Eastern Michigan 70-54. Michael Flowers added 12 points and seven assists for Western Michigan. Ty Groce led the Eagles on Tuesday night with 11 points.
BSU 85, CMU 68 – Teague carries Ball St. over Cent. Michigan 85-68
Tahjai Teague scored 16 points and grabbed 10 rebounds and Ball State beat Central Michigan 85-68. The Cardinals (14-16, 6-10) entered play Northern Illinois on Friday with a chance to claim a Mid-American Conference, West Division title. Luke Bumbalough had 11 points. Rob Montgomery and Dallas Morgan scored 19 points apiece for Central Michigan (16-17, 6-11), which lost its ninth straight.
Tonight
(7) Florida State at Notre Dame, 9:00 p.m.
NCAAWBB – Women's College Basketball
Tonight
Western Michigan at Eastern Michigan, 7:00 p.m.
Central Michigan at Toledo, 7:00 p.m.
NCAA – An NCAA Tournament with empty arenas? It can't be ruled out
The NCAA is ruling out no contingencies when it comes to coronavirus and the NCAA Tournament.  In an interview with Bloomberg News, Chief Operating Officer Donald Remy did not dismiss the possibility of games being played with no fans in arenas. The games presumably would still be televised.  The NCAA declined further comment to the AP on the possibility of no fans in the stands. Also, the NCAA announced it has established a coronavirus advisory panel of medical, public health and epidemiology experts and NCAA schools.
NBA – National Basketball Association
Tonight
Oklahoma City Thunder at Detroit Pistons, 7:00 p.m.
Indiana Pacers at Milwaukee Bucks, 7:00 p.m.
Chicago Bulls at Minnesota Timberwolves, 8:00 p.m.
NHL – National Hockey League
Last Night
Chicago Blackhawks 6, Anaheim Ducks 2
Blackhawks 6, Ducks 2 – Chicago scores on 3 consecutive shots, beats Ducks 6-2
Dylan Strome, Alex Nylander and Patrick Kane scored on consecutive shots late in the second period, leading the Chicago Blackhawks to a 6-2 victory over the Anaheim Ducks. Strome scored twice and added an assist in the rout. Chicago won its third straight game while chasing a wild-card playoff spot in the Western Conference. Drake Caggiula and David Kampf also scored for the Blackhawks. Danton Heinen and Carter Rowney scored for Anaheim, which lost for the sixth time in eight games.
MLB – Spring Training Baseball
Yesterday
Minnesota Twins 5, Detroit Tigers 1
Oakland A's 6, Chicago White Sox 5
Colorado Rockies 11, Chicago Cubs 10
Today
Detroit Tigers vs. Boston Red Sox, 1:05 p.m.at Fort Myers, Fla.
Chicago Cubs vs. Cincinnati Reds, 3:05 p.m. at Goodyear, Ariz.
Chicago White Sox vs. Milwaukee Brewers, 3:05 p.m. at Phoenix, Ariz
MLB – Bryant ruling: Cubs did nothing 'nefarious'
Arbitrator Mark Irvings accepted Chicago Cubs president of baseball operations Theo Epstein's rationale for delaying Kris Bryant's debut at the start of the 2015 season. Irvings concluded there was no proof of "a nefarious motive" by Epstein to delay the third baseman's eligibility for free agency. In a 42-page decision obtained by The Associated Press, Irvings accepted Epstein's explanation that injuries to Mike Olt and Tommy La Stella prompted the timing of Bryant's call-up to the Cubs in April 2015. Had Bryant been brought up one day earlier, he would have been eligible for free agency after the 2020 season.
MLB – White Sox think CF Robert is headed for stardom
Luis Robert has the type of athleticism that stands out in any crowd. The chiseled Robert, listed at 6-foot-3 and 185 pounds, is a major reason why the Chicago White Sox are talking playoffs this year despite a streak of seven consecutive losing seasons. The center fielder batted .328 with 32 homers, 92 RBIs and 36 steals over three minor league stops last season. He appears on track to make his major league debut on opening day.
Olympics – Japan Olympic minister says games could be held any time in 2020
Japan's Olympic minister says the contract to hold the Tokyo Games only specifies the event has to be held during 2020.  Seiko Hashimoto's response to a question in the upper house of parliament implies the Olympics could be held later in the year and would not have to start on July 24 as planned.  The issue of a delay follows the fast-spreading virus that has been blamed for 12 deaths in Japan and has shut down most schools, sports competitions and Olympic-related events in the country. The virus that started in China has been detected in at least 70 countries, with 90,000 cases and 3,100 deaths reported.  IOC officials and Tokyo organizers have repeatedly said they expect the Olympics to open on schedule.
AHL – American Hockey League
Last Night
Grand Rapids Griffins 4, San Antonio Rampage 3
ECHL – ECHL Hockey League
Tonight
Kalamazoo Wings at Cincinnati Cyclones, 7:35 p.m.
MCCAA – Junior College Athletics
Yesterday
Women's Softball
Northwest Florida State College 4 Lake Michigan College 2 – Game 1
Northwest Florida State College 15, Lake Michigan College 2 – 5 Innings – Game 2
Men's Baseball
(13) Fredrick Community College 7, Lake Michigan College 3 – Game 1
Lake Michigan College 10, (13) Fredrick Community College 9 – Game 2
MHSAA – High School Athletics
Last Night
Boys Basketball
SMAC
Lakeshore 53, Portage Central 27
Mattawan 56, Niles 53 – OT
Lakeview 68, Battle Creek Central 48
Non-Conference
Benton Harbor 85, Brandywine 61
Berrien Springs 64, Lake Michigan Catholic 13
Martin 54, Michigan Lutheran 44
Coloma 52, Portage Northern 46
Holland 71, South Haven 60
Saugatuck 47, Holland Black River 45
Holland West Ottawa 71, Kalamazoo Loy Norrix 47
Hamilton 88, Kalamazoo Hackett 59
Schoolcraft 58, Battle Creek Pennfield 31
Climax-Scotts 48, Galesburg-Augusta 38
Parchment 51, Delton Kellogg 49
Ann Arbor Gabriel Richard 45, Kalamazoo Phoenix 34
Battle Creek Harper Creek 74, Sturgis 35
BCS
Buchanan 86, New Buffalo 62
Southwest 10
Marcellus 51, Eau Claire 50
Centreville 68, Hartford 44
White Pigeon 67, Decatur 39
Cassopolis 58, Mendon 49
Girls Basketball – District Semis
Division 1 at Lakeshore
Portage Central vs. Mattawan, 5:30 p.m.
Lakeshore vs. Kalamazoo Central, 7:30 p.m.
Division 1 at Gull Lake
Battle Creek Central vs. Sturgis, 5:30 p.m.
Coldwater vs. Battle Creek Lakeview, 7:00 p.m.
Division 2 at Coloma
Allegan vs. Hamilton, 5:30 p.m.
Coloma vs. South Haven, 7:00 p.m.
Division 2 at Buchanan
Three Rivers vs. Niles, 5:30 p.m.
Edwardsburg vs. Berrien Springs, 7:00 p.m.
Division 2 at Plainwell
Plainwell vs. Vicksburg, 5:30 p.m.
Battle Creek Harper Creek vs. Comstock, 7:30 p.m.
Division 3 at Cassopolis
Brandywine vs. Watervliet, 6:00 p.m.
Cassopolis vs. Decatur, 7:30 p.m.
Division 3 at Lawton
Bloomingdale vs. Lawton, 5:00 p.m.
Hartford vs. Gobles, 6:30 p.m.
Division 3 at Kalamazoo Christian
Kal. Christian vs. Vermontville-Maple Valley, 5:30 p.m.
Kal. Hackett vs. Delton-Kellogg, 7:00 p.m.
Division 3 at Centreville
Centreville vs. White Pigeon, 6:00 p.m.
Marcellus vs. Schoolcraft, 7:30 p.m.
Division 4 at River Valley
New Buffalo vs. Lake Michigan Catholic, 5:30 p.m.
Mich. Lutheran vs. River Valley, 7:15 p.m. 106.1 & 1400 WSJM Sports
Division 4 at Colon
Howardsville Christian vs. Mendon, 5:30 p.m.
Colon vs. Burr Oak, 7:00 p.m.
Division 4 at Wyoming Tri-Unity
Zion Christian vs. Wy-Potter's House, 5:30 p.m.
Martin vs. Wyoming Tri-Unity, 7:30 p.m.