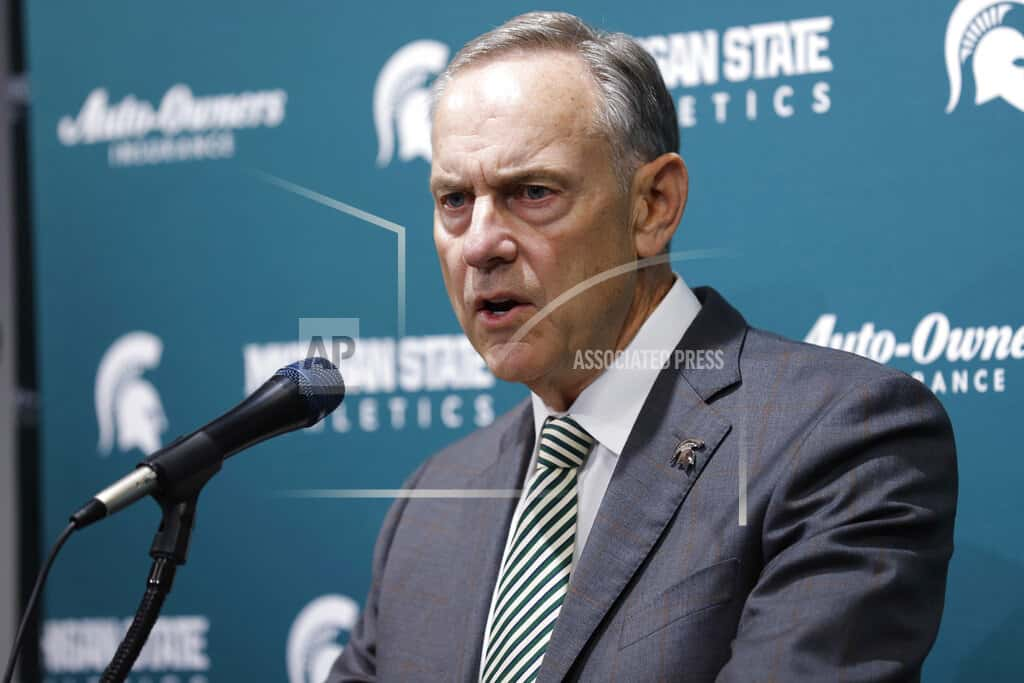 NCAAFB – Michigan State coach Mark Dantonio retiring after 13 seasons
Michigan State football coach Mark Dantonio is retiring after a 13-year run. Defensive coordinator Mike Tressel will be the acting head coach while Michigan State seeks a replacement. Dantonio went 114-57 as Michigan State's coach. He won Big Ten titles in 2010, 2013 and 2015. The last of those three seasons included a trip to the College Football Playoff. The Spartans declined after that. They went 7-6 this past season.
NCAAMBB – Men's College Basketball
Last Night
Ohio State 61, Michigan 58
(22) Penn State 75, (16) Michigan State 70
Western Michigan 64, Miami (OH) 60
Central Michigan 92, Bowling Green 82
Eastern Michigan 66, Buffalo 62
Ohio State 61, Michigan 58 – Review in final minute lifts Ohio State past Michigan 61-58
Kyle Young made two free throws with 33.3 seconds remaining to give Ohio State the lead after a crucial replay review, and the Buckeyes held on for a 61-58 victory over Michigan. The game turned after officials went to the monitor with just over a half-minute left. Ohio State was ahead 57-56 when Michigan's Zavier Simpson drove to the basket and drew a foul on Young. The Ohio State forward's jersey appeared to be ripped afterward, and a replay showed Simpson had gabbed the jersey while falling at the end of the play. The foul on Young stood, but officials added a flagrant foul on Simpson as well. That meant each player shot two free throws — they made all four — and the Buckeyes ended up with a one point lead and the ball.
(22) Penn St. 75, (16) Michigan State 70 – No. 22 Penn State beats No. 16 Michigan State 75-70
Lamar Stevens had 24 points and Myreon Jones made a career-high six 3-pointers and scored 20 points, leading No. 22 Penn State to a 75-70 win over No. 16 Michigan State. The Nittany Lions have won five straight games, making them contenders in the Big Ten Conference during the second half of the regular season. The Spartans dropped consecutive games for the first time this season. Michigan State's Cassius Winston scored 25 points and could not convert on chances to pull into a tie twice in the closing seconds.
WMU 64, M-OH 60 – Johnson lead W. Michigan past Miami (OH) 64-60
Brandon Johnson scored 21 points on 7-of-10 shooting from the field and foul line and Western Michigan beat Miami (Ohio) 64-60. Following Johnson's basket that broke a 58-all tie, Dae Dae Grant went to the foul line for the Red Hawks but made just 1 of 2 with 13 seconds left to make it 60-59. Michael Flowers then made a pair for Western Michigan for a 62-59 lead. Isaiah Coleman-Lands was fouled and made the first of two and intentionally missed the second. Milos Jovic intentionally fouled Flowers who sank a pair to end it. Grant scored 20 for the Red Hawks.
CMU 92, BGSU 82 – Morgan carries Cent. Michigan past Bowling Green 92-82
Dallas Morgan scored a career-high 29 points as Central Michigan beat Bowling Green 92-82. David DiLeo added 26 points for the Chippewas. Kevin McKay had 13 points for Central Michigan (13-8, 6-2 Mid-American Conference). Rob Montgomery added 11 points. Justin Turner scored a season-high 31 points for the Falcons (17-6, 8-2), whose eight-game winning streak was broken. Trey Diggs added 11 points. Michael Laster had 10 points and six assists.
EMU 66, Buffalo 62 – Groce scores 14 to lift E. Michigan over Buffalo 66-62
Ty Groce posted 14 points and three blocks as Eastern Michigan narrowly defeated Buffalo 66-62 for its 200th win at the Convocation Center. Thomas Binelli had 11 points for Eastern Michigan (12-10, 2-7 Mid-American Conference), which hasn't beaten Buffalo since 2016. Darion Spottsville added 11 points and Yeikson Montero had five steals.
Tonight
Pittsburgh at Notre Dame, 6:30 p.m.
NCAAWBB – Women's College Basketball
Tonight
Northern Illinois at Central Michigan, 7:00 p.m.
Ohio at Eastern Michigan, 7:00 p.m.
NHL – National Hockey League
Last Night
Minnesota Wild 3, Chicago Blackhawks 2 – OT
Wild 3, Blackhawks 2 – OT – Dumba scores OT winner as Wild beat Blackhawks 3-2
Matt Dumba scored with 2:39 remaining in overtime to liftthe Minnesota Wild to a 3-2 win against the Chicago Blackhawks. Kevin Fiala scored twice for Minnesota and Alex Stalock made 27 saves. Dumba snapped a 33-game goal-scoring drought with his fourth of the season as the Wild won for the second time in three games. Adam Boqvist and Olli Maatta scored in the third period for Chicago. Corey Crawford made 31 saves for the Blackhawks, who had won six of their previous seven games.
Tonight
Boston Bruins at Chicago Blackhawks, 8:00 p.m.
NBA – National Basketball Association
Tonight
Phoenix Suns at Detroit Pistons, 7:00 p.m.
Indiana Pacers at Toronto Raptors, 7:30 p.m.
MLB – Bryant's grievance denied
An arbitrator has denied the grievance filed by Chicago Cubs infielder Kris Bryant, according to a person who has read the unreleased document of the decision. Mark Irvings ruled the players' association did not prove the team's reasons for holding the third baseman in the minors at the start of the 2015 season were a pretext to push back his eligibility for free agency. Bryant hit .425 with nine homers in 40 at-bats during 2015 spring training and was held in the minors until April 17, one day after he would have been eligible for a full year of service time.
MLB – Betts goes to Dodgers in blockbuster swap
The Boston Red Sox have parted with Mookie Betts by sending him to the Los Angeles Dodgers in a blockbuster deal. Two people with knowledge of the deal say the Bosox have agreed to send the 2018 AL MVP to Los Angeles. The Red Sox would also send away left-hander David Price in a salary dump designed to save Boston tens of millions of dollars and help them dip below baseball's luxury tax threshold. The Dodgers are sending outfielder Alex Verdugo back to the Red Sox in a deal that also involves the Minnesota Twins, who are getting right-hander Kenta Maeda from Los Angeles and sending pitching prospect Brusdar Graterol to Boston.
MCCAA – Junior College Sports
Tonight
Women's Basketball
Lake Michigan College at Glen Oaks Community College, 5:30 p.m.
Men's Basketball
Lake Michigan College at Glen Oaks Community College, 7:30 p.m.
AHL – American Hockey League
Tonight
Grand Rapids Griffins at Milwaukee Admirals, 8:00 p.m.
ECHL – ECHL Hockey League
Tonight
Kansas City Mavericks at Kalamazoo Wings, 7:00 p.m.
MHSAA – High School Athletics
Last Night
Boys Basketball
SMAC
Lakeshore 58, Gull Lake 53
Battle Creek Central 50, Niles 46
Battle Creek Lakeview 64, Mattawan 51
Kalamazoo Central 66, Portage Central 44
Non-Conference
Benton Harbor 78, South Bend Clay (IN) 65
Star Albion Prep 69, Covert 18
Schoolcraft 48, Edwardsburg 36
Portage Northern 39, Paw Paw 35
Goshen Clinton Chr. 86, Howardsville Chr. 51
Hopkins 55, Plainwell 38
Coldwater 71, Three Rivers 33
Vicksburg 51, Constantine 35
BCS
Buchanan 59, Michigan Lutheran 28
SAC
Coloma 51, Lawton 48
Gobles 39, Kalamazoo Hackett 36
Fennville 57, Galesburg-Augusta 42
Kalamazoo Christian 66, Saugatuck 42
Martin 59, Delton Kellogg 51
Southwest 10
Bloomingdale 66, Hartford 64
White Pigeon 73, Bangor 32
Centreville 61, Cassopolis 58
Marcellus 82, Mendon 46
Eau Claire 61, Decatur 55
Girls Basketball
SMAC
Gull Lake 70, Lakeshore 39
Battle Creek Central 51, Niles 43
Battle Creek Lakeview 59, Mattawan 42
Portage Central 50, Kalamazoo Central 32
Non-Conference
Godwin Heights 50, Benton Harbor 38
Dowagiac 39, Bridgman 18
Watervliet 41, Portage Northern 34
Grand Rapids Union 62, Kalamazoo Loy Norrix 21
Plainwell 53, Hopkins 35
Schoolcraft 69, Calhoun Christian 47
Vicksburg 43, Constantine 35
Bronson 66, Otsego 55
Coldwater 62, Three Rivers 58 – OT
BCS
New Buffalo 48, Berrien Springs 35
SAC
Coloma 41, Lawton 24
Kalamazoo Hackett 38, Gobles 25
Galesburg-Augusta 49, Fennville 35
Kalamazoo Christian 48, Saugatuck 40
Martin 58, Delton Kellogg 33
Southwest 10
Bloomingdale 41, Hartford 25
White Pigeon 49, Bangor 26
Centreville 44, Cassopolis 12
Marcellus 48, Mendon 40
Tonight
Girls Basketball
Buchanan at Bridgman, 6:00 p.m.
Wrestling
Niles at Lakeshore, 6:00 p.m.
Mattawan at St. Joseph, 6:00 p.m.
Buchanan at Brandywine, 6:00 p.m.
Bloomingdale at Bangor, 6:00 p.m.