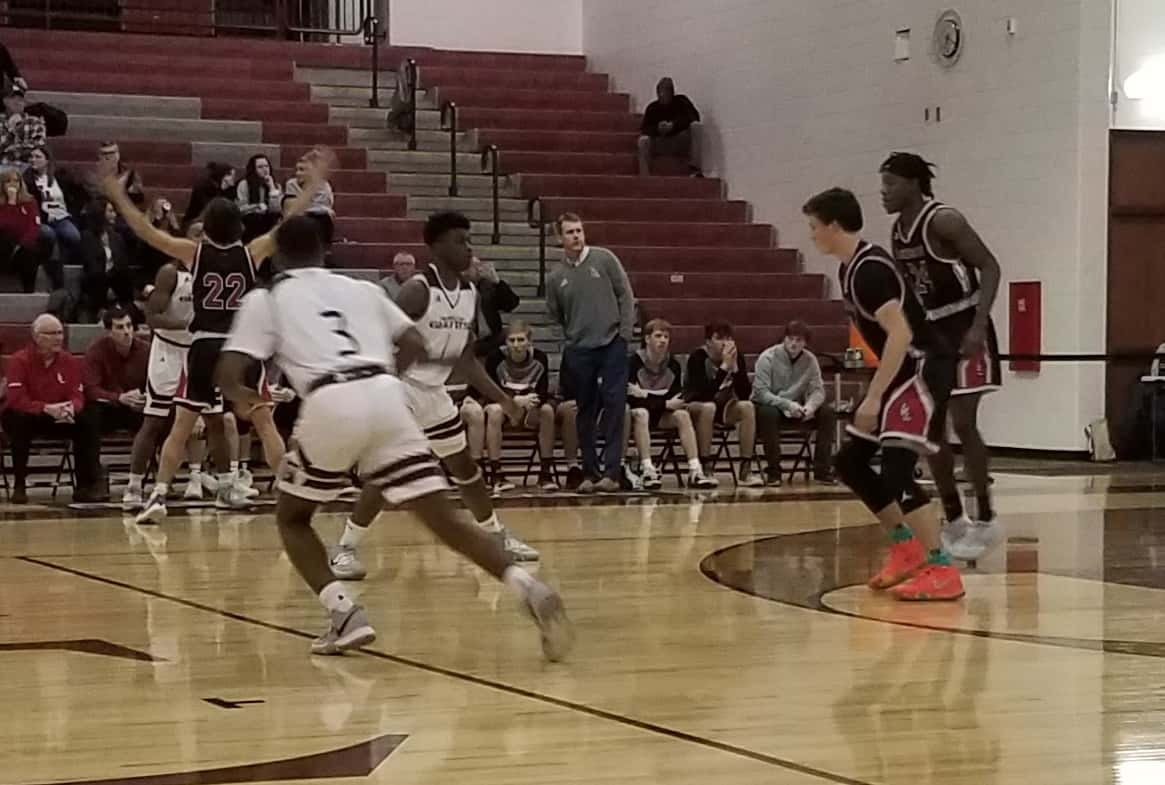 NCAAMBB – Men's College Basketball
Last Night
(24) Michigan State 78, (18) Iowa 70
Northern Illinois 73, Eastern Michigan 71
Toledo 93, Central Michigan 81
Ball State 71, Western Michigan 61
(24) MSU 78, (18) Iowa – Behind Winston, No. 24 Michigan State tops No. 18 Iowa 78-70
Cassius Winston scored 19 of his 20 points in the second half and Rocket Watts matched a career high with 21 points, helping No. 24 Michigan State rally to beat No. 18 Iowa 78-70. The Spartans moved into sole possession of second place in the conference Tuesday night with their third win in four games. The Hawkeyes slipped to sixth place in the Big Ten, possibly making an impact on their seeding for the conference tournament in two weeks. Iowa's Luka Garza scored 20, Ryan Kriener had 18 points before fouling out and Connor McCaffery added 11 points.
NIU 73, EMU 71 – German's 3-pointer helps N. Illinois beat E. Michigan 73-71
Eugene German hit a career-high seven 3-pointers, including the go-ahead 3 with 8.9 seconds left, and scored 27 points to help Northern Illinois beat Eastern Michigan 73-71. Thomas Binelli hit six 3s and finished with 26 — both career highs — for EMU.
Toledo 93, CMU 81 – Jackson scores 37 to lead Toledo over Cent. Michigan 93-81
Marreon Jackson made 7 of 9 3-pointers and scored a career-high 37 points and Toledo beat Central Michigan 93-81. Spencer Littleson scored 18 points and Luke Knapke added 15 with five assists for the Rockets.  David DiLeo made 5 of 6 3-pointers and he and Rob Montgomery scored 19 points each for Central Michigan which has lost six straight.
Ball State 71, WMU 61 – El-Amin scores 21 to lift Ball State past W. Michigan 71-61
Ishmael El-Amin had 21 points as Ball St. topped Western Michigan 71-61. Luke Toliver led the Broncos with 12 points.
Tonight
Notre Dame at Boston College, 9:00 p.m.
NCAAWBB – Women's College Basketball
Tonight
Western Michigan at Central Michigan, 7:00 p.m.
Eastern Michigan at Northern Illinois, 7:00 p.m.
Michigan State at Illinois, 8:00 p.m.
NHL – National Hockey League
Last Night
New Jersey Devils 4, Detroit Red Wings 1
St. Louis Blues 6, Chicago Blackhawks 5
Devils 4, Red Wings 1 – Schneider earns first win of season, Devils beat Detroit 4-1
Cory Schneider made 27 saves for his first victory of the season, leading the New Jersey Devils past the Detroit Red Wings 4-1. Joey Anderson, Jesper Bratt, Kyle Palmieri and Nikita Gusev scored for the Devils, who won for the seventh time in their last 10 games. Detroit is 3-16-1 in its last 20. Valtteri Filppula had the only goal for the Red Wings. Schneider improved to 1-6-1 on the season and won for the first time since March 25 of last year. The Devils led 3-0 after two periods.
Blues 6, Blackhawks 5 – Sanford has 3-point game, St. Louis beats Chicago 6-5
Zach Sanford had two goals and an assist, leading the St. Louis Blues to a wild 6-5 victory over the Chicago Blackhawks. St. Louis has won five consecutive games. The Blues have won all three regular-season games against Chicago. Brandon Saad, Duncan Keith and Patrick Kane scored power-play goals, and Connor Murphy and Matthew Highmore also scored for the Blackhawks. Jordan Binnington had 24 saves in winning his fourth straight for the Blues.
NBA – National Basketball Association
Last Night
Indiana Pacers 119, Charlotte Hornets 80
Oklahoma City Thunder 124, Chicago Bulls 122
Denver Nuggets 115, Detroit Pistons 98
Pacers 119, Hornets 80 – Sabonis scores 21 points to lead Pacers over Hornets, 119-80
Domantas Sabonis had 21 points, 15 rebounds and nine assists to lead the Indiana Pacers to a 119-80 victory over the Charlotte Hornets. T.J. Warren scored 15 of his 19 points in the first half and Justin Holiday had 16 points for the short-handed Pacers (34-24), who bounced back from a blowout in Toronto for a third win in four games. Miles Bridges scored 17 points and Caleb Martin had 11 for the Hornets (19-38), who have lost two in a row after a stretch of three straight wins, all on the road. The Pacers were without Jeremy Lamb and Victor Oladipo.
Thunder 124, Bulls 122 – Schroder helps Thunder top Bulls 124-122
Dennis Schroder scored 21 points and made a huge defensive play in the fourth quarter, helping the Oklahoma City Thunder top the Chicago Bulls 124-122 for their fourth consecutive win. Oklahoma City blew a 24-point lead but recovered in time to earn its ninth straight victory on the road, breaking a Thunder record. Danilo Gallinari scored 24 points, and Shai Gilgeous-Alexander had 21 points and 11 rebounds. The Bulls wasted a pair of stellar performances from LaVine and rookie reserve Coby White. LaVine scored 27 of his 41 points in the second half, and White had a career-high 35 in his third consecutive game over 30 points.
Nuggets 115, Pistons 98 – Grant scores career-best 29, Nuggets beat Pistons 115-98
Jerami Grant scored a career-high 29 points and Nikola Jokic had a season-best four steals to help the healthy Denver Nuggets beat the Detroit Pistons 115-98. The Nuggets are now 40-18. That ties their best start through 58 games in their NBA franchise history. They had the same mark a season ago on their way to winding up with the No. 2 seed in the Western Conference. Derrick Rose and Christian Wood each had 20 points for Detroit. The Pistons have now lost seven straight games.
NFL – Lions cut DT 'Snacks' Harrison after 1-year, $11M extension
The Detroit Lions have released defensive tackle Damon "Snacks" Harrison. The Lions announced the move Tuesday, less than a year after signing him to an $11 million, one-year contract extension. He went into the 2019 season with two years years left on the $46 million contract he signed with the New York Giants. Harrison started in 15 games last season, but had a career-low 49 tackles and two sacks for the three-win Lions. Detroit acquired Harrison from the Giants in the middle of the 2018 season for a fifth-round draft pick. The 31-year-old Harrison was a 2016 All-Pro selection.
NFL – Player reps send new CBA to union members for approval
The NFL moved closer to labor peace for another decade early Wednesday as player representatives voted to send a new deal already approved by the owners to the full union membership. A simple majority of some 2,000 players must accept the agreement for it to go into effect this year. After nearly four hours of meetings between player reps and members of the NFL's negotiating committee Tuesday in Indianapolis, the 32 team reps spent several more hours discussing the deal that includes a 17-game season. They then gave the nod for all NFL Players Association members to make the final decision.
MLB – Spring Training Baseball
Yesterday
Detroit Tigers 9, New York Mets 6
Colorado Rockies 12, Chicago Cubs 6
Chicago White Sox (ss) 4, San Francisco Giants 3
Cleveland Indians 10, Chicago White Sox (ss) 2
Today
Detroit Tigers vs. Toronto Blue Jays, 1:07 p.m.                 at Dunedin, Fla
Kansas City Royals (ss) vs. Chicago Cubs, 3:05 p.m.           at Mesa, Ariz.
Chicago White Sox vs. Kansas City Royals (ss), 3:05 p.m.  at Surprise, Ariz.
NCAAFB – Big Ten – Buckeyes reward football coach
Football coach Ryan Day has received a three-year contract extension and a raise after leading the Buckeyes to a 13-1 record and a berth in the CFP semifinals in his first season at the helm.  Day made a base salary of $4.5 million plus bonuses in 2019. His pay will increase to $7.6 million by 2022, with the remainder of his deal to be decided later. The contract runs through 2026.  Day wasn't even in the top 20 of the country's highest paid football coaches last year.
ECHL – ECHL Hockey
Last Night
Fort Wayne Komets 3, Kalamazoo Wings 2
Today
Toledo Walleye at Brampton Beast, 11:00 a.m.
MCCAA – Junior College Athletics
Last Night
Women's Basketball
Jackson College at Lake Michigan College, 5:30 p.m.          106.1 & 1400 WSJM Sports
Men's Basketball
Jackson College at Lake Michigan College, 7:30 p.m.          106.1 & 1400 WSJM Sports
MHSAA – High School Athletics
Last Night
Boys Basketball
SMAC
Kalamazoo Central 48, Lakeshore 45
Battle Creek Lakeview 56, Niles 53
Loy Norrix 71, Mattawan 46
Portage Central 60, Battle Creek Central 54
Portage Northern 65, Gull Lake 64   3OT
Non-Conference
St. Joseph 59, Berrien Springs 36
Buchanan 77, Allegan 52
River Valley 65, Black River 23
Brandywine 49, Gobles 46
Battle Creek Academy 59, Covert 26
Paw Paw 53, Comstock 49
Holland Calvary 81, Saugatuck 44
Lake Odessa-Lakewood 62, Delton-Kellogg 40
BCS
New Buffalo 74, Michigan Lutheran 42
SAC
Martin 52, Watervliet 41
Schoolcraft 74, Constantine 29
Lawton 64, Kalamazoo Hackett 57
Kalamazoo Christian 61, Galesburg-Augusta 30
Southwest 10
Eau Claire 77, Bangor 46
Hartford 71, White Pigeon 49
Cassopolis 67, Marcellus 65
Centreville 65, Mendon 38
Wolverine
Vicksburg 72, Three Rivers 65
Girls Basketball
SMAC
Kalamazoo Central 57, Lakeshore 37
Niles 52, Battle Creek Lakeview 45
Mattawan 56, Loy Norrix 35
Portage Central 54, Battle Creek Central 37
Gull Lake 71, Portage Northern 34
Non-Conference
Edwardsburg 51, St. Joseph 33
Michigan Lutheran 35, Benton Harbor 33
Coloma 54, Dowagiac 33
Buchanan 56, Allegan 41
Gobles 39, Brandywine 33
South Haven 46, Fennville 35
Covert 23, Battle Creek Academy 20
Paw Paw 46, Comstock 42
Plainwell 46, Grand Rapids Covenant Christian 45
Calhoun Christian 42, Sturgis 36
Delton-Kellogg 44, Lake Odessa-Lakewood 39
BCS
Berrien Springs 48, Lake Michigan Catholic 46
New Buffalo 46, Bridgman 29
SAC
Martin 53, Watervliet 33
Kalamazoo Christian 29, Galesburg-Augusta 25
Schoolcraft 69, Constantine 35
Southwest 10
White Pigeon 46, Hartford 35
Bloomingdale 40, Decatur 35
Centreville 48, Mendon 29
Tonight
Boys Basketball
Mendon at Union City, 7:00 p.m.