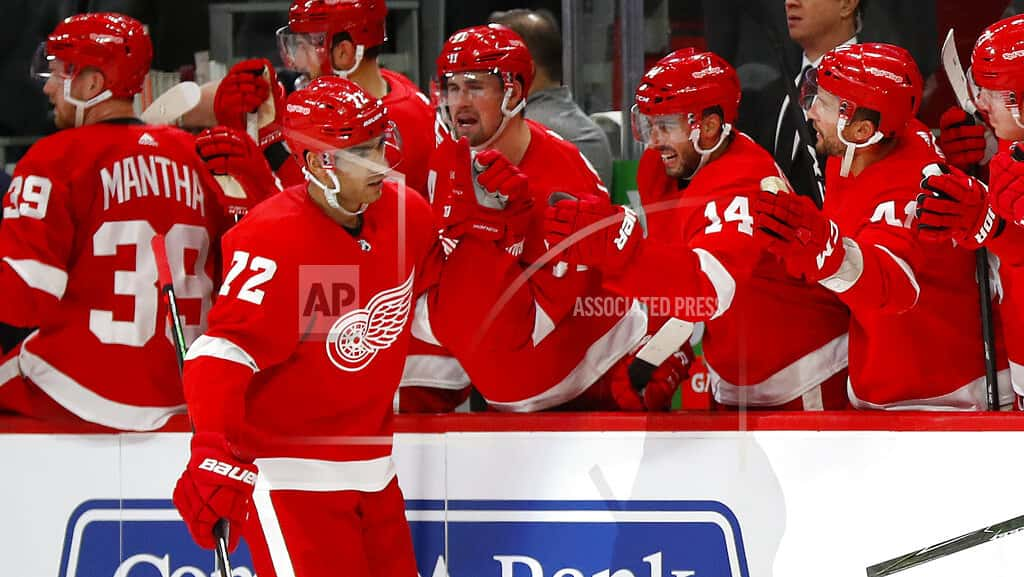 NHL – National Hockey League
Last Night
Detroit Red Wings 4, Montreal Canadiens 3
Red Wings 4, Canadiens 3 – NHL-worst Red Wings beat Canadeins 4-3, sweep season series
Andreas Athanasiou scored his second goal with 5:15 remaining in regulation to cap Detroit's three-goal third period and the Red Wings rallied to beat the Montreal Canadiens 4-3. Detroit swept the season series against the Canadiens, earning four of its NHL-low 15 victories against them. Red Wings goalie Jonathan Bernier did not give up a goal in the third period and finished with 19 saves. Nate Thompson and Jeff Petry scored to give Montreal a 2-0 lead in the first period and Nick Suzuki's goal put it ahead 3-1 after two periods.
Tonight
New York Rangers at Chicago Blackhawks, 8:00 p.m.
NBA – Pistons and guard Reggie Jackson agree on contract buyout
The Detroit Pistons and Reggie Jackson agreed on a contract buyout, paving the way for the veteran guard to sign with another team. Detroit announced the agreement Tuesday. Jackson is in the final season of a five-year, $80 million deal he signed in 2015 with the Pistons. The 29-year-old Jackson is averaging 14.9 points and 5.1 assists this season, but he has been limited to just 14 games this season due to a back injury. Oklahoma City drafted the former Boston College star with the 24th pick overall in 2011. He has averaged 12.9 points over his career.
NBA – Reports: Cavaliers, Beilein splitting after just 54 games
Cavaliers first-year coach John Beilein is stepping down after 54 games, according to multiple reports. ESPN reported that Beilein is expected to say goodbye to staff and players Wednesday when they return from the All-Star break. The Cavs have the NBA's second-worst record at 14-40. The 67-year-old Beilein has struggled in his transition to the pro game after 12 successful seasons at Michigan. He signed a five-year contract in May with Cleveland. Associate head coach J.B. Bickerstaff is expected to take Beilein's spot on an interim basis. Bickerstaff previously coached in Memphis and Houston.
NCAAMBB – Men's College Basketball
Last Night
Akron 71, Western Michigan 67
Ohio 77, Central Michigan 69
Eastern Michigan 70, Kent State 49
Akron 71, WMU 67 – Cheese posts double-double to send Akron past W. Michigan
Tyler Cheese scored 23 points with 11 rebounds and Loren Christian Jackson scored 17 and Akron held off Western Michigan for a 71-67 win. Michael Flowers led Western Michigan with 22 points, six rebounds and five assists.
Ohio 77, CMU 69 – Dartis scores 27 to lead Ohio past Cent. Michigan 77-69
Jordan Dartis shot 7-of-12 from the 3-point range and scored 27 points and Ohio beat Central Michigan 77-69 for its first win against the Chippewas since 2014. Lunden McDay scored 10 points. Kevin McKay had 23 points, 12 rebounds and three blocks for the Chippewas (13-12, 6-6), whose losing streak reached four games. Rob Montgomery added 14 points and 11 rebounds and David DiLeo had nine rebounds.
EMU 70, Kent State 49 – Groce scores 15 to lift E. Michigan past Kent St. 70-49
Ty Groce scored 15 points and grabbed nine rebounds and Eastern Michigan beat Kent State 70-49 to win its third straight and fourth straight at home.
Tonight
Michigan at Rutgers, 7:00 p.m.             106.1 & 1400 WSJM Sports 6:30
NCAAWBB – Women's College Basketball
Tonight
Illinois at Michigan, 7:00 p.m.
Bowling Green at Western Michigan, 7:00 p.m.
Kent State at Central Michigan, 7:00 p.m.
NCAAFB – Report: Michigan State investigating allegations of NCAA violations
Michigan State is reportedly investigating allegations of NCAA violations made by a former football staffer in a lawsuit. Curtis Blackwell, a former Michigan State football employee, filed a lawsuit claiming his employment agreement was violated when he was disciplined while the school addressed sexual assault allegations against players in 2017. A recent filing in that case from Blackwell's lawyer suggested that deposition testimony by then-coach Mark Dantonio may have revealed NCAA violations. Dantonio announced his retirement earlier this month. Athletic director Bill Beekman said then that it was his understanding that the allegations were false. But an athletic department spokesman told The Detroit News on Tuesday that the school is looking into them.
NCAA – NCAA moves toward immediate eligibility for all transfers
The NCAA is moving toward allowing all Division I athletes to transfer one time without sitting out a season of competition. A plan to change the waiver process is expected to be presented to the Division I Council in April. If adopted, new criteria would go into effect for the 2020-21 academic year. Currently, football, men's and women's basketball, men's hockey and baseball players must sit out one season after transferring. The NCAA adjusted waiver criteria two years ago to give more athletes the chance to become immediately eligible, but that has led to complaints about inconsistency in the process. If the plan is adopted, any athlete in good academic standing and not facing a disciplinary suspension will be allowed to transfer and play immediately for the new school.
NASCAR – Newman communicating following Daytona crash
NASCAR driver Ryan Newman is awake and speaking with family and doctors a day after his horrific crash on the final lap of the Daytona 500.  Roush Fenway Racing released an update on its driver about 20 hours after Newman's car slammed into the wall at nearly 200 mph, flipped, got T-boned by another car, flipped several more times and skidded to a halt in flames. Everyone watching feared the worst Monday night and had to wait nearly two hours to learn that Newman's injuries were not considered life-threatening.
MLB – Manfred apologizes for calling WS trophy a 'piece of metal'
MLB Commissioner Rob Manfred has apologized for what he called a disrespectful reference to the World Series trophy as a "piece of metal." Even before being asked about it at the Cactus League media day, Manfred said he made a mistake with those comments when trying to deliver a rhetorical point in an interview two days earlier. Players became infuriated by his "piece of metal" comment during a lengthy interview with ESPN on Sunday, the same day he spoke in Florida.
AHL – American Hockey League
Last Night
Grand Rapids Griffins 2, Rockford IceHogs 1
ECHL – ECHL Hockey League
Tonight
Kalamazoo Wings at Fort Wayne Komets, 7:35 p.m.
MCCAA – Junior College Sports
Tonight
Women's Basketball
Ancilla College at Lake Michigan College, 5:30 p.m.
Men's Basketball
Ancilla College at Lake Michigan College, 7:30 p.m.
MHSAA – High School Athletics
Last Night
Boys Basketball
Mishawaka Marian 54, Lakeshore 38
Benton Harbor 114, Muskegon Heights 36
Mishawaka 59, St. Joseph 38
Countryside Academy 77, Lake Michigan Catholic 59
Kalamazoo Heritage 51, Michigan Lutheran 35
Dowagiac 76, Berrien Springs 48
Coloma 49, South Haven 43
Watervliet 69, Lawton 56
Eau Claire 78, White Pigeon 59
Bridgman 55, Buchanan 51
Edwardsburg 50, Niles 37
Hartford 60, Marcellus 54
Mendon 52, Bangor 33
Cassopolis 75, Bloomingdale 55
Centreville 50, Decatur 43
Gobles 45, Allegan 39
Fennville 50, Wyoming Tri-Unity 49
Sturgis 45, Mattawan 34
Portage Northern 55, Three Rivers 48
Battle Creek Central 55, Loy Norrix 45
Plainwell 62, Kalamazoo Christian 58 OT
Schoolcraft 72, Gull Lake 54
Otsego 84, Lakeview 76
Vicksburg 69, Parchment 57
Comstock 41, Constantine 39
Girls Basketball
Watervliet 52, Lawton 42
Edwardsburg 59, Niles 43
Hartford 39, Marcellus 38
Martin 63, Lawrence 14
Mendon 37, Bangor 29
Bloomingdale 52, Cassopolis 29
Centreville 50, Decatur 45
Gobles 48, Allegan 24
Wyoming Tri-Unity 61, Fennville 36
North Muskegon 58, Saugatuck 36
Three Rivers 61, Portage Central 47
Battle Creek Central 57, Loy Norrix 16
Kalamazoo Hackett 43, Calhoun Christian 35
Plainwell 53, Kalamazoo Christian 36
Gull Lake 64, Sturgis 22
Lakeview 65, Otsego 53
Vicksburg 43, Parchment 28
Constantine 51, Comstock 27
Schoolcraft 56, Bronson 48
Boys Swimming
St. Joseph 100, Kalamazoo Central 77
Tonight
Boys Basketball
Decatur at Bangor, 7:30 p.m.
New Buffalo at Lawrence, 5:00 p.m.
Girls Basketball
Decatur at Bangor, 6:00 p.m.
Coloma at South Haven, 6:00 p.m.
Constantine at Martin, 7:00 p.m.
Wrestling – Regionals
Division 2 at Battle Creek Harper Creek
Lakeshore vs. Niles, 6:00 p.m.
Harper Creek vs. Plainwell, 6:00 p.m.
Championship – 7:30 p.m.
Division 3 at Hopkins
South Haven vs. Dowagiac, 6:00 p.m.
Hopkins vs. Constantine, 6:00 p.m.
Championship – 7:30 p.m.
Division 4 at Lawton
White Pigeon vs. Decatur, 6:00 p.m.
Lawton vs. Eau Claire, 6:00 p.m.
Championship – 7:30 p.m.