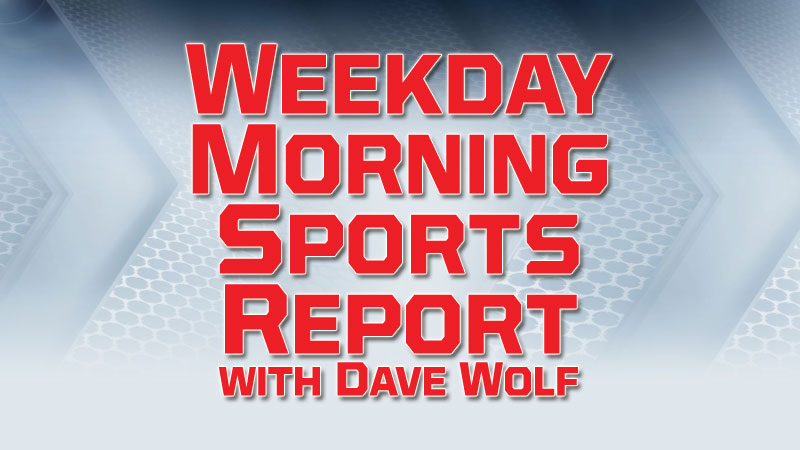 MLB – Major League Baseball
Yesterday
Cubs, White Sox, and Tigers were off
Today
Cleveland (Plutko 5-3) at Detroit (Turnbull 3-12), 7:10 p.m.      WSJM Sports/Cosy-FM 6:45
Chicago Cubs (Darvish 4-6) at N.Y. Mets (Stroman 7-11), 7:10 p.m.
Minnesota (Pineda 9-5) at Chicago White Sox (Giolito 14-6), 8:10 p.m.
NCAAFB – Patterson starting, but more than 1 Michigan QB could play
Shea Patterson is set to start for No. 7 Michigan in its season opener Saturday night against Middle Tennessee, though coach Jim Harbaugh says he would like backup Dylan McCaffrey to play as well. Patterson threw for 2,600 yards and 22 touchdowns last season, his first with the Wolverines after transferring from Mississippi. McCaffrey played in six games last season and attempted just 15 passes. The Wolverines will be without offensive lineman Andrew Stueber this season. Harbaugh said he has a torn ACL.
NCAAFB – ND filling holes on defense
Notre Dame's second-year defensive coordinator Clark Lea has spent the preseason looking for replacements for linebackers Te'von Coney and Drue Tranquill, who led the team in tackles last season. In grad student Asmar Bilal and junior Drew White he may have found two of many. At the moment, the Fighting Irish have 13 players rotating at the three linebacker spots. Ninth-ranked Notre Dame opens the season on Labor Day at Louisville
NCAAFB – Former Penn State team doctor sues Franklin, Barbour, school
A former Penn State team doctor is suing the school, football coach James Franklin and athletic director Sandy Barbour, claiming he was ousted after complaining to school officials about being pressured to clear players to return from injuries. The lawsuit filed Friday by Dr. Scott Lynch in Dauphin County was first reported by Penn Live . Lynch was removed from his position as director of athletic medicine in March and replaced by Dr. Wayne Sebastianelli, who had previously held the position until 2013. Lynch is seeking $50,000 in damages. Penn State Health and the Milton S. Hershey Medical Center in Hershey, Pennsylvania, where Lynch is still employed, also are named as defendants. In the lawsuit, Lynch claims Franklin attempted to interfere with the doctor's authority on "multiple and repeated occasions."
Tennis – Williams, Djokovic cruise at US Open
Serena Williams had little trouble with Maria Sharapova as the two rivals kicked off the night session at the U.S. Open. The eighth-seeded Williams rolled to a 6-1, 6-1 rout that gives her 19 straight wins over Sharapova. Williams took control by winning the final five games of a 24-minute opening set, then the first two of the second set. Sharapova has dropped 20 of their 22 meetings and hasn't beaten Williams since a pair of victories in 2004, including Wimbledon. Men's top seed Novak Djokovic has breezed into the second round, but it took a while for women's No. 2 Ash Barty to get going. Djokovic is 34-1 in his last 35 Grand Slam matches following a 6-1, 6-1, 6-4 win over Spaniard Roberto Carballes on opening day at Flushing Meadows. The 34-year-old Djokovic is seeking his fourth U.S. Open title, his 17th major championship and third Grand Slam crown this year. Barty amassed 36 unforced errors and got less than half her first serves in before walking off the court with a 1-6, 6-3-6-2 victory. The reigning French Open champ rallied after dropping the opening set in 28 minutes. Roger Federer dropped his opening set against a qualifier ranked 190th before coming back to eliminate Sumit Nagal of India, 4-6, 6-1, 6-2, 6-4.
NFL – Chiefs lose backup QB Henne to broken ankle, sign Moore
The Kansas City Chiefs have lost backup quarterback Chad Henne to a fractured ankle that will require surgery. Henne was injured during Saturday's preseason game against San Francisco. The Chiefs have signed veteran Matt Moore Monday to provide depth behind starter Patrick Mahomes. The 35-year-old Moore sat out last season after playing 10 seasons with the Dolphins and Panthers.
NBA – Nets' LeVert gets extension
The Brooklyn Nets have signed guard Caris LeVert to a contract extension after his remarkable recovery from injury last season. The 2016 first-round pick was averaging a team-best 18.4 points in his first 13 games before sustaining a dislocated right foot that kept him off the court for about three months. He managed to recover without surgery, helped the Nets reach the playoffs for the first time in four years and averaged 21 points in a first-round loss to Philadelphia.
WNBA – Women's National Basketball Association
Tonight
Las Vegas Aces at Indiana Fever, 7:00 p.m.
Chicago Sky at Minnesota Lynx, 8:00 p.m.
MWL – Midwest League Baseball
Yesterday
Bowling Green 4, South Bend 3 – Game 1
Bowling Green 7, South Bend 2 – Game 2
Great Lakes 11, Lansing 7
Fort Wayne 6, West Michigan 4
Tonight
Great Lakes at Lansing, 7:05 p.m.
Fort Wayne at West Michigan, 7:05 p.m.
South Bend at Bowling Green, 7:35 p.m.



MHSAA – High School Sports
Last Night
Boys Soccer
St. Joseph 8, Vicksburg 0
Seth Walters scored three goals to help St. Joe defeat visiting Vicksburg 8-0. The Bears also got single goals from Ethan Murrin, Brenden Nolte, Isaac Filippo, Tyler Burnette, and Jack Pender to improve to 6-1-0 on the season. 
Lakeshore 1, Kalamazoo Loy Norrix 0
Lakeshore scored the only goal of the game in the first half by Mikey Tibbets to beat Kalamazoo Loy Norrix 1-0 in SMAC play.  Oli Carmody made 8 saves, including one on a PK to preserve the shutout.
Michigan Lutheran 6, Lawrence 0
Michigan Lutheran improved to 4-1 on the season after an 6-0 win over Lawrence.  AJ DeWeerd scored 4 goals for the Titans, while Alex Ritter had 2. Cameron Guse made 5 saves for the clean sheet.
New Buffalo 3, Howardsville Christian 3 – TIE
Dowagiac 8, Coloma 0
Three Rivers 8, Berrien Springs 7
Harper Creek 3, Lawton 0
Hartford 7, Watervliet 1
Mattawan 4, Kalamazoo Hackett 3
Gull Lake 9, Paw Paw 1
Sturgis 8, Constantine 0
Otsego 0, Hastings 0 – TIE
Bloomingdale 9, Kalamazoo Lakeside 1
Battle Creek Lakeview 2, Plainwell 0
Girls Volleyball
Hartford 3, River Valley 2
Allegan 3, Gobles 0
New Buffalo 3, Berrien Springs 0
Tonight
Boys Soccer
Edwardsburg at Niles, 5:30 p.m.
Parma Western at Sturgis, 6:30 p.m.
Howardsville Christian at Brandywine, 5:00 p.m.
Battle Creek Central at Marshall, 6:30 p.m.
Holland Black River at Fennville, 5:00 p.m.
Bryon Center Zion Christian at Saugatuck, 5:00 p.m.
Girls Volleyball
Lake Michigan Catholic at Watervliet, 5:00 p.m.