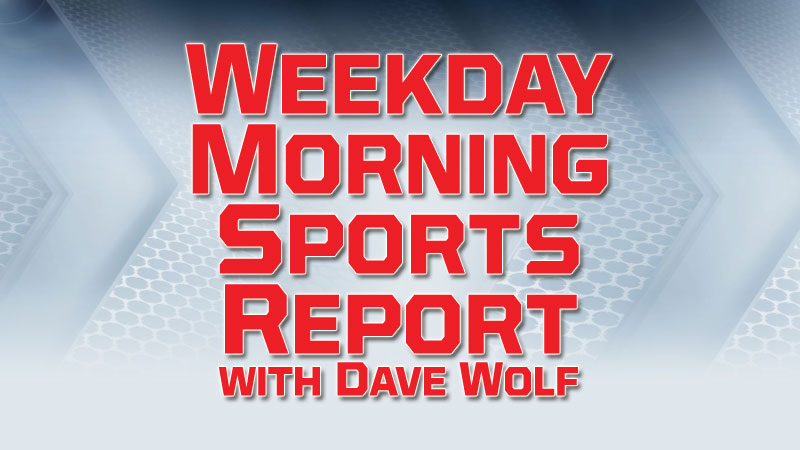 MLB – Major League Baseball
Yesterday
Chicago Cubs 8, Los Angeles Angels 1
Tigers and White Sox were off
Cubs 8, Angels 1 – Lester, Cubs bounce back with 8-1 victory over Angels
Jon Lester and the Chicago Cubs were able to end their recent slump on Monday. Lester worked seven strong innings and the Cubs won for just the second time in eight games by pounding the Angels, 8-1. Lester scattered four hits and blanked Los Angeles until Jonathan Lucroy (LOO'-kroy) lifted a sacrifice fly in the seventh. The lefty was torched for 16 earned runs over 14 innings in losing his previous three starts. Javier Báez drove in three runs with a solo homer, a double and a fielder's choice to highlight Chicago's 11-hit attack. His RBI double came in a five-run sixth after the Cubs were held to six runs in a three-game sweep by St. Louis over the weekend.
Tonight
Chicago White Sox (Lopez 3-5) at Washington (Strasburg 5-3), 7:05 p.m.
Tampa Bay (Snell 3-4) at Detroit (Carpenter 0-2), 7:10 p.m.         WSJM Sports/Cosy-FM 6:45
Colorado (Hoffman 1-1) at Chicago Cubs (Hendricks 5-4), 8:05 p.m.
MLB – O's take catcher Rutschman with top pick
Adley Rutschman is the first player taken tonight in the Major League Baseball draft. The Oregon State catcher was selected by the Baltimore Orioles, who owned the top pick for the second time in team history and the first since choosing LSU pitcher Ben McDonald in 1989. Rutschman batted .411 this year with 17 home runs, 58 RBIs and a school-record 76 walks while also throwing out 13 of 27 base-runners. He is a finalist for the Golden Spikes Award given to the country's top college player. Rutschman is the seventh catcher selected with the No. 1 pick, and the first since Minnesota took Joe Mauer in 2001. The Royals grabbed Bobby Witt Jr. with the second selection. The son of former big league pitcher Bobby Witt played shortstop at Colleyville Heritage High School in Texas and is considered a five-tool player. California first baseman Andrew Vaughn was taken third by the White Sox. Vaughn batted .381 this season with 15 homers, 50 RBIs and a .544 on-base percentage that ranks among the national leaders. The Marlins took outfielder J.J. Bleday with the 4th choice, and the Tigers took Florida high school outfielder Riley Greene at No. 5.
IL – Foul ball hits child at Indianapolis minor league game
Indianapolis' minor league baseball team says a child was hospitalized after being hit by a foul ball during a game Saturday night. The Indianapolis Star reports the Indianapolis Indians say on-site emergency personnel treated the child before the child was transported to an area hospital. The child's condition wasn't known. The Indians extended safety netting at the park in 2017.
NHL – 2019 NHL Stanley Cup Final (Best of 7)
Tonight
St. Louis Blues 4, Boston Bruins 2                                                         (Series tied 2-2)
Blues 4, Bruins 2 – Blues knot series
The St. Louis Blues and Boston Bruins are all even through four games of the Stanley Cup final. Ryan O'Reilly's second goal of the night broke a 2-2 tie with 9:22 remaining in the Blues' 3-2 win over the Boston Bruins. St. Louis wasted a pair of one-goal leads before O'Reilly grabbed the rebound off an Alex Pietrangelo shot and fired it past Tuukka Rask. Vladimir Tarasenko notched his 11th goal of the postseason, and Brayden Schenn added an empty-netter and an assist.  Jordan Binnington made 21 saves for the Blues after being torched for five goals on 19 shots in less than two periods of Game 3. Rask stopped 34 of 37 St. Louis shots on goal. Vince Dunn returned to the St. Louis lineup and picked up an assist on O'Reilly's goal 43 seconds after the opening faceoff. Dunn missed the previous six games after taking a puck in the face during the Western Conference final. Boston has its own injury issue after veteran defenseman Zdeno Chara took a puck in the mouth from short range off the stick of Schenn early in the second period. Chara returned to the bench for the start of the third period but never got back on the ice. Brandon Carlo had a short-handed goal for the Bruins, who host Game 5 on Thursday.
NBA – Thompson iffy for Game 3; Looney out indefinitely
The Golden State Warriors could be without guard Klay Thompson for Game 3 of the NBA Finals Wednesday against Toronto. Thompson has a mild strain in his left hamstring that caused him to miss the last eight minutes of Sunday's 109-104 win over the Raptors. He is listed as questionable for Wednesday. Backup big man Kevon Looney is out indefinitely after suffering a non-displaced cartilage fracture on the right side of his ribcage during Sunday's win. The Warriors also could be minus All-Star forward Kevin Durant, who hasn't played since Game 5 of the Western Conference semifinals because of a calf injury. Coach Steve Kerr has said that Durant will have to practice at least once before seeing any game action.
NFL – Goodell reiterates desire to shorten 4-game preseason
NFL Commissioner Roger Goodell is reiterating his stance of wanting to reduce the four-game preseason schedule at a time the league and player's association have begun preliminary talks on a new collective bargaining agreement. Goodell cites discussions he's had with coaches in saying he doesn't believe four preseason games are necessary to evaluate and develop players for the start of the regular season. He says the NFL should do everything to the highest quality, and that he's "not sure preseason games meet that level right now." In touching on several other topics, he said the NFL has scheduled a series of conference calls with coaches this week to go over a proposal to expand replay reviews and allow them to challenge pass-interference calls in the final two minutes.
Tennis – French Open – Women – Keys, Anisimova head to Quarterfinals
The French Open quarterfinals will include three Americans. Madison Keys and Amanda Anisimova have joined fellow American Sloane Stephens in the quarters by winning in straight sets on Monday. The 17-year-old Anisimova is the youngest woman to reach the French Open quarterfinals in 13 years following a 6-3, 6-0 rout of Aliona Bolsova in 69 minutes. Anisimova earned the right to take on defending champ and third seed Simona Halep, who rolled to a 6-1, 6-0 win over Iga Swiatek. Madison Keys and Ash Barty will face off in the quarterfinals. In wet conditions in Paris, the 14th-seeded Keys had no problem dealing with 42nd-ranked Katerina Siniakova. The eighth-seeded Barty defeated Sofia Kenin 6-3, 3-6, 6-0. Kenin, a 20-year-old American, had upset Serena Williams in the previous round.
Tennis – French Open – Men – Djokovic advances
No. 1 Novak Djokovic is the first man to reach the quarterfinals at Roland Garros 10 years in a row. He had just 12 unforced errors in a 6-3, 6-2, 6-2 win over Jan-Lennard Struff.   The top-seeded Djokovic is bidding for a fourth consecutive Grand Slam title and his second trophy at Roland Garros, where he won in 2016. Fourth seed Dominic Thiem and fifth seed Alexander Zverev also reached the quarters, as did No. 7 Kei Nishikori and No. 10 Karen Khachanov. Nishikori won his fifth set, 7-5 in a match that was halted by darkness on Sunday. The quarterfinals begin Tuesday. The men's action has second seed Rafael Nadal versus Nishikori and No. 3 Roger Federer against Stan Wawrinka. Nadal is seeking his 11th French Open title, and Federer is honing in on his 21st Grand Slam championship. The women's quarters will have Stephens taking on Johanna Konta and Marketa Vondrousova battling Petra Martic.
NCAABSB – NCAA Baseball
Yesterday
Michigan 17, (22) Creighton 6
Michigan 17, Creighton 6 – Michigan heating up at right time, moves to super regionals
After barely making the NCAA Tournament, Michigan is now a regional champion and on its way to the next round.  The Wolverines beat Creighton 17-6 in Corvallis, Oregon, on Monday night, rebounding from 24 hours earlier when they gave up seven runs in the ninth inning and lost 11-7 to the Bluejays, forcing a second regional final.  St. Joseph's, Jordan Brewer had three hits, two RBI and three stolen bases, Jesse Franklin had four hits and three RBI.  Michigan is in super regionals for the first time since 2007 and will play UCLA. The Wolverines need two more wins to reach the College World Series for the first time since 1984.
ECHL – 2019 ECHL Kelly Cup Finals (best of 7)
Tonight
Toledo Walley at Newfoundland Growlers, 5:30 p.m.                             (NFL leads 3-2)
MWL – Midwest League Baseball
Yesterday
No games yesterday
Tonight
Bowling Green at South Bend, 7:05 p.m.
Dayton at West Michigan, 7:05 p.m.
Lansing at Great Lakes, 7:05 p.m.


MHSAA – High School Sports
Yesterday
Baseball – Districts
Division 2 at South Haven
Edwardsburg 20, Benton Harbor 0
Lakeshore 10, Niles 0
Championship
Lakeshore 5, Edwardsburg 3
Division 2 at Sturgis
Championship
Otsego 11, Plainwell 10
Division 2 at Hopkins
Thornapple-Kellogg 7, Hopkins 1
Championship
Thornapple-Kellogg 6, Allegan 5
Division 3 at Bloomingdale
Coloma 5, Hartford 3
Watervliet 6, Bangor 4
Championship
Watervliet 16, Coloma 1
Division 3 at Constantine
Championship
Buchanan 13, Berrien Springs 6
Softball – Districts
Division 2 at South Haven
South Haven 4, Dowagiac 2
Lakeshore 3, Niles 2
Championship
Lakeshore 3, South Haven 1
Division 2 at Plainwell
Vicksburg 10, Three Rivers 0
Championship
Vicksburg 10, Otsego 3
Division 2 at Hopkins
Wayland 10, Allegan 0
Championship
Thornapple-Kellogg 11, Wayland 5
Division 3 at Bloomingdale
Coloma 10, Bloomingdale 0
Watervliet 22, Bangor 1
Championship
Coloma 2, Watervliet 0
Tonight
Girls Soccer – Regional Semifinals
Division 2 at Spring Arbor University
St. Joseph vs. Gull Lake, 5:00 p.m.
Marshall vs. Dexter, 7:00 p.m.
Division 3 at Hope College
Coloma vs. Allegan, 5:00 p.m.
GR South Christian vs. Muskegon Orchard View, 7:00 p.m.
Division 4 at Portage Northern
Michigan Lutheran vs. Holland Black River, 5:00 p.m.
Kalamazoo Christian vs. Jackson Lumen Christi, 7:00 p.m.
Division 1 at East Kentwood
Grand Haven vs. GR Forest Hills Central, 5:00 p.m.
Portage Central vs. Midland, 7:00 p.m.