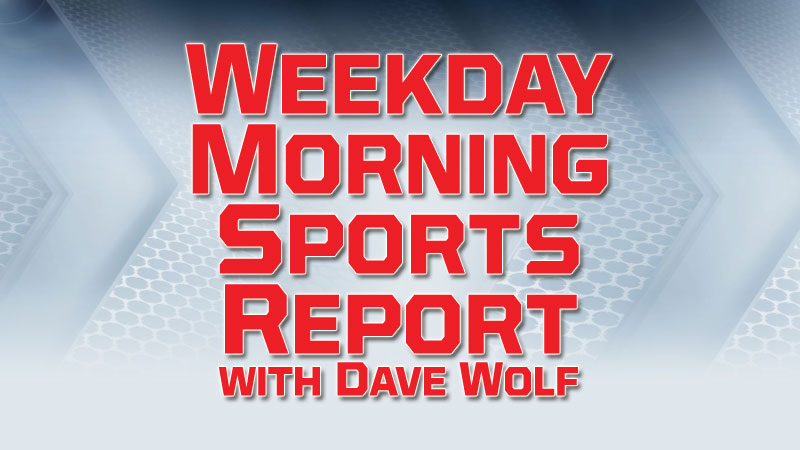 NCAABSB – NCAA Baseball – College World Series
Yesterday
Texas Tech 5, Arkansas 4                                (Arkansas eliminated)
Michigan 2, Florida State 0
Michigan 2, Florida State 0 – Michigan rides Henry's 3-hitter to 2-0 win over FSU at CWS
Tommy Henry limited Florida State to three hits, and Jesse Franklin's first-inning home run stood up in Michigan's 2-0 win at the College World Series on Monday night.  The Wolverines (48-20) took control of Bracket 1 in their first CWS appearance since 1984 and need one more win Friday to reach the best-of-three finals next week.  Henry (11-5) was efficient in his second shutout of the season and Michigan's ninth. The junior left-hander threw 100 pitches, including 24 first-pitch strikes against the 32 batters he faced, struck out 10 and walked none. He went to three-ball counts just twice, both times in the first inning. The Wolverines are 2-0 in a CWS for the first time in six appearances since 1962.  Michigan plays Friday against Texas Tech or Florida State.
Today
Louisville vs. Auburn, 2:00 p.m.
Vanderbilt vs. Mississippi State, 7:00 p.m.
MLB – Major League Baseball
Yesterday
Tigers, Cubs, and White Sox were off
Tonight
Detroit (Norris 2-5) at Pittsburgh (Keller 0-1), 7:05 p.m.           WSJM Sports/Cosy-FM 6:40
Chicago White Sox (Nova 3-5) at Chicago Cubs (Hamels 6-2), 8:05 p.m.
MLB – Judge: 1 year of prison for suspect in David Ortiz shooting
Authorities in the Dominican Republic say they are closing in on the mastermind and motive behind the shooting of Red Sox baseball great David Ortiz as he recovers in a hospital in Boston.  A judge on Monday ordered a man nicknamed "Bone" to one year in preventive prison during a hearing closed to the public.  According to documents obtained by The Associated Press, the man, whose real name is Gabriel Alexánder Pérez Vizcaíno, is accused of being the liaison between the alleged hit men and the person who paid them.  The documents also state that Pérez sold the cellphone allegedly used to plan the attack to a woman for $180 a day after the June 9 shooting. Authorities said he wanted to get rid of the evidence.
NBA – Police: 4 shot, 3 arrested at Raptors rally in Toronto
Toronto police say four people were shot and wounded at a rally for the NBA champion Raptors, and three people were arrested.  Droves of Raptors fans ran from the shooting in a stampede from the City Hall square, which was packed with tens of thousands of people. Police Chief Mark Saunders says four people suffered gunshot wounds but said none of the injuries were life-threatening. Two guns were recovered.  During a speech from one of the team owners, the host of the rally interrupted the proceedings to alert the crowd to an emergency and asked for calm. Canadian Prime Minister Justin Trudeau, Toronto Mayor John Tory, NBA Finals MVP Kawhi Leonard and other players were among those on stage at the time.
NFL – QB Josh McCown retires after 16 NFL seasons
Quarterback Josh McCown has announced he is retiring from playing football after an NFL career that spanned 16 NFL seasons and included stints with 10 teams. He played the last two seasons with the New York Jets, serving as the starter in 2017 and as a veteran backup to rookie Sam Darnold last year.  McCown finished with 17,707 career yards passing with 98 touchdowns and 82 interceptions. He was a third-round draft pick of Arizona in 2002 and also spent time with Detroit, Oakland, Miami, Carolina, San Francisco, Chicago, Tampa Bay and Cleveland before joining the Jets. McCown, who turns 40 on July 4 says he'll be helping coach his two sons, who are also quarterbacks, in high school this year.
NHL – Sharks sign D Erik Karlsson to $92M, 8-year deal
The San Jose Sharks have re-signed pending free agent defenseman Erik Karlsson to a $92 million, eight-year deal. The Sharks announced the deal two weeks before Karlsson was eligible to become an unrestricted free agent on July 1. The deal is said to carry an annual cap hit of $11.5 million and includes a full no-movement clause.  The Sharks acquired the two-time Norris Trophy winner just before the start of last season from Ottawa as a one-year rental. Karlsson was hampered by groin injuries for much of his first season in San Jose but also showed flashes as he helped the Sharks reach the Western Conference final, where they lost to eventual champion St. Louis in six games.
NHL – Eakins new Ducks coach
Dallas Eakins is the Anaheim Ducks' new coach. The Ducks filled the NHL's last head coaching vacancy with the veteran coach of their AHL affiliate in San Diego. Eakins coached the Edmonton Oilers from the start of the 2013-14 season until December 2014, going 36-63-14. Eakins spent the past four seasons with the Gulls, leading them to the AHL's conference finals this season.
NHL – Rangers acquire Trouba
The New York Rangers have acquired defenseman Jacob Trouba from the Winnipeg Jets for defenseman Neal Pionk and the 20th overall pick in the draft. Trouba gives the rebuilding Rangers a legitimate top-pairing defenseman to speed up their move toward being playoff contenders again. The right-handed-shooting blue liner had eight goals and 42 assists for 50 points last season.
FIFA – 2019 Women's World Cup – France
Yesterday
China 0, Spain 0 – TIE
Germany 4, South Africa 0
France 1, Nigeria 0
Norway 2, South Korea 1
Today
Italy vs. Brazil, 3:00 p.m.
Jamaica vs. Australia, 3:00 p.m.
Nassar judge, Olympians back USOC oversight push in Congress
The judge who sentenced former sports doctor Larry Nassar to prison and a group of Olympians are backing an effort to create a committee to look into the operations of the U.S. Olympic Committee.  They joined Colorado's U.S. Rep. Diana DeGette in Denver Monday to announce the planned introduction of the bipartisan bill Tuesday in the House. It mirrors one introduced in January by Colorado Republican Sen. Cory Gardner in the Senate, a standard practice in Congress. It would set up a panel of 16 people, half of them Olympians or Paralympians, with subpoena power. It comes six months after a congressional report in the wake of the Nassar case recommended a review of the law that governs the USOC and how the USOC can use its authority to more actively protect athletes.
Whitmer forms task force to support girls, women in sports
Michigan Gov. Gretchen Whitmer has created a task force to support and promote opportunities for girls and women in sports. The group formed Monday by an executive order must make initial findings and recommendations before March 2021. The 15-member task force will be chaired by Secretary of State Jocelyn Benson, who formerly led a nonprofit dedicated to advancing equality through sports. Whitmer says girls and women deserve the same opportunities as male athletes.
She says even with the enactment of Title IX nearly 50 years ago, sports opportunities for girls and women remain limited, and more work remains to even the playing field. Whitmer says just one Division 1 collegiate athletic program in Michigan is led by a woman.  Benson says Michigan has a chance to become a "national model."
MWL – Midwest League Baseball
Tonight
2019 Midwest League All Star Game – Four Winds Field, South Bend, IN
Western Division vs. Eastern Division, 7:35 p.m.