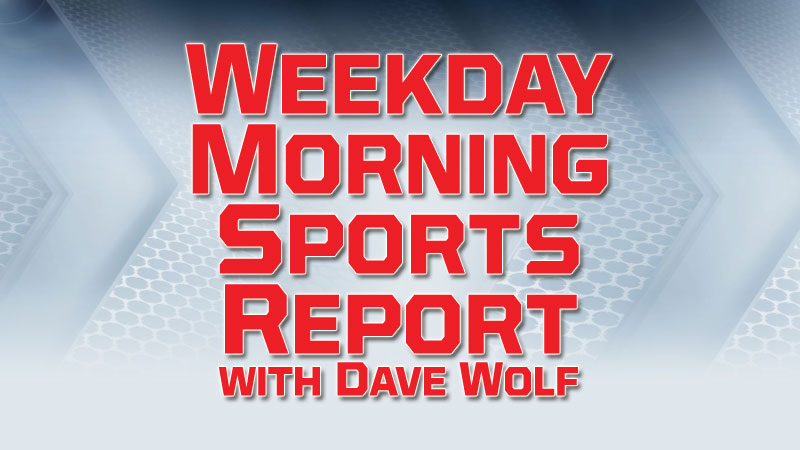 MLB – Major League Baseball
Yesterday
Chicago White Sox 12, Baltimore Orioles 2
Detroit Tigers at Boston Red Sox, PPD Rain (doubleheader today)
Chicago Cubs were off
White Sox 12, Orioles 2 – Abreu HR, 5 RBIs helps White Sox crush Orioles 12-2
José Abreu homered and drove in five runs, James McCann had a homer and four RBIs and Chicago White Sox beat the bumbling Baltimore Orioles 12-2 Monday night.  McCann's three-run drive off David Hess (1-4) highlighted a four-run fifth inning, and Abreu's shot with a man on sparked a four-run seventh against Tanner Scott. Abreu also had an RBI single in the fifth and singled in two runs during a four-run eighth.  The rebuilding Orioles have lost four straight, fell to 1-10 at home and drew just 8,555 — their fifth time under 10,000 at Camden Yards this season.
Today
Detroit (Boyd 1-1) at Boston (Sale 0-4), 1:05 p.m. – Game 1                  WSJM Sports/Cosy-FM 12:45
Detroit (Turnbull 0-2) at Boston (Velazquez 0-1), 7:10 p.m. – Game 2            WSJM Sports/Cosy-FM 6:45
Chicago White Sox (Nova 0-2) at Baltimore (Cashner 3-1), 7:05 p.m.
L.A. Dodgers (Maeda 3-1) at Chicago Cubs (Quintana 2-1), 8:05 p.m.
NBA – National Basketball Association
Last Night
Milwaukee Bucks 127, Detroit Pistons 104                                             (MIL wins 4-0)
Utah Jazz 107, Houston Rockets 91                                                        (HOU leads 3-1)
Bucks 127, Pistons 104 – Antetokounmpo scores 41, leads Bucks to sweep of Detroit
Giannis Antetokounmpo scored 41 points, and the Milwaukee Bucks beat Detroit 127-104 on Monday night, completing a four-game sweep of the Pistons and advancing to the second round of the playoffs for the first time since 2001.  Milwaukee closed the third quarter with a 17-3 run, taking a 10-point lead into the fourth after the Pistons had led much of the way. Detroit set an NBA record with its 14th consecutive playoff loss, a skid that began in 2008.  The Bucks will face Boston in the second round. The Celtics are coming off a sweep of their own against Indiana.  Reggie Jackson scored 20 of his 26 points in the first half for Detroit. Blake Griffin fouled out with 7:06 remaining after scoring 22.  Griffin was on the bench for much of Milwaukee's crucial run. He sat for the final 4:35 of the third. Antetokounmpo scored 16 points in that quarter, half of which came on free throws.
Jazz 107, Rockets 91 – Jazz stay alive
The Utah Jazz avoided a four-game sweep in their NBA first-round series as Donovan Mitchell scored 19 of his 31 points in the fourth quarter of a 107-91 win over Houston. The Jazz opened the fourth quarter with a 15-1 run and outscored the Rockets 31-12 in the period. Jae Crowder finished with 23 points. Ricky Rubio chipped in 18 points and 11 assists and Derrick Favors finished with 12 points and 11 rebounds.
Tonight
Orlando Magic at Toronto Raptors, 7:00 p.m.                                        (TOR leads 3-1)
Brooklyn Nets at Philadelphia 76ers, 8:00 p.m.                                      (PHI leads 3-1)      
San Antonio Spurs at Denver Nuggets, 9:30 p.m.                                    (Series tied 2-2)
Oklahoma City Thunder at Portland Trailblazers, 10:30 p.m.                 (POR leads 3-1)
NBA – Kings new coach accused of sexual assault in suit
A female sports reporter has filed a lawsuit accusing new Sacramento Kings coach Luke Walton of sexual assault. TMZ reported Monday night citing legal documents that Kelli Tennant is suing Walton. TMZ reports that Tennant claims she went to Walton's hotel room to discuss a book she was writing when Walton pinned her to the bed, forcibly kissed her and groped her.  The alleged incident happened before Walton became coach of the Lakers in 2016 and while Tennant worked for Sportsnet LA.
NHL – 2019 NHL Stanley Cup Playoffs – Round 1 (Best of 7)
Last Night
Carolina Hurricanes 5, Washington Capitals 2                                       (Series tied 3-3)
Dallas Stars 2, Nashville Predators 1 – OT                                           (DAL wins 4-2)
Hurricanes 5, Capitals 2 – Carolina forces game 7 with defending champs
The Carolina Hurricanes have earned a return trip to Washington by forcing a seventh game in their first-round series with the Capitals. Jordan Staal snapped a 2-2 tie in the third period before adding an assist in the Hurricanes' 5-2 victory over the defending Stanley Cup champs. Staal set up former Cap Justin Williams, who beat Braden Holtby to make it 4-2 just seconds after Washington had a goal disallowed due to goaltender interference.
Stars 2, Predators 1 – Stars advance
The Dallas Stars are in the second round of the Stanley Cup playoffs after John Klingberg scored from the left circle 17:02 into overtime to complete a 2-1 victory in Game 6 against the Nashville Predators. Klingberg's first goal of the playoffs came on a cross-ice pass from Alexander Radulov. Blake Comeau scored his first playoff goal for the Stars, tying the game at 1-1 in the second period.
Tonight
Toronto Maple Leafs at Boston Bruins, 7:00 p.m.                                   (Game 7)
Vegas Golden Knights at San Jose Sharks, 10:00 p.m.                            (Game 7)
NCAAFB – Bama coach has hip replacement
Alabama football coach Nick Saban has undergone hip replacement surgery. His doctor says the 67-year-old Saban is expected to make a full recovery and "should be able to return to work in the very new future." Saban said after Alabama's spring game that his hip problems would be evaluated and that he could need six to eight weeks of recovery.
WNBA – CBS Sports signs multiyear deal with WNBA
CBS Sports has signed a multiyear deal with the WNBA to broadcast 40 games per season beginning next month. The games will be in primetime and on weekends and will be shown on the CBS Sports Network. Terms of the deal weren't disclosed. The league, which will begin its 23rd season on May 24, also has a deal with ESPN to show 16 regular season telecasts, including three on ABC. Last year, the WNBA had a strong regular season with combined average viewership across ESPN2 and NBA TV up 31% over 2018. Minnesota versus Chicago on Saturday, May 25, will be the first game on the CBS Sports Network. The TV channel will use the local broadcast feeds for now, similar to what NBA TV does in showing WNBA games. The sides are still discussing expanding the coverage to include features and other WNBA programming.
MWL – Midwest League Baseball
Yesterday
South Bend Cubs 13, Lansing Lugnuts 10 – 10 Innings
West Michigan Whitecaps 5, Great Lakes Loons 1
Tonight
South Bend Cubs at Lansing Lugnuts, 6:05 p.m.
West Michigan Whitecaps at Great Lakes Loons, 6:05 p.m.
AHL – 2019 AHL Calder Cup Playoffs – Round 1 (Best of 5)
Tonight
Chicago Wolves at Grand Rapids Griffins, 7:05 p.m.                              (Series tied 1-1)
ECHL – 2019 ECHL Kelly Cup Playoffs – Round 1 (Best of 7)
Tonight
Kalamazoo Wings at Cincinnati Cyclones, 7:35 p.m.                               (CIN leads 3-2)
Toledo Walleye at Fort Wayne Komets, 7:35 p.m.                                    (TOL leads 3-2)
MHSAA – High School Sports
Last Night
Girls Soccer
St. Joseph 11, Battle Creek Central 0
Gull Lake 4, Lakeshore 0
Niles 2, Kalamazoo Central 1
Portage Central 2, Kalamazoo Loy Norrix 1
Portage Northern 0, Mattawan 0 – TIE
Marshall 5, Battle Creek Lakeview 0
Battle Creek Harper Creek 5, Three Rivers 0
Bridgman 1, Parchment 0
Plainwell 1, Caledonia 0
Michigan Lutheran 12, Covert 0
Hartford 4, Cassopolis 0
Coloma 8, Lawton 0
Fennville 4, Schoolcraft 0
Constantine 4, Watervliet 1
Allegan 3, GR Covenant Christian 1
Girls Tennis
St. Joseph 6, Battle Creek Lakeview 2
Lakeshore 8, Battle Creek Central 0
Niles 7, Kalamazoo Central 1
St. Joseph 8, Battle Creek Central 0
Lakeshore 4, Battle Creek Lakeview 4 – TIE
Mattawan 8, Niles 0
Sturgis 8, Vicksburg 0
Three Rivers 7, Dowagiac 1
Otsego 5, South Haven 3
Paw Paw 5, Plainwell 3
Baseball
Benton Harbor 22, Lake Michigan Catholic 1 – Game 1
Benton Harbor 15, Lake Michigan Catholic 0 – Game 2
Brandywine 15, Lawton 3
Coloma 16, Martin 0 – Game 1
Coloma 18, Martin 6 – Game 2
Decatur 18, Bangor 0 – Game 1
Decatur 20, Bangor 2 – Game 2
Mendon 10, Hartford 0 – Game 1
Mendon 12, Hartford 2 – Game 2
Centreville 15, Marcellus 0 – Game 1
Centreville 10, Marcellus 0 – Game 2
Cassopolis 11, White Pigeon 0 – Game 1
Cassopolis 13, White Pigeon 1 – Game 2
Softball
Lake Michigan Catholic 17, Benton Harbor 7 – Game 1
Lake Michigan Catholic 17, Benton Harbor 7 – Game 2
Coloma 13, Martin 3 – Game 1
Coloma 11, Martin 1 – Game 2
Decatur 17, Bangor 7 – Game 1
Decatur 17, Bangor 7 – Game 2
Track and Field
Portage Northern at Niles   
Girls: PN 96.5, NIL 66.5          
Boys: PN 103, NIL 60
Boys Golf
BCS at lake Michigan Hills
1.  Lake Michigan Catholic 217, 2. Howardsville Christian 225, 3. New Buffalo 237, 4. Bridgman 245, 5. River Valley 249
SMAC West at Berrien Hills
1. Mattawan 158, 2. Lakeshore 160, 3. St. Joseph 165, 4. Portage Central 166, 5. Portage Northern 172, 6. Niles 186
Wolverine at Cheshire Hills
1. Edwardsburg 164, 2. Allegan 178, 3. South Haven 183, 4. Dowagiac 189, 5. Plainwell 192, 6. Three Rivers 192, 7. Sturgis 207, 8. Otsego 210, 9. Vicksburg 214, 10. Paw Paw 222
Tonight
Baseball
Mattawan at St. Joseph, 4:00 p.m. (DH)
Lakeshore at Niles, 4:00 p.m. (DH)
Brandywine at Berrien Springs, 4:15 p.m. (DH)
New Buffalo at Lake Michigan Catholic, 4:15 p.m. (DH)
Softball
Mattawan at St. Joseph, 4:00 p.m. (DH)
Lakeshore at Niles, 4:00 p.m. (DH)
Brandywine at Berrien Springs, 4:15 p.m. (DH)
New Buffalo at Lake Michigan Catholic, 4:15 p.m. (DH)
Michigan Lutheran at Howardsville Christian, 4:30 p.m.
Girls Soccer
Bangor at Lake Michigan Catholic, 5:00 p.m.
Battle Creek Lakeview at Harper Creek, 6:30 p.m.
Track and Field
St. Joseph at Mattawan, 4:00 p.m.
Lakeshore, Gull Lake at Portage Central, 4:00 p.m.
Girls Tennis
Berrien Springs at Brandywine, 4:30 p.m.