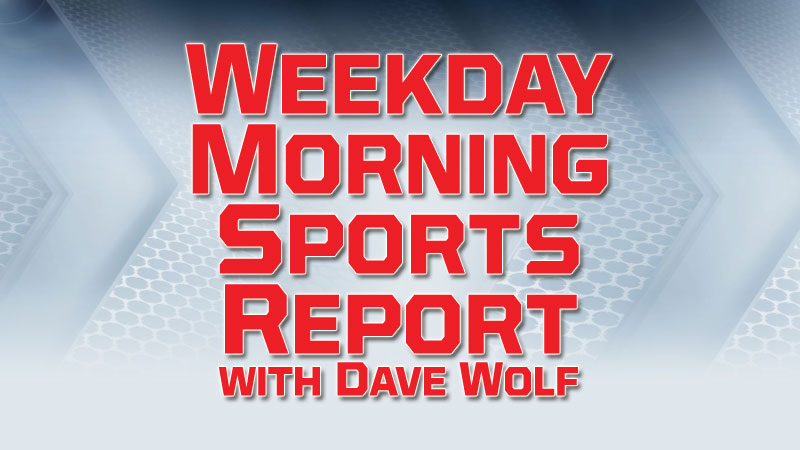 MHSAA – Keim steps down as Lancers football coach
Lakeshore Football coach Bryan Keim has stepped down, turning in his resignation on Monday. Keim took over the Lancer program after serving as defensive coordinator under Denny Dock for two seasons. He guided Lakeshore to an 8-3 record and an opening round playoff win over Coldwater in his first year at the helm. Lakeshore also posted opening round playoff wins in 2016 and 2017 under his direction. He also guided the team to Southwest Michigan Athletic Conference West Division championships in 2014 and 2017. Keim steps down with 39-23 record as the Lancers' head coach.  Lakeshore went 4-5 in 2019 and missed the playoffs for the first time since 1997.  Lakeshore Athletic Director Greg Younger expressed his appreciation for Keim's hard work and dedication to the program. Younger says a search for a new head coach will begin immediately.
NFL – National Football League – Week 11
Last Night
Kansas City Chiefs 24, Los Angeles Chargers 17
Chiefs 24, Chargers 17 – Chiefs hold off Chargers
Daniel Sorenson picked off Philip Rivers at the goal line with 18 seconds remaining to preserve the Kansas City Chiefs' 24-17 victory over the Los Angeles Chargers. Mike Williams made a spectacular 50-yard catch with 44 seconds to play and Los Angeles got to the Kansas City 14 before Rivers tossed his fourth interception of the night. LeSean McCoy and Darrel Williams rushed for touchdowns as the Chiefs hung on to win the 4th regular-season NFL game played in Mexico City.
NCAAMBB – Men's College Basketball
Last Night
(3) Michigan State 94, Charleston Southern 46
Notre Dame 63, Presbyterian 53
Central Michigan 115, Siena Heights 58
(3) MSU 94, CHSo 46 – No. 3 Michigan State beats Charleston Southern 94-46
Xavier Tillman scored a career-high 21 points and grabbed 10 rebounds to help No. 3 Michigan State tune up with a 94-46 win over Charleston Southern on Monday night.  The Spartans (3-1) were without starting forward Aaron Henry, who rolled both ankles in last week's win over then-No. 12 Seton Hall, in the on-campus game that is part of the Maui Invitational. Michigan State's Gabe Brown made his first career start in place of Henry and the sophomore scored a season-high 12 points. Freshman Rocket Watts had a season-high 11 points, making another start in place of injured Joshua Langford. Cassius Winston added 11 points and eight assists for the Spartans. He told their fans they're keeping him going while dealing with the death of his brother earlier this month.
ND 63, Presbyterian 53 – Laszewski steps up, helps Irish top Presbyterian 63-53
Sophomore forward Nate Laszewski, filling in for ailing Notre Dame star John Mooney, delivered a pair of dunks off power moves down the stretch as the Fighting Irish pulled away late for a 63-53 victory over Presbyterian on Monday night. Rex Pflueger scored 13 points and dealt six assists as Notre Dame (4-1) won its fourth straight. Laszewski scored a season-high 11 points. Juwan Durham also had 11 for the Irish to go with 15 rebounds and four blocked shots. zophomore Cory Hightower paced the Blue Hose (1-3) with 15 points and eight rebounds. Ben Drake added 11 points.
CMU 116, SHU 58 – Morgan leads Cent. Michigan over Siena Heights 115-58
Dallas Morgan had a career-high 27 points, including seven 3-pointers, as Central Michigan rolled past Siena Heights 115-58 on Monday night.  Rob Montgomery had 17 points for Central Michigan (4-0). Travon Broadway added 15 points and seven assists. Corey Redman had 11 points and David DiLeo, averaging 23 points, was held to seven points.
Tonight
Alma College at Western Michigan, 7:00 p.m.
NCAAFB – College Football – Week 13
Tonight
Eastern Michigan at Northern Illinois, 7:30 p.m.
NCAAWBB – Women's College Basketball
Tonight
Oakland University at (15) Michigan State, 7:00 p.m.
Southeast Missouri State at Eastern Michigan, 7:00 p.m.
AP Poll – Men's – Duke is on top
Duke has moved to No. 1 in The Associated Press men's college basketball poll following Kentucky's surprising loss to Evansville. The Blue Devils received 52 first-place votes from a 65-member media panel in the poll released Monday. No. 2 Louisville received eight first-place votes and No. 3 Michigan State, the preseason No. 1, had four.
AP Poll – Women's – ND out after 12 years
Notre Dame's 12-year run in The Associated Press women's college basketball poll is over.  The Irish fell out of the AP Top 25 on Monday for the first time since the end of the 2006-07 season, ending a streak of 234 consecutive weeks being ranked. It was the third longest active streak behind UConn (492) and Baylor (302).  Muffet McGraw's team lost at home to Tennessee and Michigan State this week, marking the first time since 2008 the Irish dropped consecutive game in South Bend, Indiana. While the Irish dropped out of the rankings, Oregon remained No. 1. The Ducks received 27 of the 29 first-place votes. Baylor was second.
Men's CBB Rankings

Women's CBB Rankings

1

Duke (52)

4-0

1

Oregon (27)

3-0

2

Louisville(8)

4-0

2

Baylor (2)

3-0

3

Michigan State (4)

2-1

3

Stanford

4-0

4

Kansas

2-1

4

UConn

3-0

5

North Carolina

3-0

5

South Carolina

4-0

6

Maryland

3-0

6

Texas A&M

3-0

7

Virginia(1)

3-0

7

Oregon State

4-0

8

Gonzaga

4-0

8

Louisville

3-0

9

Kentucky

2-1

9

Maryland

3-1

10

Ohio State

3-0

10

Mississippi State

3-0

11

Oregon

4-0

11

UCLA

3-0

12

Texas Tech

3-0

12

Florida State

4-0

13

Seton Hall

3-1

13

Kentucky

4-0

14

Arizona

4-0

14

NC State

3-0

15

Utah State

4-0

15

Michigan State

3-0

16

Memphis

3-1

16

Miami

3-0

17

Villanova

2-1

17

Syracuse

3-0

18

Xavier

4-0

18

Indiana

3-0

19

Auburn

4-0

19

DePaul

2-1

20

Tennessee

3-0

20

Arkansas

4-0

21

VCU

4-0

21

Michigan

4-0

22

Texas

4-0

22

South Florida

4-0

23

Colorado

2-0

23

Gonzaga

2-1

24

Baylor

2-1

Tie

Tennessee

4-0

25

Washington

2-1

25

West Virginia

3-0
NHL – National Hockey League
Tonight
Ottawa Senators at Detroit Red Wings, 7:30 p.m.
Carolina Hurricanes at Chicago Blackhawks, 8:30 p.m.
NBA – National Basketball Association
Last Night
Milwaukee Bucks 115, Chicago Bulls 101
Indiana Pacers 115, Brooklyn Nets 86
Bucks 115, Bulls 101 – Antetokounmpo scores 33 as Bucks beat Bulls 115-101
Giannis Antetokounmpo had 33 points and 10 rebounds, and the Milwaukee Bucks beat the Chicago Bulls 115-101 on Monday night for their fourth straight victory.  Brook Lopez added 19 points and 10 rebounds as Milwaukee won for the eighth time in nine games. The Bucks also beat the Bulls 124-115 on Thursday in Milwaukee. Antetokounmpo was 13 for 22 in his 13th consecutive double-double to begin the season. It's the longest active streak in the NBA. Daniel Gafford led Chicago with 21 points in his return from the G League. Coby White had 13, and Ryan Arcidiacono had 12.
Pacers 115, Nets 86 – Holiday, Sabonis lead Pacers to easy win over Nets
Aaron Holiday had career highs with 24 points and 13 assists, Domantas Sabonis added 16 points and a career-high 18