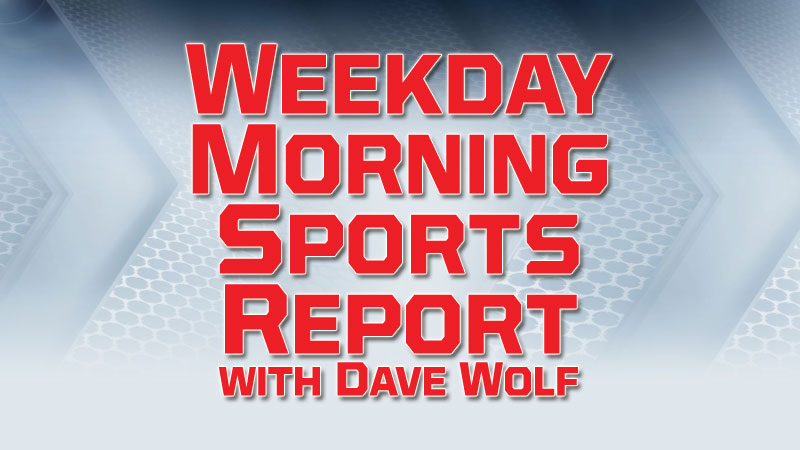 MLB – Major League Baseball
Yesterday
New York Yankees at Detroit Tigers, PPD, Rain
Kansas City Royals 8, Chicago White Sox 6
San Diego Padres 4, Chicago Cubs 0
Yankees at Tigers, PPD Rain – Yankees and Tigers postponed, doubleheader set for Thursday
Wednesday night's game between the Detroit Tigers and New York Yankees has been postponed because of bad weather and rescheduled as part of a doubleheader Thursday. The game was scheduled to begin at 6:40 p.m. Wednesday, but it rained hard before that, and more rain was expected in the area. It was called off around the time it was supposed to start. Thursday's games are the last scheduled meetings between the teams this season. The doubleheader is set to begin at 1:10 p.m., with the second game right after that. The last-place Tigers beat the AL East-leading Yankees 12-11 Tuesday night.
Royals 8, White Sox 6 – Soler hits 2 homers, Royals beat White Sox 8-6
Jorge Soler hit a pair of two-run homers among his career high-matching four hits, leading the Kansas City Royals to an 8-6 victory over the Chicago White Sox on Wednesday night.  Soler has 43 homers this season, two behind American League leader Mike Trout of the Los Angeles Angels. It was the fifth multi-homer game of Soler's career and third this season. He also has five more homers than the Royals' previous team record of 38, by Mike Moustakas in 2017. Adalberto Mondesi homered and had three hits, and Bubba Starling and Ryan O'Hearn also connected as the Royals beat Chicago for the fifth time in six games. Rookie Eloy Jiménez homered, his 26th, and drove in four runs, and José Abreu added a two-run shot for the White Sox.
Padres 4, Cubs 0 – Cubs lose 4-0 to Pads, fall into tie for 2nd wild-card spot
Rookie Chris Paddack pitched six brilliant innings and the San Diego beat the Cubs 4-0 Wednesday night, dropping Chicago into a tie with Milwaukee for the second NL wild-card spot. Manuel Margot homered off San Diegan Cole Hamels and also made a spectacular catch in center field for the Padres. The Cubs lost for the second straight night and for the fifth time in six games. Milwaukee beat Miami 7-5 in its first game since reigning MVP Christian Yelich suffered a season-ending knee injury. Philadelphia and the New York Mets are two games behind the Cubs and Brewers. Hamels (7-7) didn't get out of the fifth. The left-hander, who went to Rancho Bernardo High, allowed one run on four hits, struck out six and walked four in 4 1/3 innings.  Paddack (9-7) held Chicago to three hits while striking out seven and walking one.
Tonight
NY Yankees (Happ 12-8) at Detroit (Boyd 8-10), 1:10 p.m.- Game 1          WSJM Sports/Cosy-FM 12:45
NY Yankees (Sabathia 5-8) at Detroit (Turnbull 3-14), 4:40 p.m. – Game 2 WSJM Sports/Cosy-FM 4:15
Kansas City (Lopez 3-7) at Chicago White Sox (Giolito 14-8), 2:10 p.m.
Chicago Cubs (Darvish 5-6) at San Diego (Lamet 2-4), 3:40 p.m.
NFL – National Football League – Week 2
Tonight
Tampa Bay Buccaneers at Carolina Panthers, 8:20 p.m.       106.1 & 1400 WSJM Sports 8:00
NFL – Brown practices with Pats
Wide receiver Antonio Brown went through his first practice with the New England Patriots.
Brown wore a No. 1 jersey and a visor with his helmet while going through warmup drills with teammates during the small portion of practice that was open to the media. He has worn No. 84 throughout his previous nine NFL seasons, but that number is currently being worn by Patriots tight end Ben Watson. Wednesday's workout was held one day after Brown's former trainer filed a civil lawsuit in Florida accusing him of sexually assaulting her on three occasions. Britney Taylor filed the suit and says she will cooperate with the NFL and any other agencies. Patriots coach Bill Belichick (BEHL'-ih-chik) declined to comment on additional questions about Brown other than to say the team takes the allegations very seriously. Belichick also sidestepped questions about Brown's status for Sunday's game in Miami. Brown has denied all allegations through his attorney.


NCAA – NCAA Board wants Cal Gov. to nix college bill
The NCAA Board of Governors wants California Gov. Gavin Newsom to reject a new attempt to pay college athletes. State lawmakers have sent the governor a bill to allow athletes at California colleges to hire agents and sign endorsement deals. The legislation is known as the Fair Pay to Play Act and would allow college athletes to be paid for the use of their names, likenesses and images. It would stop universities and the NCAA from banning athletes that take the money. However, the NCAA board warned that California schools may be declared ineligible for NCAA competition if the bill becomes law because they would have an unfair recruiting advantage.  Newsom has not said whether he will sign the bill.
WNBA – Women's National Basketball Association Playoffs – Round 1 (1 game)
Last Night
Chicago Sky 105, Phoenix Mercury 76            
Seattle Storm 84, Minnesota Lynx 74
MWL – 2019 Midwest League Baseball Championship Series (Best of 5)
Last Night
South Bend Cubs 3, Clinton Lumberkings 1                                   (SB leads 1-0)
Tonight
Clinton Lumberkings at South Bend Cubs, 8:05 p.m.                     (SB leads 1-0)
MCCAA – Junior College Sports
Yesterday
Men's Soccer
Muskegon Community College 5, Lake Michigan College 1
Women's Soccer
Jackson College 5, Lake Michigan College 1
Today
Women's Volleyball
Kalamazoo Valley Community College at Lake Michigan College, 6:30 p.m.
MHSAA – High School Sports
Last Night
Girls Volleyball
Niles 3, St. Joseph 0
Portage Northern 3, Lakeshore 0
Mattawan 3, Portage Central 0
New Buffalo 3, Lake Michigan Catholic 0
Brandywine 3, Berrien Springs 1
Buchanan 3, Comstock 0
Bridgman 3, Parchment 2
Boys Tennis
St. Joseph 8, Lakeshore 0
Bridgman/LMC/New Buffalo 8, Coloma 0
Battle Creek Lakeview 8, Niles 0
Allegan 8, Otsego 0
Kalamazoo Hackett 8, Buchanan 0
Boys Soccer
Michigan Lutheran 3, Covert 2
South Haven 1, Otsego 1 – TIE
Allegan 1, Dowagiac 0
Edwardsburg 3, Paw Paw 1
Sturgis 3, Three Rivers 2 – Suspended, to resume TBA
Plainwell 1, Vicksburg 0
Comstock 4, Buchanan 0
New Buffalo 7, Lawrence 0
Berrien Springs 9, Brandywine 2
Bridgman 2, Parchment 1
Bangor 8, Eau Claire 0
Cassopolis 1, Bloomingdale 0
Hartford 9, Marcellus 3
Coloma 3, Lawton 2
Fennville 4, Schoolcraft 0
Kalamazoo Hackett 5, Kalamazoo Christian 0
Delton-Kellogg 5, Saugatuck 0
Tonight
Boys Soccer
Portage Northern at Niles, 5:30 p.m.
Battle Creek Lakeview at Mattawan, 6:30 p.m.
Battle Creek Central at Kalamazoo Central, 6:30 p.m.
Gull Lake at Kalamazoo Loy Norrix, 6:30 p.m.
East Kentwood at Portage Central, 6:30 p.m.
Kalamazoo Christian at Paw Paw, 6:00 p.m.
New Buffalo at Brandywine, 5:00 p.m.
Watervliet at Delton-Kellogg, 6:00 p.m.
Girls Volleyball
Michigan Lutheran at Howardsville Chr., 6:00 p.m.
Dowagiac at Allegan, 6:00 p.m.
Vicksburg at South Haven, 6:00 p.m.
Sturgis at Edwardsburg, 6:00 p.m.
Paw Paw at Plainwell, 6:00 p.m.
Otsego at Three Rivers, 6:00 p.m.