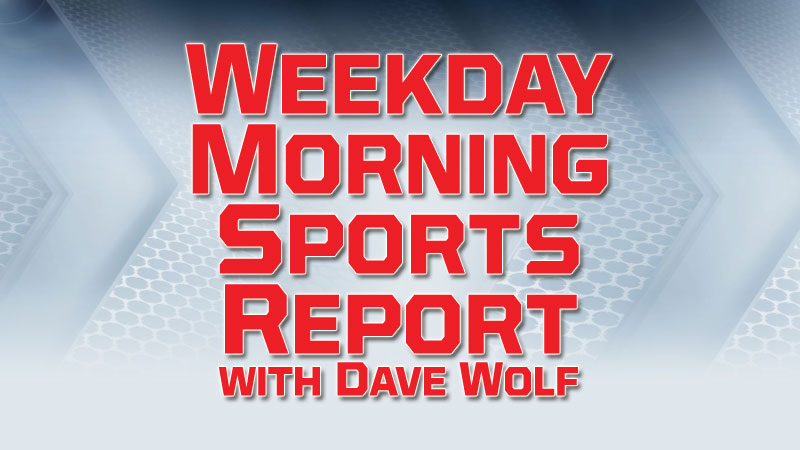 MLB – Major League Baseball
Last Night
Cleveland Indians 7, Detroit Tigers 2
Chicago Cubs 5, Cincinnati Reds 2
Kansas City Royals 7, Chicago White Sox 5
Indians 7, Tigers 2 – Mike Clevinger strikes out 12 as Indians beat Tigers 7-2
Mike Clevinger matched his career high with 12 strikeouts in six innings, Oscar Mercado drove in two runs and the Cleveland Indians beat the Detroit Tigers 7-2 on Wednesday night.  Clevinger (3-2) struck out the side in the first two innings and had nine strikeouts through four — one against each batter in Detroit's lineup. The right-hander was lifted after 100 pitches and allowing one run on six hits in his third double-digit strikeout performance of the season. Cleveland moved within four games of AL Central-leading Minnesota. It's the closest the Indians have been to first place since May 14. Cleveland has won 10 straight over the Tigers and leads the season series 11-1. Mercado, who leads AL rookies with a .286 batting average, gave Cleveland a 2-0 lead in the third with a double that scored Mike Freeman and Tyler Naquin. Nicholas Castellanos scored on an RBI single by Jeimer Candelario to pull Detroit within 2-1 in the sixth.
Cubs 5, Reds 2 – Darvish finally wins at Wrigley, Cubs top Reds 5-2
Yu Darvish tossed six innings of two-hit, shutout ball to finally earn his first win at Wrigley Field as a Cub and lead Chicago past the Cincinnati Reds 5-2 on Wednesday.  Kris Bryant and Addison Russell homered for the only hits off Sonny Gray (5-6) as Chicago won for the fifth time in six games. Jason Heyward drove in two insurance runs with a double as the NL Central leaders took two of three from the Reds to win just their second series since sweeping St. Louis on June 7-9. Entering Wednesday, Darvish was 0-5 with a 5.50 ERA in 13 starts at the iconic ballpark after signing a six-year, $126 million contract with Chicago in February 2018. Darvish (3-4) also won for the first time anywhere since April 27 at Arizona as he struck out seven, walked none and hit two batters. The right-hander had 12 no-decisions and a loss in his previous 13 starts. Craig Kimbrel pitched a perfect ninth for his fourth save in five chances.
Royals 7, White Sox 5 – Royals send struggling White Sox to sixth straight loss
Danny Duffy pitched a strong six innings and ended a nine-start winless skid, and Jorge Soler and Nicky Lopez hit back-to-back RBI singles twice as the Kansas City Royals beat the Chicago White Sox 7-5 on Wednesday night. Duffy (4-5) who took a liner off his throwing hand against Detroit in his last start Friday, scattered six hits and struck out five in sending Chicago to its season-worst sixth straight loss.  Duffy's strong start followed Jakob Junis' seven innings of one-run ball Monday and Glenn Sparkman's complete game shutout Tuesday.  The second of Soler and Lopez's consecutive two-out, RBI hits put Kansas City up 6-0 and gave Duffy some run support. The Royals had scored just 15 runs over Duffy's last eight outings. A.J. Reed hit a three-run homer, his first, with two outs in the ninth inning off Wily Peralta. Ian Kennedy entered the game and completed the one-out save, his 15th in 18 opportunities.  The White Sox have scored just 18 runs in their last eight games and scored more than three runs for the first time since Independence Day. In six games since the All-Star break, Chicago has been outscored 44-12.
Tonight
Chicago White Sox (Detwiler 1-0) at Kansas City (Keller 5-9), 1:15 p.m.
Detroit (Boyd 6-7) at Cleveland (Bauer 8-7), 7:10 p.m.      WSJM Sports/Cosy-FM 6:45
Cubs are off
MLB – Sox place Jimenez on Injured List
The Chicago White Sox have placed rookie outfielder Eloy Jimenez on the 10-day injured list with an ulnar nerve contusion in his right arm. The move comes a day after Jimenez collided with outfielder Charlie Tilson in the first inning Tuesday against the Kansas City Royals. In the hours after the game, Jimenez was experiencing numbness down his arm and into his fingers. The organization is optimistic Jimenez could only miss a couple of weeks.
NHL – Police say Greg Johnson's death an apparent suicide
A police report says the death of former Nashville Predators captain Greg Johnson was an apparent suicide, according to the Detroit News.  The paper said Wednesday it had obtained a Rochester Police report, and that Johnson was found by his wife shortly before 10 a.m. on July 7. A gun and a single bullet were found near him. No suicide note was left.  The Oakland County Medical Examiner declined to discuss findings from an autopsy, according to the paper.  Johnson was with Nashville for the franchise's first season in the league. He spent the last seven years of his career with the Predators. He also played for Detroit, Pittsburgh and Chicago during his 12 years in the NHL.  The Detroit News said Johnson's agent, Tom Laidlaw, declined to discuss the specifics surrounding the former player's death. Johnson was 48.
NHL – Red Wings re-sign D Joe Hicketts to 2-year deal
The Detroit Red Wings have re-signed defenseman Joe Hicketts to a two-year contract.  The team announced the move Wednesday. Hicketts played in 11 games with the Red Wings in 2018-19. He also had 27 points in 64 games with Grand Rapids of the AHL.  The 23-year-old Hicketts has no goals and three assists in 16 career NHL games.
NBA – Pistons claim F-C Christian Wood off waivers
The Detroit Pistons have claimed Christian Wood off waivers.  The Pistons announced the move Wednesday. The 6-foot-10 Wood appeared in 21 games last season for Milwaukee and New Orleans, averaging 8.2 points. He's averaged 5.3 points in 51 career NBA games for Philadelphia, Charlotte, Milwaukee and New Orleans.  Wood, who can play forward or center, averaged nearly 17 points and eight rebounds during the eight games he played for New Orleans at the end of last season, but he was still waived by the Pelicans.
Golf – LPGA – Canadians Henderson, Sharp lead LPGA Tour team event
Canadians Brooke Henderson and Alena Sharp shot a 5-under 65 in alternate-shot play to take the first-round lead in the Dow Great Lakes Bay Invitational, the LPGA Tour's first-year team event. Henderson and Sharp had seven birdies and two bogeys at Midland Country Club. Paula Creamer and Morgan Pressel were a stroke back.
Notre Dame Stadium going back to grass… for one game
Notre Dame Stadium is getting a layer of natural turf in preparation for a professional soccer match. Crews began unrolling large rolls of turf at the stadium Monday ahead of Friday's scheduled friendly matchup between Liverpool F.C. and Borussia Dortmund. Fenway Sports Group is the owner of the Liverpool team and the Boston Red Sox. It's leasing the stadium as part of a three-city tour that will include preseason friendly matches at the stadium, Fenway Park and Yankee Stadium.
WNBA – Women's National Basketball Association
Last Night
Chicago Sky 77, Atlanta Dream 76
Sky 77, Dream 76 – Dolson makes late go-ahead basket, Sky top Dream 77-76
Diamond DeShields scored 20 of her season-high 22 points in the first half, Stefanie Dolson made a go-ahead layup with 2.3 seconds left and the Chicago Sky beat the Atlanta Dream 77-76. DeShields made 1 of 2 free throws with 31.3 seconds left to pull Chicago to 76-75, and the Sky forced Atlanta into a long 3-pointer by Alex Bentley at the other end.
MWL – Midwest League Baseball
Last Night
West Michigan 8, Beloit 5
Wisconsin 6, South Bend 1
Burlington 3, Lansing 2
Great Lakes 6, Clinton 5
Tonight
Burlington at Lansing, 7:05 p.m.
Clinton at Great Lakes, 7:05 p.m.
West Michigan at Beloit, 7:30 p.m.
South Bend at Wisconsin, 8:05 p.m.