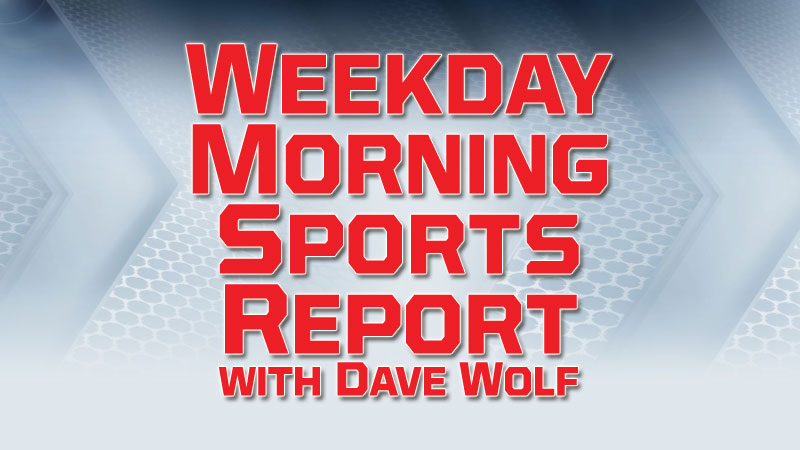 MLB – Major League Baseball
Yesterday
Chicago Cubs 7, Chicago White Sox 3
Pittsburgh Pirates 8, Detroit Tigers 7
Cubs 7, White Sox 3 – Contreras powers Cubs past Giolito, White Sox 7-3
Willson Contreras homered twice and drove in five runs, and the Chicago Cubs handed Lucas Giolito his first loss since April by downing the Chicago White Sox 7-3 on Wednesday night.  David Bote also connected to help the Cubs bounce back from a tough loss to their crosstown rivals in their first meeting of the season. Jon Lester (6-5) allowed two more homers, but worked into the sixth inning to improve to 3-1 in June.  Giolito (10-2) showed flashes of the dominant stuff that put him in the mix to start next month's All-Star Game in Cleveland. He struck out Kris Bryant three times and fanned Kyle Schwarber twice on a rainy, unseasonably cold night at Wrigley Field.  The Cubs loaded the bases in the first on Schwarber's leadoff double and a pair of walks, and Contreras drove a 1-2 changeup into the basket in left field for his third career grand slam. The fiery Contreras yelled and motioned to the crowd as he rounded the bases after his 14th homer.  Giolito allowed a total of four runs in 29 innings over his previous four starts.
Pirates 8, Tigers 7 – Reynolds caps comeback with 3-run blast, Pirates beat Tigers
Bryan Reynolds hit a three-run homer in the sixth inning to complete the Pirates' rally from a six-run deficit, and Pittsburgh beat the Detroit Tigers 8-7 on Wednesday night.  With the Pirates trailing 7-5, Reynolds sent a knuckle curve from Nick Ramirez (3-2) 421 feet to left-center for his sixth homer of the season, driving in Kevin Newman and Adam Frazier.  Felipe Vázquez retired the side in order in the ninth for his 17th save.  The Pirates trailed 7-1 after Detroit scored five times before recording an out in the third. Brandon Dixon took Trevor Williams deep for his eighth homer of the season, and Harold Castro followed with his first in the majors. It was the fourth time this season the Tigers have hit back-to-back home runs.
Tonight
N.Y. Mets (Lockett 0-0) at Chicago Cubs (Chatwood 3-1), 8:05 p.m.
Tigers and White Sox are off
NCAABSB – NCAA Baseball – College World Series
Yesterday
Louisville 5, Auburn 3                          (Auburn eliminated)
Vanderbilt 6, Mississippi State 3
Texas Tech 4, Florida State 1               (Florida State eliminated)
Louisville, Tech, Vandy win
Auburn and Florida State have been eliminated in the College World Series by losing on Wednesday.  Tyler Fitzgerald hit a first-inning homer and Louisville scored three times on just one hit in the fourth before completing a 5-3 win against the Tigers in a game that was suspended by rain on Tuesday. Two Louisville relievers survived anxious moments to hold Auburn to two runs over five innings. Brian Klein hit the tiebreaking home run for Texas Tech in a 4-1 victory over the Seminoles. FSU coach Mike Martin heads into retirement with 2,029 career wins, the most by any coach in any college sport. The other CWS game of the day had Kumar Rocker following up his no-hitter in the super regionals by carrying a shutout into the sixth inning of Vanderbilt's 6-3 victory over Mississippi State. Stephen Scott collected four RBIs with a solo homer and a three-run blast.
Today
Louisville vs. Mississippi State, 8:00 p.m.
WNBA – Women's National Basketball Association
Yesterday
Atlanta Dream 88, Indiana Fever 78
Chicago Sky 91, New York Liberty 83
NHL Awards – Kucherov among big winners at NHL awards show
The NHL has handed out its annual awards in Las Vegas.
Tampa Bay Lightning forward and NHL scoring champ Nikita Kucherov has received the Hart Trophy as the league's most outstanding player. Kucherov also won the Ted Lindsay Award as the outstanding player in the league, as voted by members of the Players' Association.
Calgary's Mark Giordano became a first-time winner of the Norris Trophy as the NHL's top defenseman.
The Calder Trophy winner as Rookie of the year was Vancouver forward Elias Pettersson.
Islanders bench boss Barry Trotz took home the Jack Adams Award as coach of the year, and Boston's Don Sweeney was the GM of the year.
The Vezina Trophy went to Tampa Bay's Andrei Vasilevskiy as the No. 1 goaltender.
Ryan O'Reilly came away with the Selke Trophy as the best defensive forward, one week after he captured the Conn Smythe Trophy as playoff MVP after helping the Blues win the Stanley Cup.  
Florida's Aleksander Barkov was given the Lady Byng Trophy, which goes to the player exhibiting sportsmanship and gentlemanly play combined with playing ability.
Islanders netminder Robin Lehner received the Masterton Trophy to the player who best exemplifies the qualities of perseverance, sportsmanship and dedication to hockey.
Nashville forward Wayne Simmonds was the winner of the Mark Messier Trophy, awarded annually to the player that exemplifies great leadership qualities both on and off the ice.
The King Clancy Trophy went to Minnesota's Jason Zucker for humanitarian contribution to hockey.
NBA – Duke's Williamson set to lead off NBA draft
The NBA draft is all about Zion Williamson.  The draft begins Thursday night with the Duke freshman projected to go first overall to the New Orleans Pelicans. The 6-foot-7, 285-pound forward was the biggest star the college level has seen in years, filling highlight reels with thunderous dunks and incomparable athleticism while becoming The Associated Press national player of the year. Murray State point guard Ja Morant and Duke high-scoring freshman forward RJ Barrett are projected to follow Williamson in the top three picks, with the uncertainty starting with the No. 4 pick. Other top lottery prospects include guards Jarrett Culver of Texas Tech and Cam Reddish of Duke; point guards Darius Garland of Vanderbilt and Coby White of North Carolina; and forward De'Andre Hunter from NCAA champion Virginia.
NBA – 2019 NBA Draft
2019 NBA Draft, Barclay Center, Brooklyn, NY – 7:00 p.m.
Round 1
1. New Orleans
2. Memphis
3. New York     
4. New Orleans (fr. LAL)  
5. Cleveland
6. Phoenix      
7. Chicago
8. Atlanta
9. Washington
10. Atlanta (fr. DAL)
11. Minnesota
12. Charlotte     
13. Miami
14. Boston (fr. SAC)
15. Detroit

16. Orlando      
17. Brooklyn    
18. Indiana     
19. San Antonio   
20. Boston (fr. LAC)
21. Oklahoma City
22. Boston
23. Utah
24. Philadelphia
25. Portland
26. Cleveland (fr. HOU)
27. Brooklyn (fr. DEN)
28. Golden State
29. San Antonio (fr. TOR)
30. Milwaukee
Round 2
31. Brooklyn (fr. NYR)
32. Phoenix
33. Philadelphia (fr. CLE)
34. Philadelphia (fr. CHI)
35. Atlanta
36. Charlotte (fr. WSH)
37. Dallas
38. Chicago (fr. MEM)
39. New Orleans
40. Sacramento (fr. MIN)
41. Atlanta (fr. LAL)
42. Philadelphia (fr. SAC)
43. Minnesota (fr. MIA)
44. Miami (fr. ATL)
45. Detroit

46. Orlando (fr. BKN)
47. Sacramento (fr. ORL)
48. LA Clippers
49. San Antonio
50. Indiana
51. Boston
52. Charlotte (fr. OKC)
53. Utah
54. Philadelphia
55. New York (fr. HOU)
56. LA Clippers (fr. POR)
57. New Orleans (fr. DEN)
58. Golden State
59. Toronto
60. Sacramento (fr. MIL)
FIFA – 2019 Women's World Cup – France
Yesterday
England 2, Japan 0
Scotland 3, Argentina 3 – TIE


Today
Cameroon vs. New Zealand, 12:00 p.m.
Netherlands vs. Canada, 12:00 p.m.
Sweden vs. United States, 3:00 p.m.
Thailand vs. Chile, 3:00 p.m.
MWL – Midwest League Baseball
Last Night
No games last night
Tonight
West Michigan at Lake County, 7 p.m.
Lansing at Dayton, 7 p.m.
Bowling Green at South Bend, 7:05 p.m.
Fort Wayne at Great Lakes, 7:05 p.m.