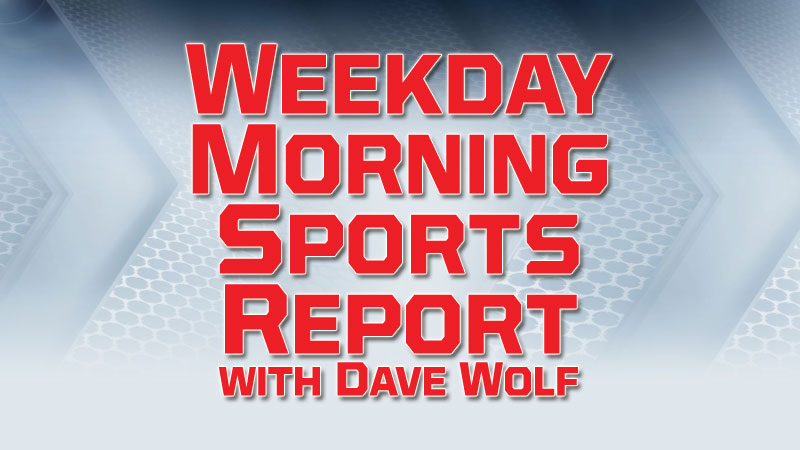 MLB – Major League Baseball
Yesterday
Miami Marlins 6, Detroit Tigers 3
Chicago White Sox 9, Houston Astros 4
Chicago Cubs 8, Philadelphia Phillies 4
Marlins 6, Tigers 3 – Marlins rally for 5th straight win, 6-3 over Tigers
Garrett Cooper hit his first major league home run in the sixth inning, and that was the start of an impressive comeback by the Miami Marlins, who rallied for their fifth straight victory, 6-3 over the Detroit Tigers on Wednesday night.  The Tigers led 3-0 before Cooper's solo shot. The Marlins then scored three runs in the seventh, and Brian Anderson added a two-run homer in the eighth.  Detroit has dropped eight in a row.  Detroit starter Daniel Norris was solid, but with the Tigers up 3-1, he gave up a single to Harold Ramirez to start the seventh. Niko Goodrum hit an RBI single, Gordon Beckham drove in a run with a groundout, and Christin Stewart added a run-scoring double.
White Sox 9, Astros 4 – Jiménez hits 2 HR, White Sox turn triple play to beat Astros
Eloy Jiménez homered twice and the Chicago White Sox turned the first triple play in the majors this season during a 9-4 victory over the Houston Astros on Wednesday night.  Charlie Tilson's first career homer was a grand slam in Chicago's six-run sixth inning.    The Astros got a homer from Alex Bregman in a three-run fourth to go on top before Chicago's big inning.  Leury García got things started in the sixth with a single and went to second on an error by left fielder Michael Brantley. White Sox starter Ivan Nova (3-4) allowed 10 hits but just three runs in seven-plus innings.  He was helped by a defense that turned four double plays and ended the third inning with Chicago's first triple play since July 2016 against Atlanta.
Cubs 8, Phillies 4 – Hamels no decision against old club, Cubs top Phillies 8-4
Cole Hamels struggled in his first start against his original team, Albert Almora Jr. hit his first career grand-slam and the Chicago Cubs rallied from an early three-run deficit with three homers, beating the Philadelphia Phillies 8-4 Wednesday night.  With the game tied at 3 in the fifth, Almora launched Cole Irvin's change-up into the shrubs in the center-field batter's eye. The 25-year-old Almora popped out of the dugout for a curtain call and doffed his helmet to an ovation from the crowd of 39,246. Anthony Rizzo hit his 12th homer, a mammoth shot in the third inning that struck the neon beer sign atop the right field scoreboard, tying the game at 3-all. That allowed Hamels to escape with a no-decision and remain unbeaten this season, despite allowing three runs on nine hits and two walks through four innings.  Javier Báez added a solo shot in the seventh. Tyler Chatwood (3-0) earned the win with four innings of one-run, three-hit relief. Steve Cishek worked around a single and got the final three outs.
Today
Miami (Richards 1-5) at Detroit (Boyd 4-4), 1:10 p.m.                  WSJM Sports/Cosy-FM 12:45
Philadelphia (Nola 4-0) at Chicago Cubs (Lester 3-2), 2:20 p.m.
Chicago White Sox (Giolito 5-1) at Houston (Martin 1-0), 8:10 p.m.
NBA – 2019 NBA Playoffs – Round 3 – Conference Finals (Best of 7)
Tonight
Toronto Raptors at Milwaukee Bucks, 8:30 p.m.                                     (Series tied 2-2)
NCAABSB – Ohio State beats No. 2 seed Michigan 2-1 in Big Ten tourney
Dillon Dingler broke open a tie game with an RBI single in the eighth inning and Ohio State beat Michigan 2-1 on Wednesday in the Big Ten Tournament. Three pitchers combined to toss a one-hitter for the Buckeyes (32-24).  Michigan (38-17) took a 1-0 lead into the eighth inning, but freshman Zach Dezenzo scored on Matt Carpenter's grounder to tie it. Dingler gave the Buckeyes the lead, and Andrew Magno pitched two scoreless innings of relief for his 11th save. Redshirt freshman Seth Lonsway struck out six in 5 1/3 innings for Ohio State, and Will Pfenning (2-3) got the win after retiring five batters. Karl Kauffmann (8-6) took the loss despite letting up just three hits in eight innings.
NCAAMBB – Michigan hires Juwan Howard as basketball coach
Juwan Howard is coming back to Michigan.  A person with knowledge of the situation tells The Associated Press that Howard has agreed to a five-year deal to take over as coach of his alma mater. The person spoke on condition of anonymity Wednesday because the announcement had not been made. Michigan is giving the former Fab Five star his first shot to be a head coach other than during the NBA's summer league. The Miami Heat assistant coach replaces John Beilein, who left to coach the Cleveland Cavaliers. Howard helped Michigan reach the national championship game twice, playing alongside Chris Webber, Jalen Rose, Jimmy King and Ray Jackson. The school later removed the Fab Five's Final Four banners from Crisler Arena as part of self-imposed sanctions that stemmed from one of the NCAA's largest financial scandals.
NCAAMBB – Notre Dame's Brey: Transferring players need 'deterrent'
Notre Dame basketball coach Mike Brey says the NCAA is granting too many waivers that allow players who transfer to compete immediately. He calls the requirement that players sit out a year a useful "deterrent" to players switching schools. Brey made his comments at a meeting of the Knight Commission, a nonprofit that pushes for reform in college sports. He says the ease of getting a waiver is making players more eager to transfer.
NFL – NFL draft headed to Cleveland in 2021, Kansas City in 2023
The NFL's draft road show is headed to Cleveland and Kansas City. To celebrate the Browns' 75th anniversary, the 2021 draft will be held in Cleveland. Two years later, the home of the Chiefs gets its chance. In recent years, the league has taken the draft out of New York and to Chicago; Philadelphia; Arlington, Texas; and Nashville. Next year it will be in Las Vegas a few months before the Oakland Raiders move there. "This is an exceptional opportunity for Northeast Ohio that even extends beyond football, and we look forward to continuing the work ahead … to ensure that the 2021 NFL draft is truly memorable for Northeast Ohio and football fans across the world," Browns owners Dee and Jimmy Haslam said in a statement. Kansas City's draft will take place in the area around Union Station and the National World War I Museum and Memorial. "Kansas City and Chiefs Kingdom are thrilled to have been selected by the NFL to host this prestigious event," said Kathy Nelson, President and CEO of the Kansas City Sports Commission. "Hometown pride runs deep in the Midwest. We are excited to show the world our unparalleled passion for sports _ especially our passion for professional football."
Olympics – USOC leader: Reform possible with or without Congress
The leader of the U.S. Olympic Committee believes the federation can reform with or without guidance from Congress. Speaking at an Aspen Institute event Wednesday in Washington, CEO Sarah Hirshland said she has delivered a proposal that would put the USOC on the hook to deliver an annual report, as a way of measuring itself more frequently against its own reform-minded goals. Under the Ted Stevens Olympic and Amateur Sports Act, the USOC currently must deliver a report every four years. A wave of sex-abuse scandals in Olympic sports has led Congress to hold a number of hearings over the past two years and consider revisiting the law for potential changes.
FIFA – AP Source: FIFA to keep 2022 World Cup with 32 teams
A person with knowledge of the situation says the 2022 World Cup in Qatar will have 32 teams, with FIFA scrapping a proposal to expand the tournament to 48 nations. FIFA had been exploring whether logistical and political complexities could be overcome to expand the tournament from 32 to 48 teams.
MWL – Midwest League Baseball
Yesterday
Bowling Green 3, West Michigan 2
Fort Wayne 3, South Bend 1
Great Lakes 7, Lansing 6
Tonight
Bowling Green at West Michigan, 11 a.m.
Great Lakes at Lansing, 7:05 p.m.
South Bend at Fort Wayne, 7:05 p.m.
ECHL – 2019 ECHL Kelly Cup Playoffs – Round 3 – Conference Finals (best of 7)
Last Night
Toledo Walleye 6, Tulsa Oilers 2                                                           (TOL wins 4-3)
MHSAA – High School Sports
Yesterday
Girls Soccer – Districts
(1st round at local sites)
Division 2 at St. Joseph
Lakeshore 4, Three Rivers 1
St. Joseph 4, Sturgis 1
Division 2 at Plainwell
Coldwater 9, Battle Creek Central 1
Gull Lake 3, Vicksburg 1
Division 3 at Dowagiac
Paw Paw 3, Berrien Springs 0
Coloma 8, Constantine 0
Division 4 at New Buffalo
Watervliet 1, Brandywine 0 – 2 OT
Division 4 at Saugatuck
Holland Black River 5, Saugatuck 4 – 2 OT
Division 1 at BC Lakeview
Jackson 6, Kalamazoo Central 0
Portage Northern 2, Kalamazoo Loy Norrix 1
Girls Soccer – Regular Season
Hartford 5, Lawton 1
Portage Central 3, Caledonia 3 – TIE
Baseball
Saugatuck 8, Coloma 6
Bridgman 10, Hartford 7 – Game 1
Bridgman 6, Hartford 3 – Game 2
Softball
Cassopolis 21, Michigan Lutheran 0 – Game 1
Cassopolis 16, Michigan Lutheran 1 – Game 2
Coloma 18, Paw Paw 8 – Game 1
Coloma 10, Paw Paw 9 – Game 2
Bridgman 2, Hartford 0 – Game 1
Bridgman 13, Hartford 4 – Game 2
Gobles 17, Bloomingdale 7 – Game 1
Gobles 14, Bloomingdale 13 – Game 2
Tonight
Girls Soccer – Districts (1st round at local sites)
Division 2 at St. Joseph
Edwardsburg at Niles, 5:00 p.m.
Division 3 at Holland Christian
Otsego at Hudsonville Unity Christian, 6:00 p.m.
Hopkins at Allegan, 6:00 p.m.
South Haven at Holland Christian, 6:00 p.m.
Division 4 at New Buffalo
Lake Michigan Catholic at Michigan Lutheran, 5:00 p.m.
Cassopolis at Bridgman, 5:00 p.m.
Baseball
Lakeshore at Edwardsburg, 4:00 p.m. (DH)
Niles at Mattawan, 4:00 p.m. (DH)
South Haven at Otsego, 4:00 p.m. (DH)
Softball
Dowagiac at St. Joseph, 4:00 p.m. (DH)
Niles at Mattawan, 4:00 p.m. (DH)
South Haven at Otsego, 4:00 p.m. (DH)