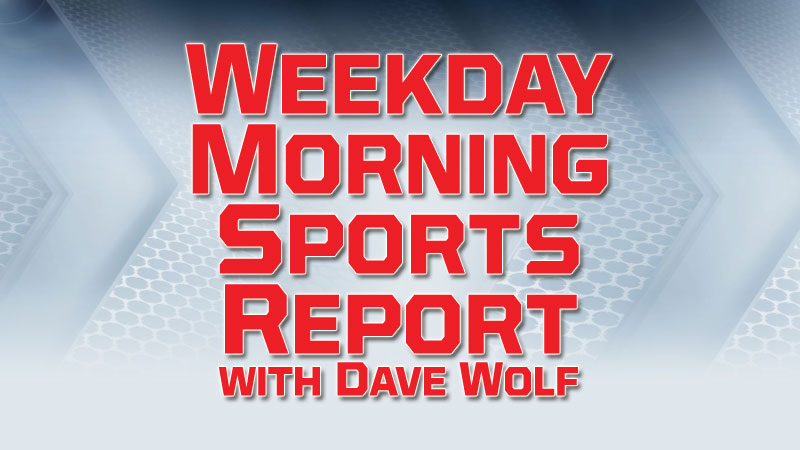 MLB – Major League Baseball – Opening Day
Today
Detroit (Zimmermann 0-0) at Toronto (Stroman 0-0), 3:37 p.m.   WSJM Sports/Cosy-FM 3:10
Chicago Cubs (Lester 0-0) at Texas (Minor 0-0), 4:05 p.m.
Chicago White Sox (Rodon 0-0) at Kansas City (Keller 0-0), 4:15 p.m.
MLB – Baseball's new era
Beyond all the shifts, analytics and social media outreach, here's the best way to tell Major League Baseball has zoomed into a new era: There's not a single active player left from the 20th century.     Not one. The Elias Sports Bureau said Adrian Beltre and Bartolo Colon were the last. And with all 30 teams set to play Thursday _ from Bryce Harper's home debut at Citizens Bank Park to Mookie Betts and the champion Boston Red Sox visiting Seattle _ this year MLB becomes the first of the four major sports without someone still around who played in the 1900s.
NCAAMBB – Men's College Basketball – Sweet 16
Tonight – Coverage on 106.1 & 1400 WSJM Sports
West Regional – Honda Center – Anaheim, CA
#4 Florida State vs. #1 Gonzaga, 7:09 p.m.
#3 Texas Tech vs. #2 Michigan, 9:39 p.m.                 106.1 & 1400 WSJM Sports 9:00
South Regional – KFC Yum! Center – Louisville, KY
#3 Purdue vs. #2 Tennessee, 7:29 p.m.
#12 Oregon vs. #1 Virginia, 9:57 p.m.
NBA – National Basketball Association
Last Night
Oklahoma City Thunder 107, Indiana Pacers 99
Portland Trailblazers 118, Chicago Bulls 98
Thunder 107, Pacers 99 – George scores 31 vs. former team, helps Thunder top Pacers
Paul George wasn't interested in losing to his former team again.  Oklahoma City's All-Star forward scored seven of his 31 points during a decisive 24-0 run, and the Thunder beat the Indiana Pacers 107-99 on Wednesday night.  The Thunder slogged through the first half and trailed by nine at the break. By the end of the third quarter, they led 76-69.  Steven Adams had 25 points and 12 rebounds for the Thunder and Russell Westbrook added 17 points, 12 assists and 11 rebounds for his 29th triple-double of the season.  Bojan Bogdanovic scored 28 points and Domantas Sabonis added 18 points and 10 rebounds for the Pacers.
Blazers 118, Bulls 98 – Seth Curry scores 20 points, Trail Blazers rout Bulls
Seth Curry scored a season-high 20 points and the Trail Blazers beat the Chicago Bulls 118-98 on Wednesday night.  Still shaken by Jusuf Nurkic's gruesome leg injury two nights earlier in a double-overtime victory over Brooklyn that secured their sixth straight playoff appearance, the Blazers made it look easy against a short-handed team.  Curry made four 3-pointers, Rodney Hood added 15 points, and Enes Kanter and Zach Collins each had 13. Portland won its fifth in a row even though Damian Lillard scored a season-low 11.  Chicago's Shaquille Harrison set career highs with 21 points and 10 rebounds. Robin Lopez had 15 points and nine rebounds. But with mostly reserves in the lineup, the Bulls lost for the eighth time in 10 games.  Chicago announced afterward forward Lauri Markkanen will miss the remainder of the season after experiencing a rapid heart rate and fatigue.
Tonight
Orlando Magic at Detroit Pistons, 7:00 p.m.
NHL – National Hockey League
Tonight
Detroit Red Wings at Buffalo Sabres, 7:00 p.m.
Chicago Blackhawks at San Jose Sharks, 10:30 p.m.
NHL – Red Wings recall Frk from Grand Rapids
The Detroit Red Wings have recalled forward Martin Frk under emergency conditions from Grand Rapids of the AHL.  The team announced the move Wednesday. The 25-year-old Frk has a goal and four assists in 25 games for the Red Wings this season. Frk was drafted by the Red Wings in the second round in 2012. He's played 95 NHL games and has 12 goals and 18 assists. Detroit plays at Buffalo on Thursday night.
NHL – Blackhawks announce 2-year extension for D Carl Dahlstrom
The Chicago Blackhawks and defenseman Carl Dahlstrom have agreed to a two-year contract extension. The team announced the deal on Wednesday. The average annual value is $850,0. The 24-year-old Dahlstrom was selected by Chicago in the second round of the 2013 draft. The Stockholm native has no goals and nine assists in 46 games with the Blackhawks.
MHSAA – High School Sports
Yesterday
Baseball
St. Joseph 12, South Haven 1 – Game 1
St. Joseph 8, South Haven 6 – Game 2
Brandywine 6, Niles 5
Watervliet 3, Hartford 2 – Game 1
Watervliet 4, Hartford 4 – Game 2 suspended 5th Inning (darkness)
Edwardsburg 2, Mishawaka-Marian (IN) 1
Softball
St. Joseph 15, South Haven 9 – Game 1
St. Joseph 13, South Haven 4 – Game 2 suspended 3rd Inning (darkness)
Buchanan 6, Hartford 5 – Game 1
Buchanan 6, Hartford 1 – Game 2
Bridgman 13, Watervliet 4 – Game 1
Watervliet 9, Bridgman 7 – Game 2
Girls Soccer
Watervliet 5, Covert 0
Edwardsburg 9, Buchanan 1
Kalamazoo Loy Norrix 8, Niles 0
Three Rivers 6, Delton-Kellogg 1
Otsego 3, Coldwater 0
Portage Northern 2, Kalamazoo Hackett 0
Girls Tennis
St. Joseph 8, Lakeshore 0
Today
Baseball
Benton Harbor at Lawrence, 4;30 p.m.
Bloomingdale at Paw Paw, 4:30 p.m.
Baseball
Benton Harbor at Lawrence, 4;30 p.m.
Girls Soccer
Hartford at Brandywine, 5:00 p.m.