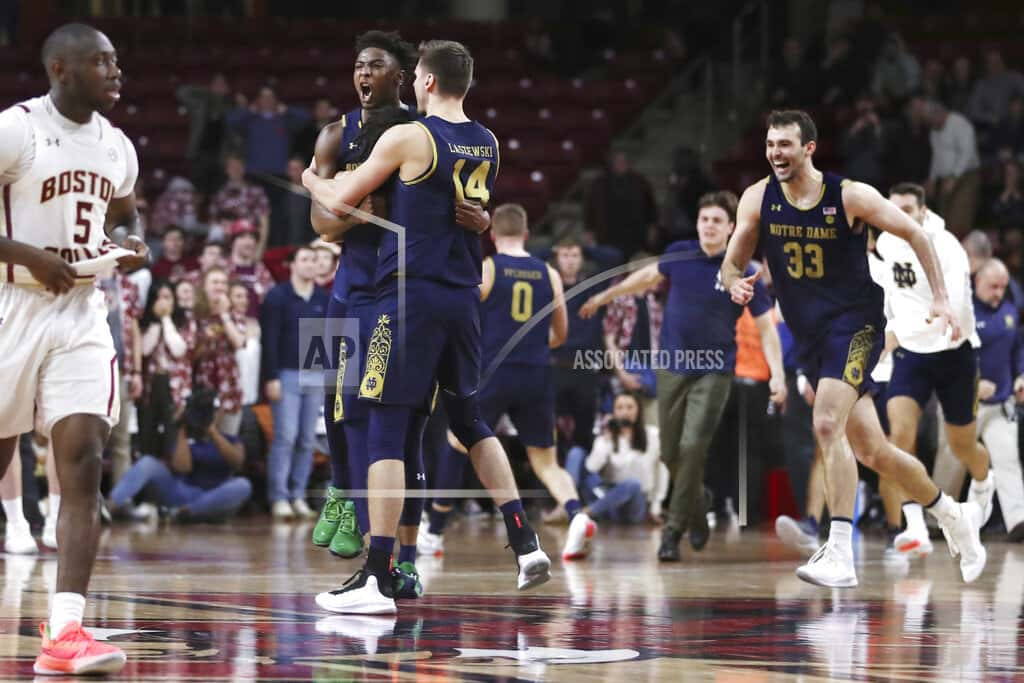 NCAAMBB – Men's College Basketball
Last Night
Notre Dame 62, Boston College 61
ND 62, BC 61 – Gibbs scores with 0.1 seconds left, Irish beat BC 62-61
John Mooney scored 22 points with 12 rebounds, and T.J. Gibbs flipped in the game-winner with 0.1 seconds left to help Notre Dame beat Boston College 62-61 in an Ash Wednesday matchup of the longtime Catholic school rivals. BC led by as many as 10 points in the first half and had the lead with 8 seconds remaining. But Prentiss Hubb brought the ball down, ran into a dead end at the free-throw line and then slid the ball to Gibbs, who got the shot off in time.  Steffon Mitchell had 12 points, 11 rebounds and nine assists for BC.
Tonight
Wisconsin at (19) Michigan, 7:00 p.m.                      106.1 & 1400 WSJM Sports 6:30
Central Michigan at Miami (OH), 7:00 p.m.
NCAAWBB – Women's College Basketball
Last Night
Michigan State 72, Illinois 58
Central Michigan 76, Western Michigan 60
Northern Illinois 65, Eastern Michigan 59
Tonight
Michigan at Penn State, 7:00 p.m.
NHL – National Hockey League
Tonight
Chicago Blackhawks at Tampa Bay Lightning, 7:00 p.m.
Minnesota Wild at Detroit Red Wings, 7:30 p.m.
NHL – Bouwmeester out for season, playoffs
St. Louis Blues defenseman Jay Bouwmeester has been ruled out from returning to play in the regular season or in the playoffs. Bouwmeester spoke to reporters for the first time since he collapsed on the bench in the first period during a game at the Anaheim Ducks on Feb. 11. The 36-year-old Edmonton native was hospitalized and spent five nights in the hospital.
NBA – National Basketball Association
Tonight
Portland Trailblazers at Indiana Pacers, 8:00 p.m.
MLB – Spring Training Baseball
Yesterday
Detroit Tigers vs. Toronto Blue Jays, ppd
Chicago Cubs 8, Kansas City (ss) 0
Kansas City (ss) 7, Chicago White Sox 6
Today
Detroit Tigers vs. Tampa Bay Rays (ss), 1:05 p.m.                         at Port Charlotte, Fla
Chicago Cubs vs. Texas Rangers, 3:05 p.m.                                   at Surprise, Ariz.
Seattle Mariners (ss) vs. Chicago White Sox, 3:05 p.m.               at Glendale, Ariz.
MLB – Astros continue to hear the boos
The Houston Astros continued to get booed on the road in spring training as they visited the home of the New York Mets. Former World Series MVP George Springer was heckled as part of Houston's split squad. Fans are calling the Astros cheaters, and doing it loudly in the wake of their sign-stealing scam. Springer had to hear it for a bit longer on Wednesday. The star leadoff man stepped into the batter's box a minute before the game was scheduled to begin, giving the crowd extra time to boo him.
NFL – Player reps send new CBA to union members for approval
The NFL and its players are closer to a new collective bargaining agreement and the next decade of labor peace that would come with it. There's still work to be done to get the deal into the end zone, however. Following a late-night vote on the slim majority approval of the 32 team representatives, the NFL Players Association was preparing to send the current CBA proposal to the full union membership for potential ratification. Last week, owners gave their majority-vote approval. Negotiations have been gone on for the past 10 months. The 17-game regular season is the most significant change.
Tennis – Sharapova retires
Maria Sharapova says she is retiring from professional tennis at the age of 32. The five-time Grand Slam title champion and former No. 1-ranked player has been dealing with shoulder problems for years. She played only two matches this season and lost both. Sharapova burst onto the tennis scene at 17 when she won Wimbledon in 2004 and would go on to complete a career Grand Slam with two titles at the French Open and one each at the U.S. Open and Australian Open. The Russian, who moved to Florida as a child, served a 15-month ban after failing a doping test in 2016. Since that suspension, Sharapova managed to reach only one major quarterfinal.
Olympics – Tokyo organizers, government take offensive on virus threat
Tokyo Olympic organizers and the Japanese government have gone on the offensive following a senior IOC member saying the 2020 Games were being threatened by the spread of a viral outbreak. Former International Olympic Committee vice president Dick Pound said their fate would probably be decided in the next three months. Tokyo organizing committee CEO Toshiro Muto abruptly called a news conference to address comments. Muto says "our basic thoughts are that we will go ahead with the Olympic and Paralympic Games as scheduled." The viral outbreak that began in China has infected more than 80,000 people and killed more than 2,700 globally.
ECHL – ECHL Hockey
Yesterday
Toledo Walleye 6, Brampton Beast 3
MCCAA – Junior College Athletics
Last Night
Women's Basketball
Jackson Community College 84, Lake Michigan College 63
Lake Michigan College's comeback bid fell short as they fell to Jackson 84-63.  The Jets jumped out to a 15 point lead after the first quarter.  The Red Hawks were able to pull to within eight in the second half but couldn't get any closer.  Morgan Hughes led LMC with 14 points, LaChelle Knox added 12.
Men's Basketball
Jackson Community College 95, Lake Michigan College 74
Jackson dominated the second half Wednesday night in capturing the MCCAA Western Division with a95-74 win.  Lake Michigan College led by as many as eight in the first half and was able to hang onto a two point advantage going into the break.  The Jets took control early in the second half and cruised to the win.  Devan Nichols paced LMC with 22 points.
MHSAA – High School Athletics
Tonight
Girls Basketball
Benton Harbor at Schoolcraft, 7:00 p.m.
Bangor at Michigan Lutheran, 6:00 p.m.
Berrien Springs at Buchanan, 7:00 p.m.
South Haven at Dowagiac, 6:00 p.m.
Paw Paw at Sturgis, 6:30 p.m.
Plainwell at Edwardsburg, 7:00 p.m.
Otsego at Three Rivers, 7:00 p.m.
Allegan at Vicksburg, 7:15 p.m.
Decatur at Climax-Scotts, 6:00 p.m.
Cassopolis at Mendon, 6:00 p.m.