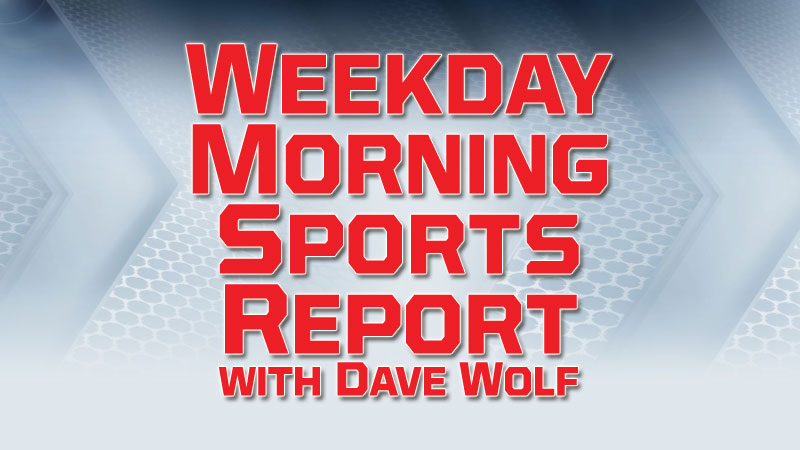 NBA – National Basketball Association
Tonight
Chicago Bulls 109, Detroit Pistons 89
Bulls 109, Pistons 89 – Markkanen scores 24, Bulls beat Pistons 109-89
Lauri Markkanen scored 24 points to bust out of a slump, Wendell Carter Jr. had 12 points and 15 rebounds, and the Chicago Bulls beat the Detroit Pistons 109-89 on Wednesday night.  It was Markkanen's first 20-point game since scoring 35 points on opening night. Tomas Satoransky and Shaquille Harrison each had 15 points as the Bulls snapped a three-game losing streak.  Derrick Rose had 18 points and Blake Griffin — in just his third game of the season — added 16 as the Pistons dropped their fifth straight.  The Bulls won the first meeting between the teams 112-106 on Nov. 1, also at the United Center.  Detroit's Andre Drummond finished with six points and 14 rebounds before fouling out with six minutes to go. Drummond had 25 points and 24 rebounds against the Bulls three weeks ago.
NHL – National Hockey League
Tonight
Detroit Red Wings at Columbus Blue Jackets, 7:00 p.m.
Tampa Bay Lightning at Chicago Blackhawks, 8:30 p.m.
NHL – Underperforming Maple Leafs fire coach Mike Babcock
The Toronto Maple Leafs have fired coach Mike Babcock.  Team President Brendan Shanahan announced the move Wednesday and said Sheldon Keefe would take over as coach.  In parts of five seasons under Babcock, the Maple Leafs posted a record of 173-133-45 in 351 regular-season games and an 8-12 record in three postseason appearances.  Babcock won the 2008 Stanley Cup as coach of the Detroit Red Wings.  After signing the richest coaching contract in NHL history at $50 million over eight years, Babcock got Toronto to the playoffs the last three seasons but was unable to advance beyond the first round.  The 39-year-old Keefe, who has a long history with Leafs general manager Kyle Dubas, was in his fifth season as head coach of the American Hockey League's Toronto Marlies.
NFL – National Football League – Week 12
Tonight
Indianapolis Colts at Houston Texans, 8:20 p.m.      106.1 & 1400 WSJM Sports 8:00
NFL – NFL hears Garrett's appeal, upholds Ogunjobi suspension
Cleveland Browns star defensive end Myles Garrett asked an appeals officer today to reduce his indefinite NFL suspension. Garrett was banned for the rest of the regular season and playoffs for striking Pittsburgh quarterback Mason Rudolph with a helmet last week. Rudolph avoided injury and was not suspended despite trying to pull off Garrett's helmet and charging at him. Meanwhile, Browns starting defensive tackle Larry Ogunjobi will have to sit out Sunday's game against Miami after losing the appeal of his one-game suspension. Ogunjobi had his $10,527 fine rescinded by former NFL player James Thrash, who also heard Garrett's appeal of his 10-game suspension. Ogunjobi shoved Pittsburgh quarterback Mason Rudolph seconds after Garrett swung a helmet and struck the Steelers QB in the head.
NFL – Bears' Trubisky expects to play against Giants if he's ready
Chicago Bears quarterback Mitchell Trubisky says his right hip is improving and he expects to play Sunday against the New York Giants if he's ready.  That's a big "if." Trubisky is day to day after suffering a hip pointer in the loss at the Los Angeles Rams on a sack near the end of the second quarter.  He said Wednesday he is feeling "day and night" better than he was following the game. Trubisky got treatment at halftime after taking a knee from Michael Brockers as Troy Hill sacked him. He played most of the second half, but his hip tightened along the way. Chase Daniel worked the final drive and would likely start if Trubisky is unavailable.


NCAAMBB – Men's College Basketball
Tonight
Central Michigan at Minnesota, 8:00 p.m.
Toledo at Notre Dame, 8:30 p.m.
NCAAWBB – Women's College Basketball
Last Night
Western Michigan 82, Detroit-Mercy 67
Today
Dayton at Central Michigan, 12:00 p.m.
MLB – Astros owner declines comment on sign stealing investigation
Houston Astros owner Jim Crane has declined to comment on Major League Baseball's investigation into allegations of sign stealing.  While walking through the lobby of the hotel where owners were meeting Wednesday, Crane stopped briefly when approached by reporters. He said he'd talk about baseball, and when someone started to ask if he had any comment about the allegations, he responded, "Any other issues," before being escorted away by two sheriff's deputies working security in the lobby.  Baseball Commissioner Rob Manfred said Tuesday he hopes the investigation will be complete by next season and that he has authority to impose discipline beyond the loss of amateur draft picks. Oakland pitcher Mike Fiers told The Athletic last week that while he was with the Astros during their 2017 World Series championship season the team stole signs during home games by using a camera positioned in center field.
NASCAR – Jimmie Johnson to retire after 2020
Seven-time NASCAR champion Jimmie Johnson says 2020 will be his final season of full-time racing.  The winningest driver of his era will have a 19th season in the No. 48 Chevrolet and once again chase a record eighth championship. Johnson has 83 career victories, tied with Cale Yarborough for sixth all-time. His seven titles are tied with Richard Petty and Dale Earnhardt for most in the Cup Series. The 44-year-old Johnson has been in a two-year slump and last won a race in 2017, one year after his seventh Cup title.
MCCAA – Junior College Athletics
Last Night
Women's Basketball
Schoolcraft College 58, Lake Michigan College 55
Men's Basketball
(5) Schoolcraft College 103, Lake Michigan College 72
AHL – American Hockey League
Last Night
Grand Rapids Griffins 4, San Antonio Rampage 3
Tonight
Chicago Wolves at Cleveland Monsters, 7:00 p.m.
ECHL – ECHL Hockey
Last Night
Cincinnati Cyclones 4, Kalamazoo Wings 3
MHSAA – High School Athletics
Today
Girls Volleyball – Semifinals – Kellogg Arena, Battle Creek
Division 4
Mendon vs. Southfield Christian, 12:00 p.m.
Rudyard vs. Leland, 2:00 p.m.