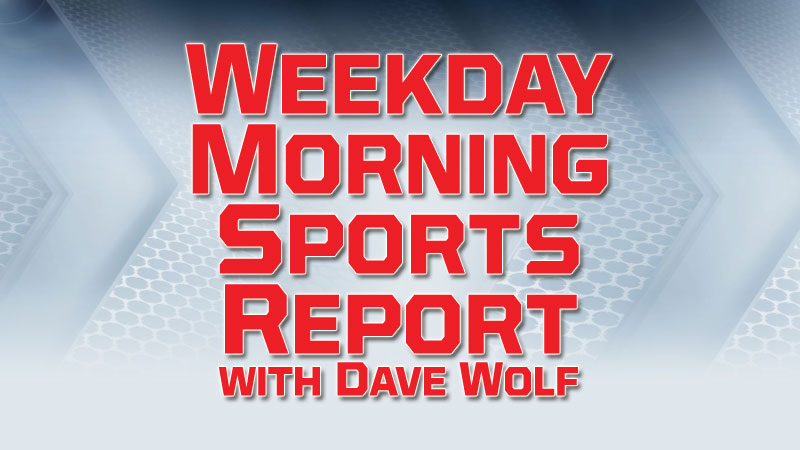 MLB – DeGrom, Verlander take Cy honors again
Jacob deGrom has become the 11th player to win a Cy Young Award in consecutive years, while Justin Verlander has captured the postseason honor for the second time and first since 2011.  DeGrom took NL honors after leading the league with 255 strikeouts and finishing second with a 2.43 ERA for the New York Mets. DeGrom totaled 204 innings, compared to 172 1/3 for Washington's Max Scherzer and 182 2/3 for Hyun-Jin Ryu (hyoon-jihn ree-OO') of the Dodgers. Ryu finished second in the balloting conducted by the Baseball Writers' Association of America, just ahead of Scherzer. DeGrom joins Tom Seaver as the only Mets to win multiple Cy Young awards. Verlander beat out Houston Astros teammate Gerrit Cole for the AL Award. Verlander led the majors with 21 victories and reached 300 strikeouts in a season for the first time. He no-hit Toronto on Sept. 1 and padded his Hall of Fame resume by getting his 3,000th strikeout in his final start of the regular season. Rays righty Charlie Morton finished third a year after leaving Houston in free agency.
NCAAMBB – Men's College Basketball
Tonight
U of M-Dearborn at Eastern Michigan, 7:00 p.m.
(3) Michigan State at (12) Seton Hall, 8:30 p.m.      Superhits 103.7 Cosy-FM 7:30
NCAAMBB – Signing Day
Michigan coach Juwan Howard has added his first recruit to the program. Howard says shooting guard Zeb Jackson signed to play for the Wolverines next season. The 6-foot-3 Jackson is ranked No. 62 among recruits in the nation by 247 Sports. Highly touted forward Isaiah Todd is also expected to be a part of Howard's first recruiting class. Jackson averaged more than 25 points and nearly eight rebounds per game over the previous three seasons at Maumee Valley Country Day in Ohio.  Michigan State coach Tom Izzo has signed center Mady Sissoko and point guard AJ Hoggard. Izzo says he may sign another player or two to the recruiting class to help the team next season. The 6-foot-10, 215-pound Sissoko is from Mali. Sissoko averaged more than 12 points last season as a junior at Wasatch Academy in Utah. He is ranked No. 37 among recruits in the nation. He 6-3, 220-pound Hoggard is from Coatesville, Pennsylvania. He averaged 15.6 points last year and won a state title.
NCAAWBB – Women's College Basketball
Tonight
Central Michigan at (9) Louisville, 6:00 p.m.
Kentucky State at Western Michigan, 7:00 p.m.
(16) Michigan State at (15) Notre Dame, 8:00 p.m.
NHL – National Hockey League
Last Night
Chicago Blackhawks 5, Vegas Golden Knights 3
Blackhawks 5, Golden Knights 3 – Crawford, Blackhawks win 5-3 for 1st victory over Vegas
Erik Gustafsson scored his first goal of the season, Corey Crawford made 39 saves and the Chicago Blackhawks beat Vegas 5-3 on Wednesday night for their first victory over the Golden Knights.  Patrick Kane, Calvin de Haan, Kirby Dach and Dylan Strome also scored for the Blackhawks. Crawford, who improved to 2-0-2 in his last four games, entered 0-3-0 versus Vegas with a 5.38 goals-against average and .859 save percentage.  William Carrier, William Karlsson and Nate Schmidt scored for Vegas. Marc-Andre Fleury stopped 21 shots but dropped to 10-6-4 against Chicago.
Tonight
Detroit Red Wings at Los Angeles Kings, 10:30 p.m.
NBA – National Basketball Association
Tonight
Chicago Bulls at Milwaukee Bucks, 8:00 p.m.
NFL – National Football League – Week 11
Tonight
Pittsburgh Steelers at Cleveland Browns, 8:20 p.m.          106.1 & 1400 WSJM Sports 8:00
NFL – Stafford sits out Lions practice
Detroit Lions quarterback Matthew Stafford did not practice with teammates a few days after hip and back injuries stopped his streak of 139 consecutive starts counting the playoffs.  Stafford watched Wednesday as quarterbacks Jeff Driskel and David Blough took snaps.  Driskel started in place of Stafford in a 20-13 loss to Chicago, giving Detroit its fifth loss in six games.  The Lions (3-5-1) host the Dallas Cowboys (5-4) on Sunday. Driskel was 27 for 46 for 269 yards with a touchdown and an interception in his sixth career start. Detroit coach Matt Patricia says someone from general manager Bob Quinn's staff will attend Colin Kaepernick's workout for NFL teams on Saturday in Atlanta.
NCAAFB – College Football – Week 12 – Mid American Conference
Last Night
Miami-OH 44, Bowling Green 3
Northern Illinois 31, Toledo 28
Tonight
Buffalo at Kent State, 7:00 p.m.
NCAAFB – Big Ten – Ohio State's Young to miss 1 more game for NCAA violation
Ohio State star defensive end Chase Young will be held out of one more game as punishment for breaking NCAA rules by accepting a personal loan. That means the preseason All-American will miss Saturday's game against Rutgers. He will be back for showdowns with No. 9 Penn State and No. 14
Michigan to end the regular season.
MCCAA – Junior College Athletics
Last Night
Women's Basketball
Andrews University 64, (20) Lake Michigan College 54
Andrew's got a game high 29 points from Jade Broussard in a 64-54 win over Lake Michigan College, Broussard added 21 rebounds.  Nadira Cousins added 11 for the Cardinals.  Morgan Hughes led LMC with 19 points and LaChelle Knox added 14 points and 13 rebounds for the Redhawks.
Men's Basketball
Andrews University 79, Lake Michigan College 73
Josh Fitzpatrick had a game high 24 points to lead Andrew's University men's basketball team over Lake Michigan College 79-73. Denzel Daniel added 20 points, and Mylon Weathers scored 18 for the Cardinals.  Devon Nichols led Lake Michigan College with 18 points, Andrew McGuirt scored 17 and Jaguar Jackson had 13. 
MHSAA – High School Athletics
Tonight
Girls Volleyball – Regional Championships
Division 1 at Battle Creek Lakeview
Jackson Northwest vs. Mattawan, 6:00 p.m.
Division 2 at Otsego
Edwardsburg vs. Hamilton, 6:30 p.m.
Division 3 at Schoolcraft
Brandywine vs. Schoolcraft, 6:00 p.m.
Division 4 at Martin
Mendon vs. Battle Creek St. Philip, 6:30 p.m.