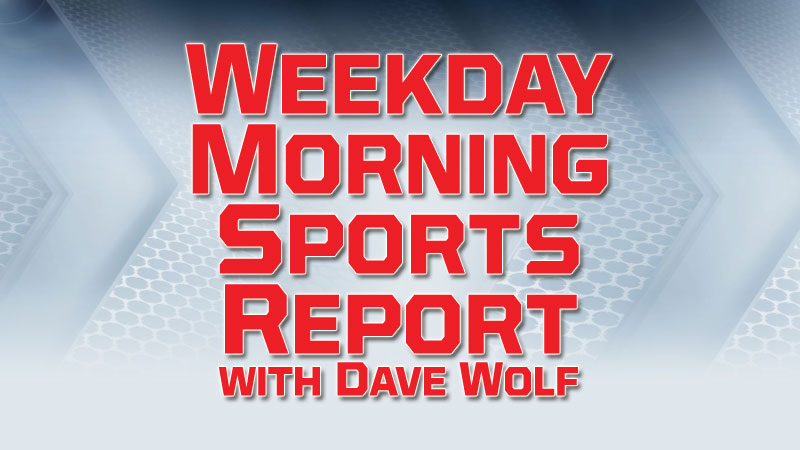 MLB – Major League Baseball
Last Night – NL Wild Card
New York Yankees 7, Oakland A's 2
Yankees 7, A's 2 – Yanks beat A's, prep for Bosox
Aaron Judge and Giancarlo Stanton homered as the New York Yankees thumped the Oakland Athletics, 7-2 to win the American League Wild-Card game in the Bronx. Judge put the Yanks ahead with a two-run blast in the bottom of the first and Luke Voit tripled home a pair in a four-run sixth. The Yanks advanced to the AL Division Series and will take on the Boston Red Sox beginning Friday at Fenway Park.
Tonight – NL Division Series
Colorado (Senzatela 6-6) at Milwaukee (TBD), 5:07 p.m.
Atlanta (Foltynewicz 13-10) at Los Angeles (Ryu 7-3), 8:37 p.m.
MLB – MLB gives Russell 40-game ban under domestic violence policy
Chicago Cubs infielder Addison Russell has accepted a 40-game suspension for violating Major League Baseball's domestic violence policy. Commissioner Rob Manfred announced the ban in a statement Wednesday. MLB had been investigating domestic violence allegations against Russell made by his ex-wife, Melisa Reidy. Russell had denied the accusations, which Reidy detailed in a blog post in September.  Russell's unpaid suspension includes the 11 regular-season games he missed after being placed on administrative leave Sept. 21. Russell will be eligible to return on May 3 against St. Louis, barring any postponements, and he will not appeal the suspension. He will also participate in an evaluation and treatment program.  The Cubs' season ended Tuesday with a 2-1, 13-inning defeat to the Colorado Rockies in the NL wild-card game. Russell was not active for the game.
MLB – Epstein: Maddon to return for fifth season as Cubs manager
Theo Epstein says Joe Maddon will return for a fifth season as manager of the Chicago Cubs.  Chicago's president of baseball operations confirmed Maddon will stay on for at least the final year of his contract. Epstein says there are no ongoing discussions about an extension for Maddon. Though he acknowledged some disagreements, Epstein insists he has a "terrific" relationship with Maddon.  Maddon is 387-261-1 in four years with Chicago _ 95-68 this season. He has led the Cubs to the NLCS three times and a drought-busting World Series championship in 2016.  But the Cubs blew a five-game lead to Milwaukee in the NL Central, then dropped a tiebreaker to the Brewers at Wrigley Field. Chicago was eliminated by Colorado with a 2-1, 13-inning defeat in the NL wild-card game Tuesday.
MLB – Showalter, Duquette dismissed by Birds
The Baltimore Orioles have fired Buck Showalter after eight-plus seasons and a 669-684 record. Showalter led the club to three playoff appearances after taking over in August 2010, but the front office felt a change in the dugout was necessary after the Birds went 47-115 and finished 61 games behind the AL East-leading Red Sox. The club also dismissed executive vice president of baseball operations Dan Duquette.
NFL – National Football League – Week 5
Tonight
Indianapolis Colts at New England Patriots, 8:20 p.m.                95.7 & 1400 WSJM Sports 8:00
NFL – Lions add Donnal while T.J. Lang deals with concussion
The Detroit Lions signed offensive lineman Andrew Donnal to add depth because of the possible loss of starting guard T.J. Lang.  Detroit added Donnal to the roster on Wednesday, four days after cutting him. Lang had a concussion in the first quarter of Detroit's loss at Dallas and did not return. He has played in three of four games this season, missing the defeat at San Francisco with a back injury. Detroit claimed Donnal off waivers from Baltimore last month and did not play him in any of its three games before releasing him. He has started six games and played in 27 over three seasons with the Ravens and Rams.  Detroit (1-3) hosts the Green Bay Packers (2-1-1) on Sunday.
NHL – National Hockey League – Opening Night
Tonight
Toronto 3, Montreal 2 – OT
Washington 7, Boston 0
Vancouver 5, Calgary 2
Anaheim 5, San Jose 2
Tonight
Columbus Blue Jackets at Detroit Red Wings, 7:30 p.m.
Chicago Blackhawks at Ottawa Senators, 7:30 p.m.
NHL – Red Wings place Kronwall, Ericsson on IR
The Detroit Red Wings placed defensemen Niklas Kronwall and Jonathan Ericsson on injured reserve on Wednesday.  Right wing Luke Witkowski, and defensemen Joe Hicketts and Filip Hronek were recalled from Grand Rapids of the AHL. The moves came a day before the Red Wings open the season at home against Columbus. Kronwall is on the IR retroactive to Sept. 28, and Ericsson to Sept. 20.
NCAA – Big Ten – Matt Millen stepping away from BTN job to focus on health
Former NFL star and Detroit Lions executive Matt Millen is stepping away from his TV analyst job for the rest of this season to focus on his health. The 60-year Millen has amyloidosis and has been seeking a heart transplant . The life-threatening illness often goes undiagnosed because its symptoms mimic those of more common diseases. The Big Ten network made the announcement Wednesday. Millen worked five games this season and has been an analyst for the BTN since 2015.  His heart issues began in 2011 when he first felt chest pain while exercising. Tests showed nothing wrong for six years. Millen won four Super Bowls as a player with the Raiders, 49ers and Redskins. His post-playing career included being a broadcaster before becoming general manager of the Lions.
NBA – National Basketball Association Preseason
Last Night
Milwaukee Bucks 116, Chicago Bulls 82
Detroit Pistons 97, Oklahoma City Thunder 91
Bucks 116, Bulls 82
Giannis Antetokounmpo and the Milwaukee Bucks put on a smashing opening-night performance at their new arena.  Antetokounmpo had 19 points, 13 rebounds and five assists, and the Bucks routed the Chicago Bulls 116-82 on Wednesday night in the first game at the Fiserv Forum. The Bucks had the look of contenders under new coach Mike Budenholzer, scoring 63 points in the first half of their preseason opener and leading by as much as 34 points.  Their new arena opened in August and the Bucks looked right at home there against the Bulls, overwhelming them on the backboards with a 64-43 rebound advantage. Bobby Portis led Chicago with 17 points and Kris Dunn added 10.
Pistons 94, Thunder 91
Andre Drummond had 31 points and 16 rebounds and scored the go-ahead points on a three-point play that gave visiting Detroit a 94-91 lead with 1:37 left. Ish Smith's 3-pointer with 17 seconds left capped the scoring. Stanley Johnson scored 10 of his 14 points in the first half for the Pistons. Dennis Schroder had 21 points and nine assists and Steven Adams added 17 points and 12 boards for Oklahoma City.   Blake Griffin did not play for Detroit.
Tonight
Indiana Pacers at Houston Rockets, 8:00 p.m.
Golf – Koepka gutted over wounded fan, denies fight with Johnson
Brooks Koepka says he is heartbroken to hear a woman struck by his tee shot at the Ryder Cup might lose vision in her right eye. Koepka's wild tee shot on the sixth hole at Le Golf National hit Corine Remande in the head last Friday. According to French media reports, doctors say she has lost sight and she is considering legal action. Koepka says his stomach sank when he learned of her condition upon arriving at the Dunhill Links Championship. Koepka says he is trying to reach out to the woman. Koepka also says he and Dustin Johnson did not have an argument or a fight during a party after the Ryder Cup. He says the two have never raised their voice at each other.
MCCAA – Junior College Sports
Last Night
Women's Soccer
Lake Michigan College 1, Ancilla College 0 – 2 OT
Men's Soccer
Ancilla College 4, Lake Michigan College 0
Today
Women's Volleyball
Lake Michigan College at Grand Rapids Community College, 6:30 p.m.
MHSAA – High School Sports
Last Night
Boys Soccer
Lakeshore 2, St. Joseph 1
Lake Michigan Catholic 0, Michigan Lutheran 0 – TIE
Bridgman 4, Berrien Springs 2
Otsego 2, Dowagiac 0
Paw Paw 6, Allegan 0
Edwardsburg 9, Three Rivers 1
South Haven 1, Vicksburg 1 – TIE
Hartford 1, GR Northpointe Christian 0
Kalamazoo Hackett 8, Coloma 0
Girls Volleyball
Mattawan 3, Lakeshore 0
Portage Central 3, St. Joseph 0
Portage Northern 3, Niles 2
Lake Michigan Catholic 3, River Valley 1
Michigan Lutheran 3, Covert 1
Bridgman 3, Berrien Springs 2
Brandywine 3, Buchanan 0
Tonight
Boys Soccer
Michigan Lutheran at Lawrence, 5:00 p.m.
New Buffalo at Bridgman, 5:00 p.m.
Hartford at Paw Paw, 6:00 p.m.
Sturgis at Plainwell, 6:00 p.m.
Harper Creek at Three Rivers, 6:00 p.m.
Girls Volleyball
Paw Paw at Allegan, 6:00 p.m.
Otsego at Dowagiac, 5:00 p.m.
Three Rivers at Edwardsburg, 6:00 p.m.
Sturgis at Plainwell, 6:00 p.m.
South Haven at Vicksburg, 6:00 p.m.