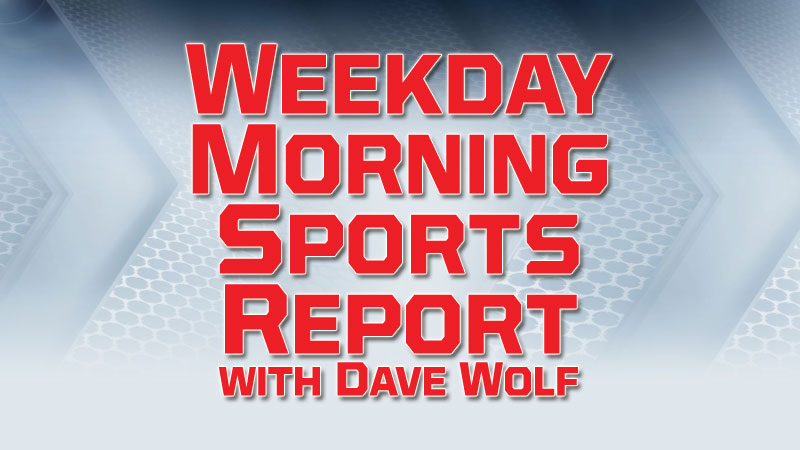 106.1 & 1400 WSJM Sports     @wsjmsports     wsjmsports.com     Monday, September 09, 2019
NFL – National Football League – Week 1
Yesterday
Detroit Lions 27, Arizona Cardinals 27 – OT – TIE
Los Angeles Chargers 30, Indianapolis Colts 24 – OT
Other NFL Scores
Baltimore 59, Miami 10
Kansas City 40, Jacksonville 26
Minnesota 28, Atlanta 12
Tennessee 43, Cleveland 13
Buffalo 17, N.Y. Jets 16
L.A. Rams 30, Carolina 27
Philadelphia 32, Washington 27
Seattle 21, Cincinnati 20
Dallas 35, N.Y. Giants 17
San Francisco 31, Tampa Bay 17
New England 33, Pittsburgh 3
Lions 27, Cardinal 27 – OT – TIE – Lions/Cardinals settle for 27-27 tie
After all that drama, Kyler Murray's debut ended in a tie that almost seemed like a win.  Murray and the Arizona Cardinals nearly finished an improbable comeback on Sunday in the rookie's debut, rallying from an 18-point deficit in the fourth quarter to tie the game at 24 in regulation.  The Cardinals had two chances to win in extra time and so did the Lions, but all they could do was trade field goals and settle for a 27-27 tie.  After the defense stopped the Lions, the top overall draft pick was at it again, leading a nine-play, 60-yard drive to a 4-yard touchdown throw to Larry Fitzgerald. Murray found Christian Kirk on the 2-point conversion to tie it with 43 seconds remaining.  Murray was 15 of 19 for 154 yards and two touchdowns during the fourth-quarter comeback. Overall, he was 29 of 54 or 308 yards, two touchdowns and an interception.  It was a stunning collapse for Detroit, which looked totally in control until midway through the fourth period. The Lions took a 17-0 lead during the second quarter and had a 17-3 advantage at halftime.  Matthew Stafford threw for 385 yards and three touchdowns for the Lions, but they couldn't put together drives in the fourth quarter to stop Arizona's momentum.  Detroit's T.J. Hockenson looks like he's ready to make an immediate impact in his rookie season. The 6-foot-5, 247-pound tight end, the No. 8 overall pick in April, was a problem for the Arizona secondary, creating mismatches all over the field. He finished with six catches for 131 yards and a touchdown.
Lions 27, Cardinal 27 – OT – TIE – Ekeler scores 3 TDs in Chargers 30-24 OT win over Colts
Austin Ekeler scored three touchdowns, including the winner on a 7-yard run with 5:01 remaining in overtime, to give the Los Angeles Chargers a 30-24 victory over the Indianapolis Colts on Sunday.  The Chargers got the ball to start overtime and went 75 yards on eight plays. Ekeler, the Chargers' lead back with Melvin Gordon holding out for a new contract, had 154 all-purpose yards on the day. He ran for 58 yards on 10 carries and caught six passes for 96 yards and two scores. Rivers, who made his 209th consecutive start to pass Peyton Manning for third longest among NFL QBs, completed 25 of 34 passes for 333 yards. It is the fifth time Rivers has thrown three or more TD passes in an opener.  Indianapolis tied it with 48 seconds remaining when Jacoby Brissett hit T.Y. Hilton for their second scoring connection of the day. Hilton caught the ball at the Chargers 19, made Adrian Phillips miss and then was able to extend the ball over the pylon before going out of bounds.
Tonight
Houston Texans at New Orleans Saints, 7:10 p.m.              106.1 & 1400 WSJM Sports 6:30
Denver Broncos at Oakland Raiders, 10:20 p.m.                 106.1 & 1400 WSJM Sports 9:45
Tennis – Nadal takes 19th slam in 5-setter
Rafael Nadal is the U.S. Open champion and a 19-time Grand Slam winner after enduring a nearly five-hour match against Daniil Medvedev (DAN'-ihl MEHD'-veh-dehv).  The second-seeded Nadal squandered a two-sets-to-love lead before holding off the No. 5 seed, 7-5, 6-3, 5-7, 4-6, 6-4 victory in 4 hours, 50 minutes.  Down by two sets and 3-2 in the third, Medvedev shifted styles, upped his level against a rattled Nadal, and even received an unexpected boost from Arthur Ashe Stadium spectators.  Only once before had Nadal lost a Grand Slam match after taking the opening two sets.  It's the fourth U.S. Open title for Nadal.


MLB – Major League Baseball
Yesterday
Oakland Athletics 3, Detroit Tigers 1
Chicago White Sox 5, Los Angeles Angels 1
Milwaukee Brewers 8, Chicago Cubs 5
A's 3, Tigers 1 – Manaea, Athletics win 3-1, send Tigers to 100th loss
Sean Manaea matched his career high by striking out 10 in his second start following shoulder surgery, and the Oakland Athletics beat Detroit 3-1 on Sunday to give the Tigers their first 100-loss season since 2003.  Manaea (1-0) allowed two hits over seven innings against the Tigers, who didn't get a hit until Christian Stewart homered leading off the fifth. The 27-year-old left-hander struck out seven of his first 11 batters, including Dawel Lugo to end the first after back-to-back walks by Jeimer Candelario and Ronny Rodríguez.  At 42-100, Detroit is headed to its poorest record since going 43-119 in 2003, the team record for losses. Baltimore, Miami, Kansas City and Toronto also are on pace to lose 100 games; the big league record of four clubs was set in 2002.  Detroit starter Daniel Norris (3-12) was removed after three innings for his sixth straight start, part of the Tigers' plan to limit his workload.
White Sox 5, Angels 1 – Abreu, Mendick homer as White Sox beat Angels 5-1
Danny Mendick hit his first career home run, José Abreu got his 31st of the season, and the Chicago White Sox beat the Los Angeles Angels 5-1 on Sunday.  Mendick, Matt Skole and James McCann had two hits apiece for the White Sox, who avoided a three-game sweep.  Michael Hermosillo had two hits in the ninth spot for the Angels, who finished with five hits without the injured Mike Trout and have lost 17 of their last 22 road games.  Mendick, who made his major league debut Tuesday, hit a solo shot in the fifth to give the White Sox a 3-1 lead. He started at shortstop in place of Tim Anderson, who began the day leading the AL in batting average but had a planned day off.  Yolmer Sánchez had an RBI single in the sixth and Ryan Cordell added a sacrifice fly in the seventh to extend the White Sox lead.  Josh Osich (2-0) threw 2 2/3 scoreless innings to pick up the victory. He combined with two other relievers to limit the Angels to one hit in 5 2/3 shutout innings. Right fielder Cordell fell into the net making a catch in the ninth.  Los Angeles used six relievers.
Brewers 8, Cubs 5 – Brewers beat up Lester, top Cubs 8-5 to narrow WC lead
Tyler Austin drove a pinch-hit, three-run homer during the Brewers' five-run fourth inning against Jon Lester, and Milwaukee beat the Chicago Cubs 8-5 Sunday to tighten the NL wild-card race.  Milwaukee won the series 3-1 and pulled within two games of the Cubs for the second NL wild card with three weeks left. The Cardinals are 4 1/2 games ahead of Chicago for the NL Central lead. Staked to a 3-1 lead, Lester (12-10) allowed RBI hits to Ryan Braun and Hernan Perez before Austin delivered his fourth pinch homer this season. Eric Thames added a solo shot off Lester in the sixth, and pinch-hitter Tyrone Taylor added an RBI single off Duane Underwood Jr. for his first major league hit.  Milwaukee's Brent Suter (1-0) followed starter Adrian Houser and pitched scoreless ball across the fifth and sixth innings.  Lester allowed eight runs and seven hits, walked three and struck out seven in 5 1/3 innings.
Today
Chicago Cubs (TBD) at San Diego (Quantrill 6-6), 10:10 p.m.
Tigers and White Sox are off
MLB – Red Sox part ways with baseball boss Dave Dombrowski
The Boston Red Sox have parted ways with president of baseball operations Dave Dombrowski Red Sox spokesman Kevin Gregg made the announcement Sunday night, shortly after the New York Yankees beat Boston 10-5. A veteran baseball executive who built a World Series champion in Miami and helped the Tigers reach the Series twice, Dombrowski was brought in to steady the Red Sox front office in 2015 with the team in the middle of back-to-back last-place finishes. The Red Sox won three straight AL East titles for the first time in franchise history, winning a club-record 108 games last season and their fourth World Series since 2004. This season has been disappointing for Boston, which is 76-67, 17 1/2 games behind AL East-leading New York, and eight games out of the AL's second wild-card spot.
NCAAFB – LSU moves up to give SEC 3 of top 4 in AP poll
The Southeastern Conference held three of the top four spots in The Associated Press college football poll after LSU's road victory against Texas pushed the Tigers to No. 4.  Clemson remained No. 1 on Sunday, receiving 56 first-place votes out of 62 in the Top 25 presented by Regions Bank. No. 2 Alabama received 6 first-place votes and Georgia stayed at No. 3.  Oklahoma is fifth, followed by Ohio State, Notre Dame, Auburn, Florida and Michigan. No. 21 Maryland, No. 24 Southern Cal and No. 25 Virginia are the poll newcomers.
| | | |
| --- | --- | --- |
| 1 | Clemson (56) | 2-0 |
| 2 | Alabama (6) | 2-0 |
| 3 | Georgia | 2-0 |
| 4 | LSU | 2-0 |
| 5 | Oklahoma | 2-0 |
| 6 | Ohio State | 2-0 |
| 7 | Notre Dame | 1-0 |
| 8 | Auburn | 2-0 |
| 9 | Florida | 2-0 |
| 10 | Michigan | 2-0 |
| 11 | Utah | 2-0 |
| 12 | Texas | 1-1 |
| 13 | Penn State | 2-0 |
| 14 | Wisconsin | 2-0 |
| 15 | Oregon | 1-1 |
| 16 | Texas A&M | 1-1 |
| 17 | UCF | 2-0 |
| 18 | Michigan State | 2-0 |
| 19 | Iowa | 2-0 |
| 20 | Washington State | 2-0 |
| 21 | Maryland | 2-0 |
| 22 | Boise State | 2-0 |
| 23 | Washington | 1-1 |
| 24 | USC | 2-0 |
| 25 | Virginia | 2-0 |
NASCAR – Harvick wins at Brickyard, Johnson misses playoff berth
Kevin Harvick won the Brickyard 400 for the second time, beating Joey Logano by 6.118 seconds in a crash-marred race that ended Jimmie Johnson's perfect playoff run. Johnson had been the only driver to qualify for every Cup playoff since the format was introduced in 2004. His long-shot bid finally ended when William Byron and Johnson ran side-by-side through the second turn and the rear end of Johnson's No. 48 Chevrolet spun in front of Kurt Busch, sending both into the second turn wall. Clint Bowyer and Ryan Newman claimed the final two spots in the 16-driver field, while Johnson was eliminated for the first time. Daniel Suarez finished 17th at Indianapolis Motor Speedway, four points short of becoming the first Mexican-born driver to make the playoffs.
WNBA – Women's National Basketball Association
Last Night
Washington Mystics 100, Chicago Sky 86
Indiana Fever, Connecticut Sun 76
MWL – 2019 Midwest League Baseball Playoffs – Round 2 (best of 3)
Last Night

South Bend 7, Great Lakes 3                                               (SB wins 2-0)
Cedar Rapids 3, Clinton 2                                                   (Series tied 1-1)
Tonight
Clinton at Cedar Rapids, 7:35 p.m.                                     (Series tied 1-1)
Winner plays South Bend in Midwest League Championship Series


MHSAA – High School Sports
Tonight
Boys Soccer
Michigan Lutheran at Lake Michigan Catholic, 5:00 p.m.
Niles at Bridgman, 5:00 p.m.
South Haven at Plainwell, 6:30 p.m.
Three Rivers at Dowagiac, 5:30 p.m.
Otsego at Edwardsburg, 5:30 p.m.
Paw Paw at Sturgis, 6:30 p.m.
Vicksburg at Allegan, 6:30 p.m.
Lawton at Kalamazoo Christian, 5:00 p.m.
Constantine at Kalamazoo Hackett, 6:00 p.m.
Watervliet at Saugatuck, 5:00 p.m.
Coloma at Schoolcraft, 5:00 p.m.
New Prairie (IN) at New Buffalo, 5:30 p.m.
Marcellus at Bangor, 5:00 p.m.
Hartford at Cassopolis, 5:00 p.m.
Bloomingdale at Eau Claire, 5:00 p.m.
Parma Western at Kalamazoo Central, 6:30 p.m.
Howardsville Christian at Lawrence, 5:00 p.m.
Fennville at Delton-Kellogg, 6:00 p.m.