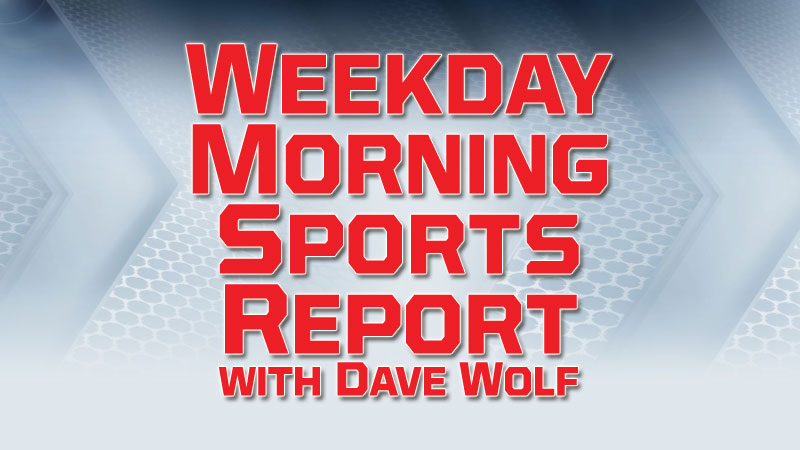 MLB – Major League Baseball
Yesterday
Detroit Tigers 5, Minnesota Twins 3
Chicago White Sox 5, Toronto Blue Jays 1
Chicago Cubs 4, Milwaukee Brewers 1
Tigers 5, Twins 3 – Castellanos, Norris lead Tigers to 5-3 win over Twins
Nicholas Castellanos had three hits, including a two-run homer, and Daniel Norris turned in his longest outing since 2017 to lead the Detroit Tigers past the Minnesota Twins 5-3 on Sunday.  Castellanos was a triple shy of the cycle. He and Brandon Dixon both homered early to back Norris (2-1), who went 6 1/3 innings and gave up two runs on six hits. He struck out five and walked one.  That was the left-hander's longest start since also pitching 6 1/3 innings on May 24, 2017.  Ehire Adrianza homered and had two hits for the Twins, but designated hitter Nelson Cruz exited early with a left wrist injury. Cruz's final plate appearance came in the sixth inning and he was removed for a pinch hitter in the seventh. The team said he will continue to be evaluated.  Castellanos and Dixon both homered into the second deck in left field off Martin Perez (5-1) to give the Tigers an early 3-0 lead. Detroit has hit seven homers in its last three games.  Niko Goodrum added a sacrifice fly and Miguel Cabrera had an RBI single in the seventh for the Tigers.
White Sox 5, Blue Jays 1 – Giolito wins 2nd straight start, White Sox top Blue Jays 5-1
Lucas Giolito allowed one run in seven innings to win his second straight start, Tim Anderson and Yonder Alonso homered and the Chicago White Sox beat the Toronto Blue Jays 5-1 on Sunday. Giolito (4-1) gave up four hits, matched his season high with eight strikeouts and improved to 2-0 with a 1.64 ERA in his past four games. He pitched 7 1/3 shutout innings to beat Cleveland in his previous outing. Four of Toronto's first seven batters got hits, but Giolito allowed just two batters to reach. Rowdy Tellez hit an RBI single in the first inning. Teoscar Hernández hit a leadoff single in the second and Randal Grichuk walked to begin the fourth, but those were the only blemishes in a stretch that saw Giolito retire 20 of 22. Ryan Burr and Aaron Bummer each pitched one inning to complete a four-hitter in the finale of a seven-game trip.
Cubs 4, Brewers 1 – Lester pitches Cubs past Brewers 4-1 for series win
Jon Lester pitched 6 2/3 gutsy innings, Kris Bryant hit a two-run homer and the Chicago Cubs beat the Milwaukee Brewers 4-1 on Sunday night to take a weekend series between the top teams in the NL Central.  Lester (3-1) gave Chicago exactly what it needed a day after it used seven relievers during a 2-1 victory in 15 innings. Taking the mound on a rainy, cold night at Wrigley Field, the ace left-hander allowed an unearned run and nine hits while throwing a season-high 116 pitches.  Bryant had three hits and scored three times, reaching safely for a career-best 22nd straight game and helping the division-leading Cubs close out an 8-2 homestand. Javier Báez collected two more hits, extending his hitting streak to a career high-tying 11 games.  Milwaukee wasted a solid start by Jhoulys Chacín (3-4), who permitted two runs, one earned, and six hits in six innings. The Brewers finished with nine hits, but left nine runners on base.
Today
Houston (Peacock 3-2) at Detroit (Boyd 4-2), 7:10 p.m.                         WSJM Sports/Cosy-FM 6:45
Cleveland (Bieber 2-1) at Chicago White Sox (Lopez 2-4), 8:10 p.m.
Cubs are off
Golf – PGA – Kang rallies to win
Sung Kang picked up his first PGA victory in 159 career starts by capturing the Byron Nelson. Kang made a 23-foot birdie putt on the 15th hole to finally take the lead for good was the second of three consecutive birdies for the Texas resident, who closed with a 4-under 67 to finish at 23 under. Matt Every and Scott Piercy finished two strokes back.
Golf – Champions – Tradition to be completed Monday
The final round of the Regions Tradition has been pushed back to Monday. Play was suspended following a 4 1/2 – hour delay created by thunderstorms and steady rain.  Steve Stricker holds a two-stroke lead at 14-under 202. Two-time Tradition winner Bernhard Langer, David Toms and Billy Andrade are all two strokes back.
NHL – 2019 NHL Stanley Cup Playoffs – Round 3 – Conference Finals (Best of 7)
Last Night
Boston Bruins 6, Carolina Hurricanes 2                                                (BOS leads 2-0)
Bruins 6, Hurricanes 2 – Bruins rip Canes for 2-0 series lead
The Boston Bruins have protected home-ice advantage in the NHL's Eastern Conference final by thrashing the Carolina Hurricanes in Game 2. Matt Grzelcyk produced his first multi-goal game and the Bruins followed Thursday's 6-3 victory with a convincing 6-2 rout of the Canes. Connor Clifton notched his first career NHL goal while the B's built a 6-0 lead en route to their fifth straight win. Tuukka Rask needed to make just 21 saves to help Boston get within two victories of the Stanley Cup final. Jake DeBrusk, David Backes and Danton Heinen also connected, while Torey Krug and Charlie Coyle had three assists apiece. Justin Williams and Teuvo Teravainen scored in the third period to deprive Rask of a seventh career playoff shutout. Petr Mrazek stopped just 19 of 25 shots for the Hurricanes, who host Game 3 on Tuesday. Carolina is 5-0 at home this postseason.
Tonight
St. Louis Blues at San Jose Sharks, 9:00 p.m.                                         (SJS leads 1-0)
NBA – 2019 NBA Playoffs – Round 2 (Best of 7)
Last Night
Toronto Raptors 92, Philadelphia 76ers 90                                            (TOR wins 4-3)
Portland Trailblazers 100, Denver Nuggets 96                                      (POR wins 4-3)
Raptors 92, Sixers 90 – Leonard's buzzer beater sends Raptors to Eastern Conference Final
The Raptors pulled out a 92-90 win over Philadelphia when Kawhi Leonard nailed a shot from the corner over 76ers center Joel Embiid. Leonard capped his 41-point performance with a shot that bounced off the rim four times before settling through the net. It came after Jimmy Butler tied it with a driving layup with 4.2 seconds remaining. Leonard's final points set off a wild celebration as the Raptors advanced to the conference finals for the second time in four seasons. They will open the conference finals Wednesday night at Milwaukee. Serge Ibaka added 17 points for Toronto, and Pascal Siakam added 11 with 11 rebounds. Embiid led the 76ers with 21 points and 11 rebounds.
Blazers 100, Nuggets 96 – Blazers advance with game 7 win at Denver
CJ McCollum scored 37 points and the Blazers overcame a 17-point, first-half deficit to beat the Nuggets 100-96. Evan Turner delivered 10 of his 14 points in the fourth quarter after scoring just four in the first six games of the series. Turner also dribbled out the clock after grabbing the rebound of a desperation 3-point attempt by Nikola Jokic The Nuggets raced to a 39-22 lead midway through the second quarter before Portland began to chip away. The Trail Blazers were down just one point heading into the fourth quarter until Denver shot 7-for-24 the rest of the way, including 3-for-10 by Jokic. Jokic led Denver with 29 points but missed 15 shots. The Western Conference Finals begin Tuesday in Oakland.
MWL – Midwest League Baseball
Yesterday
No games yesterday
Tonight
Dayton at Great Lakes, 6:05 p.m.
West Michigan at Lansing, 7:05 p.m.
South Bend at Bowling Green, 7:35 p.m.
ECHL – 2019 ECHL Kelly Cup Playoffs – Western Conference Finals (Best of 7)
Last Night
Toledo Walleye 4, Tulsa Oilers 1                                                           (TOL leads 2-0)
AHL – 2019 AHL Calder Cup Playoffs – Western Conference Semifinals (Best of 7)
Tonight
Iowa Wild at Chicago Wolves, 8:00 p.m.                                                 (CHI leads 3-2)
MCCAA – Junior College Sports
Today
Women's Softball – NJCAA Division II District I Softball Tournament @ Sport Force Park, Sandusky, OH
Lake Michigan College vs. Lansing Community College, 12:45 p.m.
MHSAA – High School Sports
Today
Girls Soccer
Michigan Lutheran at Lake Michigan Catholic, 5:00 p.m.
Allegan at Otsego, 6:30 p.m.
Vicksburg at Paw Paw, 6:00 p.m.
Edwardsburg at Plainwell, 6:00 p.m.
Three Rivers at South Haven, 5:30 p.m.
Dowagiac at Sturgis, 5:00 p.m.
New Buffalo at Berrien Springs, 5:00 p.m.
Buchanan at Brandywine, 5:00 p.m.
Mattawan at Battle Creek Lakeview, 6:30 p.m.
Kalamazoo Central at Kalamazoo Loy Norrix, 6:30 p.m.
Fennville at Kalamazoo Hackett, 6:00 p.m.
Lawton at Saugatuck, 5:00 p.m.
Baseball
Lake Michigan Catholic at Michigan Lutheran, 4:30 p.m. (DH)
Lakeshore at Portage Central, 4:00 p.m. (DH)
Niles at Mattawan, 4:00 p.m. (DH)
Three Rivers at Buchanan, 4:30 p.m.
Otsego at Schoolcraft, 4:00 p.m. (DH)
Parchment at Bridgman, 4:15 p.m.
Galesburg-Augusta at Watervliet, 4:30 p.m.
Constantine at Gobles, 4:30 p.m.
Kalamazoo Hackett at Fennville, 4:30 p.m.
Kalamazoo Christian at Saugatuck, 4:30 p.m.
Softball
Lake Michigan Catholic at Michigan Lutheran, 4:30 p.m. (DH)
Portage Central at St. Joseph, 4:00 p.m. (DH)
Lakeshore at Caledonia, 4:15 p.m. (DH)
Niles at Mattawan, 4:00 p.m. (DH)
Portage Northern at Plainwell, 4:30 p.m.
Brandywine at Comstock, 4:15 p.m.
Howardsville Christian at New Buffalo, 4:30 p.m.
Bloomingdale at Hartford, 4:30 p.m.
Bangor at White Pigeon, 4:30 p.m.
Galesburg-Augusta at Watervliet, 4:30 p.m.
Constantine at Gobles, 4:30 p.m.
Kalamazoo Hackett at Fennville, 4:30 p.m.
Kalamazoo Christian at Saugatuck, 4:30 p.m.
Girls Tennis
New Prairie (IN) at Buchanan, 3:30 p.m.