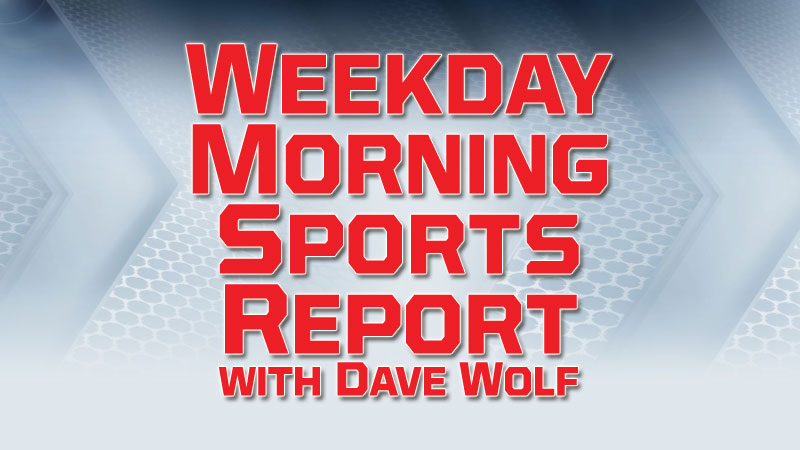 MLB – Major League Baseball
Yesterday
Detroit Tigers 4, Chicago White Sox 3
Chicago Cubs 2, Arizona Diamondbacks 1
Tigers 4, White Sox 3 – Norris gets first win since 2017, Tigers top White Sox, 4-3
Daniel Norris struck out six batters in five innings to earn his first win in two years and help the Detroit Tigers beat the Chicago White Sox 4-3 on Sunday. Norris (1-0) allowed two hits and walked one, earning his first victory since Sept. 28, 2017, and Gordon Beckham homered against his former team as the Tigers won two of three in the series. Norris took Matt Moore's spot in the rotation after his season-ending knee surgery. The former top prospect, acquired from Toronto in a 2015 trade for David Price, threw 79 pitches, 56 for strikes. Shane Greene had a perfect ninth inning to earn his 10th save in 10 tries for Detroit. In his Tigers debut, first baseman Brandon Dixon had an RBI single in the second inning, scoring Jeimer Candelario, who tripled.   White Sox right-hander Reynaldo Lopez (1-3) had eight strikeouts in six innings, but allowed seven hits and two earned runs.
Cubs 2, D'Backs 1 – Bote lifts Cubs past Diamondbacks 2-1
David Bote hit a game-ending RBI single in the ninth inning, and the Chicago Cubs used a terrific performance by Tyler Chatwood to beat the Arizona Diamondbacks 2-1 on Sunday. Led by Chatwood's six sparkling innings, Chicago carried a 1-0 lead into the ninth. But Jarrod Dyson hit a drive to right off Pedro Strop (1-1) with one out, tying it at 1. The Cubs then got right to work against Archie Bradley (1-2) in the bottom half. Javier Baez led off with a double up the first base line and went to third when Adam Jones fumbled the ball in right. After Willson Contreras was hit by a pitch, Bote hit a liner back up the middle for his fourth career game-ending hit.
Today
Chicago White Sox (Banuelos 1-0) at Baltimore (Hess 1-3), 7:05 p.m.
Detroit (Boyd 1-1) at Boston (Sale 0-4), 7:10 p.m.   WSJM Sports/Cosy-FM 6:45
Chicago Cubs are off
NHL – 2019 NHL Stanley Cup Playoffs – Round 1 (Best of 7)
Last Night
Boston Bruins 4, Toronto Maple Leafs 2                                                 (Series tied 3-3)
San Jose Sharks 2, Vegas Golden Knights 1 – 2 OT                                 (Series tied 3-3)
Bruins 4, Maple Leafs 2
Brad Marchand scored twice and assisted on Torey Krug's (kroogz) go-ahead goal as the Bruins doubled up the Maple Leafs, 4-2 in Toronto. The Maple Leafs took a 1-0 lead on Morgan Rielly's goal midway through the first period, but Marchand knotted the score with a power-play tally 91 seconds later. Krug also scored with the man advantage, and Jake DeBrusk provided the eventual game-winner eight minutes into the second. Tuukka (TOO'-kah) Rask needed to make just 22 saves, but he weathered a storm after Auston Matthews got the Leafs within 3-2 with 15:45 to play. Marchand's empty-netter iced a victory that leads to a deciding game Tuesday in Boston.
Sharks 2, Golden Knights 1 – 2 OT
The San Jose Sharks forced a Game 7 by downing the Golden Knights, 2-1 on Tomas Hertl's short-handed goal at 11:17 of overtime. Hertl beat Marc-Andre Fleury with a shot from the left faceoff circle 31 seconds after Barclay Goodrow was called for slashing Brayden McNabb. Martin Jones turned back a career-high 58 shots and blanked the Knights after Jonathan Marchessault (MAHR'-sheh-soh) beat him midway through the second period. Logan Couture (koo-TOOR') notched the opening goal for the Sharks, who will host the deciding game on Tuesday.
Tonight
Washington Capitals at Carolina Hurricanes, 7:00 p.m.                         (WAS leads 3-2)
Nashville Predators at Dallas Stars, 8:30 p.m.                                      (DAL leads 3-2)
NBA – National Basketball Association
Last Night
Boston Celtics 110, Indiana Pacers 106                                                 (BOS wins 4-0)
Golden State Warriors 113, Los Angeles Clippers 105                           (GSW leads 3-1)
Toronto Raptors 107, Orlando Magic 85                                                (TOR leads 3-1)
Portland Trailblazers 111, Oklahoma City Thunder 98                           (POR leads 3-1)
Celtics 110, Pacers 106
The Boston Celtics are the first team to advance to the second round of the NBA playoffs following their four-game sweep of Indiana. Gordon Hayward scored 20 points and the Celtics went on a late 21-8 run to down the Pacers, 110-106. The Celtics hit four 3-pointers during the run to take a 102-90 lead into the final 90 seconds. Marcus Morris and Jayson Tatum each finished with 18 points, while Kyrie Irving had 14 with seven assists. It's the first four-game sweep for the Celtics since 2011 and their second since 1986-87, becoming the first team to reach the second round of the playoffs. Bojan (BOY'-ahn) Bogdanovic finished with 22 points and Tyreke (TY'-reek) Evans finished with a playoff career-high of 21 to lead the Pacers.
Warriors 107, Clippers 105
Kevin Durant scored 33 points and Klay Thompson added 32 as the Warriors topped the Clippers, 113-105 to take a 3-1 series lead. Stephen Curry was in foul trouble for the second straight game and finished with 12 points, but he scored seven of the Warriors' final 10 points to send them into the fourth quarter ahead 87-84.  Andrew Bogut (BOH'-guht) fouled out with 5:50 remaining after contributing eight points and 10 rebounds. Game 5 is Wednesday at Oakland.
Raptors 107, Magic 85
The Raptors are up three games to one after Kawhi (kah-WY') Leonard scored 34 points in Toronto's 107-85 thumping of the Magic. Pascal Siakam (see-A'-kam) and Norman Powell each scored 16 for the Raptors, who can advance with a home win in Game 5 on Tuesday. Orlando's Aaron Gordon made his first seven shots of the second half and finished with 25 points. Evan Fournier scored 19 and Nikola Vucevic added 11 for the Magic, who committed 17 turnovers that became 21 Toronto points.
Blazers 111, Thunder 98
C.J. McCollum scored 27 points and Al-Farouq Aminu (al fah-ROOK ah-MEE'-noo) added 19 with nine rebounds as the Trail Blazers downed the Thunder, 111-98 to go ahead 3-1 in their series. Damian Lillard scored 15 of his 24 points while Portland outscored Oklahoma City, 29-22 in the third quarter to take an 11-point lead. Thunder guard Russell Westbrook missed his last 10 shots and finished with 14 points on 5 of 21 shooting. Paul George had a game-high 32 points and 10 rebounds for the Thunder, who will try to stave off elimination Tuesday at Portland.
Tonight
Milwaukee Bucks at Detroit Pistons, 8:00 p.m.                                       (MIL leads 3-0)
Houston Rockets at Utah Jazz, 10:30 p.m.                                              (HOU leads 3-0)
Golf – PGA – Pan earns 1st PGA win as Johnson melts down
C.T. Pan took advantage of Dustin Johnson's back-nine meltdown to win the RBC Heritage for his first PGA Tour victory. The 27-year-old Pan closed with a 4-under 67 at Harbour Town Golf Links for a one-stroke victory over Matt Kuchar. Pan finished at 12-under 272. The top-ranked Johnson led entering the round before shooting a 6-over 77 to end up in a tie for 28th at 4 under. He played a five-hole stretch in 7 over, making bogeys on Nos. 11-13 and double bogeys on Nos. 14-15.
MWL – Midwest League Baseball
Yesterday
No Games yesterday
Tonight
South Bend Cubs at Lansing Lugnuts, 6:05 p.m.
West Michigan Whitecaps at Great Lakes Loons, 6:05 p.m.
MHSAA – High School Sports
Tonight
Girls Soccer
Battle Creek Central at St. Joseph, 6:30 p.m.
Gull Lake at Lakeshore, 6:30 p.m.
Niles at Kalamazoo Central, 6:30 p.m.
Kalamazoo Loy Norrix at Portage Central, 6:30 p.m.
Portage Northern at Mattawan, 6:30 p.m.
Marshall at Battle Creek Lakeview, 6:30 p.m.
Three Rivers at Battle Creek Harper Creek, 6:00 p.m.
South Haven at Grand Rapids West Michigan Aviation, 6:00 p.m.
Caledonia at Plainwell, 6:00 p.m.
Covert at Michigan Lutheran, 5:00 p.m.
Brandywine at Comstock, 6:00 p.m.
Buchanan at New Buffalo, 6:00 p.m.
Coloma at Lawton, 6:00 p.m.
Fennville at Schoolcraft, 5:00 p.m.
Constantine at Watervliet, 5:00 p.m.
Girls Tennis
St. Joseph at Battle Creek Lakeview, 1:00 p.m.
Lakeshore at Battle Creek Central, 1:00 p.m.
Niles at Kalamazoo Central, 1:00 p.m.
St. Joseph at Battle Creek Central, 4:00 p.m.
Lakeshore at Battle Creek Lakeview, 4:00 p.m.
Edwardsburg at Niles, 4:00 p.m.
Bridgman/Lake Michigan Catholic at Coloma, 4:00 p.m.
Baseball
Benton Harbor at Lake Michigan Catholic, 4:15 p.m. (DH)
Three Rivers at Comstock, 4:00 p.m. (DH)
Brandywine at Lawton, 4:30 p.m. (DH)
Kalamazoo Hackett at Watervliet, 4:30 p.m.
Softball
Benton Harbor at Lake Michigan Catholic, 4:15 p.m. (DH)
Vicksburg at Coloma, 4:30 p.m.
Kalamazoo Hackett at Watervliet, 4:30 p.m.
Bangor at Decatur, 4:30 p.m.
Track and Field
Portage Northern at Niles, 4:00 p.m.
Boys Golf
SMAC West at Berrien Hills, 3:30 p.m. (Lakeshore host)
St. Joseph, Lakeshore, Niles, Portage Central, Portage Northern, Mattawan
Wolverine Conference at Cheshire Hills, 4:00 p.m. (Allegan host)
Allegan, South Haven, Edwardsburg, Dowagiac, Otsego, Sturgis, Vicksburg, Paw Paw, Plainwell, Three Rivers
BCS Jamboree at Lake Michigan Hills, 4:00 p.m. (Lake Michigan Catholic host)
Lake Michigan Catholic, Bridgman, Howardsville Christian, New Buffalo, River Valley