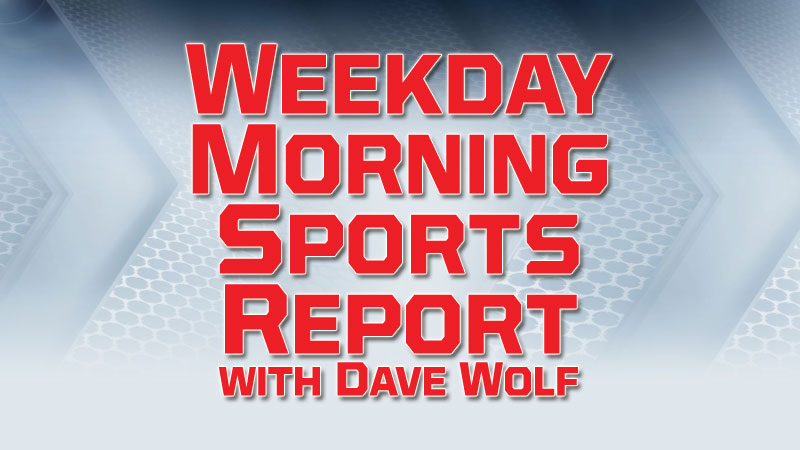 Golf – The Masters – Tiger caps comeback with 15th major title
The comeback is complete. Tiger Woods has his fifth Masters title.  The 43-year-old Woods shot a 2-under 70 for one-stroke victory Sunday and his 15th major championship. But it was his first since the 2008 U.S. Open, capping a remarkable recovery from debilitating injuries and embarrassing personal problems.  Woods showed he still had the game to compete with the world's best when he triumphed in last year's Tour Championship, his first victory of any kind since 2013. Now, he's back on top with his first green jacket at Augusta National since 2005. In a final round that was played in threesomes off both tees to stay ahead of approaching thunderstorms, Woods grabbed the outright lead for the first time with a two-putt birdie at No. 15. This is the first time Woods has ever come from behind on the final day to win a major championship, leaving him three behind Jack Nicklaus' record of 18 major titles.
NBA – National Basketball Association
Yesterday
Milwaukee Bucks 121, Detroit Pistons 86                                               (MIL Leads 1-0)
Boston Celtics 84, Indiana Pacers 74                                                     (BOS Leads 1-0)
Portland Trailblazers 104, Oklahoma City Thunder 99                           (POR Leads 1-0)
Houston Rockets 122, Utah Jazz 90                                                        (HOU Leads 1-0)
                                       
Bucks 121, Pistons 86 – Bucks roll past Pistons 121-86 in series opener
Giannis Antetokounmpo had 24 points and 17 rebounds in just 24 minutes, and the top-seeded Milwaukee Bucks showed they were serious about making a playoff run with a 121-86 rout of the Detroit Pistons in Game 1 on Sunday night.  The MVP candidate ran and dunked all over the Pistons, who only really caught him when center Andre Drummond shoved him to the ground with both hands late in the third quarter after Antetokounmpo grabbed an offensive rebound with Detroit trailing by 41 points.  Drummond was given a flagrant 2 foul and ejected. He threw a kiss to the Fiserv Forum crowd as he was escorted off the court.  Antetokounmpo struggled at the foul line, making only 5 of 12 attempts, but was 9 for 17 from the field and 1 of 5 from 3-point range.  Seven Bucks players scored in double figures. Eric Bledsoe had 15 points, and Brook Lopez and Khris Middleton each added 14. George Hill scored 16 points off the bench.  Luke Kennard paced the Pistons with 21 points off the bench and Drummond had 12 points and 12 rebounds. Reggie Jackson also had 12 points. Detroit played without forward Blake Griffin, who sat out with a left knee injury.
Tonight
Brooklyn Nets at Philadelphia 76ers, 8:00 p.m.                                      (BKN Leads 1-0)
Los Angeles Clippers at Golden State Warriors, 10:30 p.m.                   (GSW Leads 1-0)
NHL – 2019 NHL Stanley Cup Playoffs – Round 1 (Best of 7)
Last Night
New York Islanders 4, Pittsburgh Penguins 1                                         (NYI leads 3-0)
Columbus Blue Jackets 3, Tampa Bay Lightning 1                                     (CBJ leads 3-0)
Winnipeg Jets 6, St. Louis Blues 3                                                          (STL leads 2-1)
Vegas Golden Knights 6, San Jose Sharks 3                                            (VGK leads 2-1)
Tonight
Boston Bruins at Toronto Maple Leafs, 7:00 p.m.                                   (Series tied 1-1)
Washington Capitals at Carolina Hurricanes, 7:00 p.m.                         (WAS leads 2-0)
Nashville Predators at Dallas Stars, 9:30 p.m.                                      (Series tied 1-1)
Calgary Flames at Colorado Avalanche, 10:00 p.m.                                (Series tied 1-1)
IIHF – US Women beats Finland in shootout for gold after OT controversy
Alex Rigsby stopped four of five shots in the shootout and the United States beat Finland 2-1 to win its fifth consecutive gold medal at the women's world championship. The victory followed a questionable goaltender interference review that wiped out what would have been an overtime goal for the Finns.


MLB – Major League Baseball
Yesterday
Minnesota Twins 6, Detroit Tigers 4
Chicago White Sox 5, New York Yankees 2
Los Angeles Angels at Chicago Cubs, PPD, Snow
Twins 6, Tigers 4 – Berrios sharp, Hildenberger clutch as Twins beat Tigers 6-4
Jose Berrios pitched into the seventh inning for his first win since opening day, Trevor Hildenberger struck out two with the bases loaded for his first save and the Minnesota Twins beat the Detroit Tigers 6-4 Sunday to complete a two-game sweep.  C.J. Cron homered and drove in three, and Eddie Rosario was a triple short of the cycle for the Twins, who have won three of four. Blake Parker loaded the bases with one out in the ninth, but Hildenberger came on and got John Hicks and Grayson Greiner swinging.  The Tigers made it entertaining in the eighth, Christin Stewart's no-out double scored Jeimer Candelario to make it 6-3.
White Sox 5, Yankees 2 – Anderson's slam backs Rodón as White Sox top Yankees 5-2
Tim Anderson hit his first career grand slam and Carlos Rodón pitched the Chicago White Sox to a 5-2 victory over the scuffling New York Yankees on Sunday.  José Abreu nearly had a grand slam as well — to almost the same spot in the ballpark — but settled for a sacrifice fly when right fielder Aaron Judge made a jumping catch in front of the wall. Held to one hit Saturday in a 4-0 loss, Chicago chased Masahiro Tanaka with nobody out in the fifth and won for only the second time in eight games.  Yoan Moncada had three hits and a walk for the White Sox (5-9), who stole five bases in the last five innings — several of them uncontested. Chicago won two of three to take consecutive series in the Bronx for the first time since 2002-03. Before last August, the White Sox hadn't captured a series at Yankee Stadium since 2005.
Tonight
Chicago Cubs (Darvish 0-2) at Miami (Richards 0-1), 7:10 p.m.
Kansas City (Fillmyer 0-0) at Chicago White Sox (Santana 0-1), 8:10 p.m.
Tigers are off
MLB – Tigers' Matt Moore to have surgery for torn meniscus
Detroit left-hander Matt Moore will undergo surgery this week to repair a torn meniscus in his right knee.  The Tigers said they won't have a definite timetable for Moore's return until after Wednesday's scheduled procedure in Dallas, although Moore said he's hoping for a recovery time of four to six weeks.   Moore hurt the knee on April 6 when he left in the third inning of his start against Kansas City. Since then, he said, he's had two setbacks.
MWL – Midwest League Baseball
Yesterday
Great Lakes at West Michigan, ppd.
Lansing at South Bend, ppd.
Tonight
Lansing at West Michigan, 6:35 p.m.
Great Lakes at South Bend, 7:05 p.m.
MHSAA – High School Sports
Today
Baseball
St. Joseph at Edwardsburg, 4:00 p.m. (DH)
Gary West Leadership at Benton Harbor, 4:00 p.m.
Lake Michigan Catholic at Brandywine, 4:30 p.m.
Paw Paw at Kalamazoo Loy Norrix, 4:00 p.m. (DH)
Wayland at Otsego, 4:00 p.m.
Galesburg-Augusta at Plainwell, 4:00 p.m.
Lawton at Coloma, 4:30 p.m. (DH)
Softball
St. Joseph at Edwardsburg, 4:00 p.m. (DH)
Lawton at Coloma, 4:30 p.m. (DH)
Hamilton at Otsego, 4:15 p.m.
Bangor at Cassopolis, 4:30 p.m.
Kalamazoo Hackett at Watervliet, 4:30 p.m.
Bloomingdale at Mendon, 4:30 p.m.
Girls Soccer
St. Joseph at Battle Creek Lakeview, 6:30 p.m.
Kalamazoo Central at Lakeshore, 6:30 p.m.
Michigan Lutheran at Brandywine, 5:00 p.m.
Lake Michigan Catholic at Parchment, 6:00 p.m.
Buchanan at Berrien Springs, 5:00 p.m.
Covert at New Buffalo, 6:00 p.m.
Niles at Sturgis, 6:30 p.m.
Cassopolis at Bangor, 5:00 p.m.
Mattawan at Portage Central, 6:30 p.m. (at PN)
Hartford at South Haven, 5:30 p.m.
Hastings at Otsego, 6:30 p.m.
Kalamazoo Hackett at Lawton, 6:00 p.m.
Fennville at Watervliet, 6:00 p.m.
Portage Northern at Battle Creek Central, 6:30 p.m.