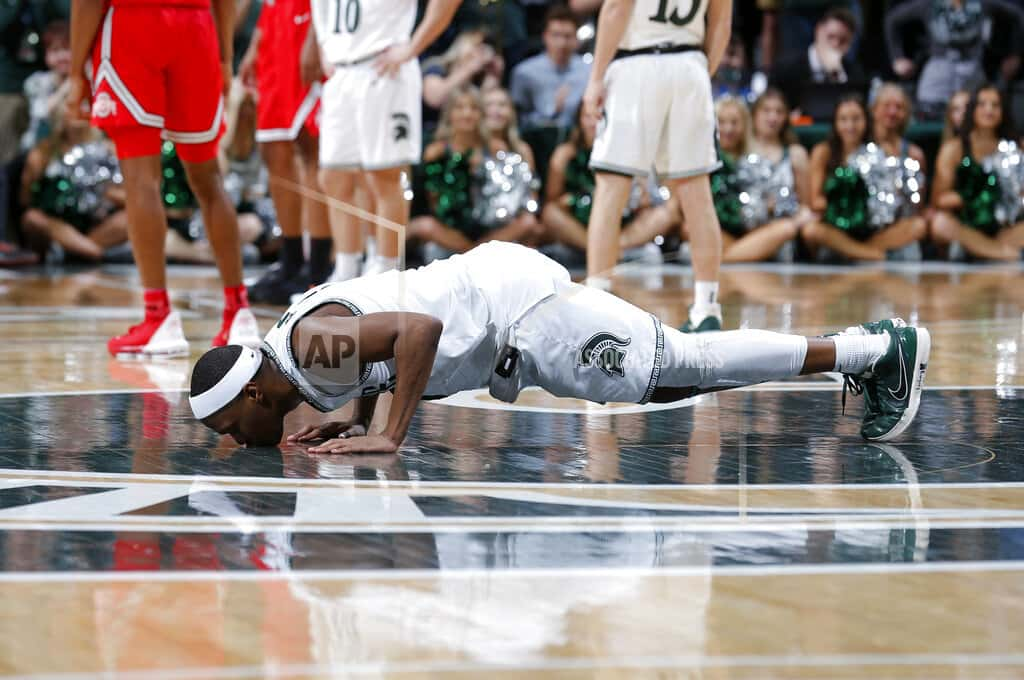 NCAAMBB – Men's College Basketball
Last Night
(16) Michigan State 88, (19) Ohio State 69
(9) Maryland 82, (25) Michigan 70
(16) Michigan State 88, (19) Ohio State 69 – No. 16 Mich St tops No. 19 Ohio St 80-69, shares B10 title
Cassius Winston scored 27 points and No. 16 Michigan State beat No. 19 Ohio State 80-69 to win a third straight Big Ten championship. The Spartans shared the conference title with No. 9 Maryland and No. 24 Wisconsin. Michigan State will be the second-seeded team at the Big Ten Tournament, behind Wisconsin. The Buckeyes had won four straight and six of their previous seven games. Ohio State's Kaleb Wesson was held to eight points. Michigan State was in control of much of the game and pulled away with a late 16-4 run.
(9) Maryland 82, (25) Michigan 70 – No. 9 Maryland tops No. 25 Michigan for Big Ten title share
Anthony Cowan Jr. had 20 points and eight assists in his final home game at Maryland, and the ninth-ranked Terrapins beat No. 25 Michigan 83-70 to earn a share of the Big Ten regular-season title. Eric Ayala scored 19 and Jalen Smith had 18 points and 11 rebounds for the Terps. Aaron Wiggins chipped in with 15 points. Reserve sophomore guard David DeJulius scored a career-high 20 points for Michigan. The Wolverines closed their first regular season under rookie coach Juwan Howard by dropping three of four.
NASCAR – Logano cruises to another win
Joey Logano is enjoying a strong start to the NASCAR Cup season. Logano won for the second time in three weeks by holding off Kevin Harvick over the final two laps after an overtime restart at Phoenix Raceway. Logano overcame several tough moments, including a pit-road penalty for an uncontrolled tire and a broken jack during another stop. Kyle Busch was third, followed by Kyle Larson and Clint Bowyer.  The race was the first under NASCAR's new rules package for short tracks, which included a significantly smaller rear spoiler.
NBA – National Basketball Association
Last Night
Brooklyn Nets 110, Chicago Bulls 107
New York Knicks 96, Detroit Pistons 84
Indiana Pacers 112, Dallas Mavericks 109
Nets 110, Bulls 107 – Dinwiddie makes late free throws, Nets beat Bulls 110-107
Spencer Dinwiddie scored 24 points, Caris LeVert and Joe Harris each added 23 and Brooklyn beat the Chicago Bulls 110-107 on Sunday, a day after the Nets parted ways with coach Kenny Atkinson. Interim head coach Jacque Vaughn directed the Nets to their second straight victory. The team said Saturday morning that the team and Atkinson "mutually agreed to part ways." DeAndre Jordan and Jarrett Allen each added 11 points, and Jordan had 11 rebounds. Otto Porter Jr. led the Bulls with 23 points. Coby White added 21.
Knicks 96, Pistons 84 – Knicks pull away in 4th quarter, beat Pistons 96-84
Julius Randle had 22 points and 12 rebounds, and the New York Knicks pulled away in the fourth quarter for a 96-84 victory over the Detroit Pistons. The Knicks led by only one after three quarters but then limited the Pistons to 13 points in the final 12 minutes, just missing their best defensive performance of the season. Elfrid Payton had 16 points, six assists and five rebounds for the Knicks, who finished 3-2 on their homestand. Christian Wood had 22 points and eight rebounds for the Pistons, who have lost four straight and 11 of their last 12 games.
Pacers 112, Mavericks 109 – Sabonis, Oladipo lead Pacers past Mavericks 112-109
Domantas Sabonis had 20 points and 17 rebounds, and Victor Oladipo scored the game's final six points as the Indiana Pacers beat the Dallas Mavericks 112-109. Despite leading for most of the game, the Pacers found themselves down 109-104 with 3:14 to play but held the Mavericks scoreless the rest of the way. Doncic scored 36 points and Tim Hardaway Jr., scored 20 of his 30 in the second half.
NHL – National Hockey League
Last Night
Detroit Red Wings 5, Tampa Bay Lightning 4 – Shootout
St. Louis Blues 2, Chicago Blackhawks 0
Red Wings 5, Lightning 4 – SO – Red Wings earn elusive win over Lightning, 5-4 in shootout
Robby Fabbri scored the winning goal in a shootout to lift the Detroit Red Wings over Tampa Bay 5-4 on Sunday, snapping the team's 16-game losing streak against the Lightning in the regular season. Fabbri opened the scoring in similar fashion, beating goalie Curtis McElhinney on a breakaway in the first period as well. Anthony Mantha had a goal and three assists for the Red Wings, who won despite blowing a 4-2 lead in the third period. Brayden Point scored two goals for the Lightning, who beat NHL-leading Boston on Saturday before losing to a Detroit team with the league's worst record.
Blues 2, Blackhawks 0 – Allen, Blues blank Blackhawks for 9th win in 10
Jake Allen made 29 saves for his second shutout and the streaking St. Louis Blues beat the Chicago Blackhawks 2-0 for their ninth win in their last 10 games. Robert Bortuzzo and Alex Pietrangelo scored for Central Division-leading St. Louis, which killed four Chicago power plays. Jaden Schwartz had two assists. The Blues swept their season series from the Blackhawks, winning all four game and outscoring Chicago 16-8. Corey Crawford stopped 24 shots in his ninth straight start as Chicago lost its second straight following a four-game winning streak. The Blackhawks power play hasn't connected in its last 14 chances.
MLB – Spring Training Baseball
Yesterday
Detroit 7, Washington 5
Cincinnati (ss) 11, Chicago Cubs (ss) 9
Arizona 8, Chicago Cubs (ss) 1
Chicago White Sox (ss) 5, Kansas City 4
Chicago White Sox (ss) 6, San Diego 0
Today
Detroit vs. Houston at West Palm Beach, Fla., 1:05 p.m.
Cincinnati vs. Chicago White Sox at Glendale, Ariz., 4:05 p.m.
Golf – PGA – Hatton gets first PGA win
Tyrell Hatton overcame high winds and jittery nerves to capture his first PGA title and fifth worldwide.  Hatton kept it together down the stretch Sunday by playing bogey-free over the last seven holes for a 2-over 74 to win the Arnold Palmer Invitational. He had a three-shot lead when he drove into the water on the par-4 11th into the wind. Hatton went well over the green with his third shot, chipped short of the putting surface and had to make a 6-footer for a double bogey.
Golf – Champions – Els gets first Tour Champions win
Ernie Els has won the Hoag Classic for his first PGA Tour Champions title in three career starts, birdieing par-5 15th and 18th holes for a two-stroke victory at Newport Beach Country Club.  Els closed with a 4-under 67 to finish at 16-under 197.  Fellow Hall of Famer Fred Couples finished with a 66 to tie for second with Glen Day and Robert Karlsson.
Soccer – Ertz's header gives US 1-0 win over Spain in SheBelieves Cup
Julie Ertz scored on a header in the 87th minute and the United States extended its unbeaten streak to 30 games with a 1-0 win over Spain in the SheBelieves Cup at a sold-out Red Bull Arena. Christen Press sent a crossing pass from the left flank on a free kick and Ertz nodded it past Sandra Panos. The Spanish goalkeeper got a hand on the shot but could not prevent it from going into the net. U.S. goalkeeper Alyssa Naeher made three saves in her second shutout of the tournament. She blanked England 2-0 on Wednesday in Orlando, Florida.
ECHL – ECHL Hockey League
Last Night
Toledo Walleye 5, Kalamazoo Wings 1
MHSAA – High School Athletics
Tonight
Boys Basketball – District Quarterfinals
Division 1 at St. Joseph
Lakeshore vs. Portage Northern, 5:00 p.m.
Portage Central vs. Kalamazoo Central, 7:00 p.m.
Division 1 at Battle Creek Lakeview
Coldwater vs. Kalamazoo Loy Norrix, 5:00 p.m.
Gull Lake vs. Battle Creek Central, 7:00 p.m.
Division 2 at Holland Civic Center (Holland Christian host)
Benton Harbor vs. Holland Christian, 5:00 p.m.                 106.1 & 1400 WSJM Sports
Coloma vs. Allegan, 7:00 p.m.
Division 2 at Paw Paw
Parchment vs. Paw Paw, 5:30 p.m.
Vicksburg vs. Comstock, 7:00 p.m.
Division 2 at Edwardsburg
Dowagiac vs. Edwarsdburg, 6:00 p.m.
Division 2 at Hastings
Grand Rapids South Christian vs. Hastings, 5:30 p.m.
Otsego vs. Plainwell, 7:15 p.m.
Division 3 at Bridgman
Bridgman vs. Cassopolis, 7:00 p.m.
Division 3 at Schoolcraft
Marcellus vs. Kalamazoo Christian, 6:00 p.m.
Division 3 at Bloomingdale
Bloomingdale vs. Hartford, 5:30 p.m.
Gobles vs. Bangor, 7:30 p.m.
Division 3 at Quincy
Centreville vs. Union City, 6:00 p.m.
Division 4 at Lake Michigan Catholic
Eau Claire vs. Lake Michigan Catholic, 7:00 p.m.                          106.1 & 1400 WSJM Sports
Division 4 Martin
Hudsonville Libertas Christian vs. Kalamazoo Heritage, 5:30 p.m. (at Martin)
Kalamazoo Phoenix vs. Martin, 7:00 p.m. (at Martin)
Holland Calvary at Covert, 6:00 p.m.
Division 4 at Mendon
Howardsville Christian vs. Kalamazoo Lakeside, 5:30 p.m.
Colon vs. Athens, 7:00 p.m.