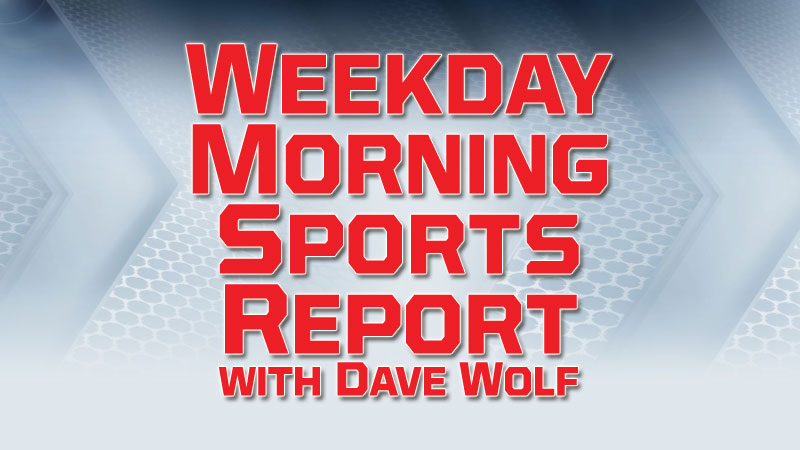 NCAAMBB – Men's College Basketball
Last Night
(11) Michigan State 62, Ohio State 44
(11) Michigan State 62, Ohio State 44 – No. 11 Michigan State dominates late, beats Ohio State 62-44
Kenny Goins had 10 points and 10 rebounds, and No. 11 Michigan State finished the game with a 20-2 run, beating Ohio State 62-44 on Sunday. Matt McQuaid scored 14 points for the Spartans and Cassius Winston added 13. Michigan State (21-5, 12-3) pulled into a first-place tie with rival Michigan atop the Big Ten, holding Ohio State to 13 points in the second half. The Buckeyes (16-9, 6-8) led by six at the break but shot 4 of 21 from the field the rest of the way. It was tied at 42 when Michigan State's Kyle Ahrens sank a 3-pointer that started a 10-0 run. The Spartans won despite an apparent injury to big man Nick Ward, who hardly played in the second half and appeared to have a wrap on one of his hands. Kaleb Wesson scored 12 points for Ohio State.
NHL – National Hockey League
Last Night
Philadelphia Flyers 3, Detroit Red Wings 1
Flyers 3, Red Wings 1 – Surging Flyers beat Red Wings 3-1 for 12th win in 14 games
Ivan Provorov scored a tiebreaking goal early in the third period and Oskar Lindblom had two goals, lifting the surging Philadelphia Flyers to a 3-1 win over the Detroit Red Wings on Sunday night. The Flyers have won 12 of their last 14 games, moving into contention for a wild card in the Eastern Conference playoffs or perhaps for one of the three guaranteed postseason spots available in the Metropolitan Division. Lindblom scored early in the game and had an empty-net goal with 1:26 left. Rookie Carter Hart finished with 37 saves. Darren Helm tied the game early in the second period and on a night the Red Wings failed to score despite a lot of shots Jonathan Bernier started and stopped 10 shots in the first period for the Red Wings before leaving the game with an upper-body injury. He was replaced by Jimmy Howard. The Red Wings have lost five of seven.
Tonight
Ottawa Senators at Chicago Blackhawks, 8:30 p.m.
NBA – National Basketball Association
Last Night
2019 NBA All Star Game – Spectrum Center, Charlotte, NC
Team LeBron 178, Team Giannis 164
LeBron 178, Giannis 164 – Team LeBron rallies, wins All-Star game 178-164
Kevin Durant had 31 points and seven rebounds, LeBron James added 19 points and Team LeBron overcame a big game from Giannis Antetokounmpo to defeat Team Giannis 178-164 on Sunday night in the All-Star game. Team LeBron trailed by 18 points in the first half, but battled back in the third quarter to take the lead behind the sharpshooting of Klay Thompson and Damian Lillard. Thompson had 20 points and Lilllard 18.  James Harden sealed the win with a 3-pointer with 46 seconds left putting Team LeBron up by 16. Antetokounmpo finished with 38 points and 11 rebounds to lead his team, while Bucks teammate Khris Middleton added 20 on six 3-pointers. Stephen Curry had 17 points, nine rebounds and seven assists in his return to Charlotte but was 4 of 17 from the 3-point range.
NASCAR – Hamlin wins Daytona 500
Denny Hamlin is the Daytona 500 winner for the second time in four years. Hamlin took the checkered flag for Joe Gibbs Racing a month after Joe Gibbs' oldest son died following a long battle with a degenerative neurological disease. J.D. Gibbs was 49. Hamlin moved out front after a final restart and had teammate Kyle Busch blocking in the final lap as the pair created a sweep of the top three finishes for Gibbs Racing. Busch finished second, followed by Erik Jones. Defending Cup Series champion Joey Logano was fourth. Hamlin last year suffered through his first winless season in the Cup Series and made a crew chief change during the offseason. The Cup-opening event turned into a wreck-fest near the finish. "The Great American Race" had five crashes and two red flags over the final 20 laps of regulation.
NCAAWBB – Women's College Basketball
Last Night
Nebraska 82, (24) Michigan State 71
Michigan 70, Illinois 56
Nebraska 82, (24) Michigan State 71 – Nebraska women start fast, top No. 24 Michigan State 82-71
Hannah Whitish scored 16 points, including two critical late baskets, and Nebraska turned back No. 24 Michigan State 82-71 on Sunday. The Cornhuskers (12-14, 7-8 Big Ten) used a hot start, built a lead to 22 points in the third quarter and held on when Whitish had back-to-back baskets inside the three-minute mark after the Spartans (17-8, 7-7) had closed within eight. Michigan State opened the fourth quarter on a 20-7 run. Shay Colley had 17 points and Jenna Allen and Victoria Gaines added 13 apiece for the Spartans, who were 6 of 25 behind the arc. The Huskers finished 12 of 24 from distance.
Michigan 70, Illinois 56 – Wolverines beat Illini 70-56
Kayla Robbins had 15 points off the bench to lead Michigan to a 70-56 win at Illinois.  Hailee Thome scored 14 points, putting her over 2,000 points for her career at Michigan, Deja Church scored 12 and Hailey Brown had 11. Alex Wittinger had a game high 18 points and 10 rebounds in the loss for Illinois.  Michigan improves to 18-9 and 9-6 in the Big Ten, Illinois falls to 10-16, 2-13
Tonight
(6) Notre Dame at (12) NC State, 7:00 p.m.
Western Michigan at Northern Illinois, 7:00 p.m.
MLB – Pitch clock for exhibition slate
Pitch clocks are coming for spring training games.  Looking to speed the pace of play in baseball, Commissioner Rob Manfred says pitchers will have 20 seconds to deliver to the plate when teams play exhibition games in Arizona and Florida beginning this week. The intention is to get players and umpires accustomed to the clock in the event Major League Baseball makes the rule change for the upcoming regular season.  After the 2016 and 2017 seasons, players rebuffed management's proposal for a pitch clock. Owners have the right to implement a clock this year without consent, but Manfred has been reluctant to initiate on-field modifications without agreement from players.  Speaking at spring training media day in Florida, Manfred says the rules involving the clock will be "phased in" and won't start immediately with ball and strike calls. But there will be a functional clock in Grapefruit League and Cactus League games.
Golf – PGA – Holmes rallies to beat Thomas
J.B. Holmes rallied from a four-shot deficit in the final round to win the PGA's Genesis Open. Holmes closed with a 1-under 70 for his first victory in three years and a trip back to the Masters. He overtook Justin Thomas, who three-putted three times on the back nine and shot a 75.
Golf – Champions – Jimenez wins Chubb Classic
Miguel Angel Jimenez won the Chubb Classic for his seventh PGA Tour Champions title. He beat Bernhard Langer and Olin Browne with a 5-foot par putt on the first hole of a playoff. Jimenez closed with a 5-under 66 at The Classics at Lely Resort to match Langer and Browne at 13-under 200. Browne had a double bogey on the par-4 18th in regulation for a 66.
AAF – Alliance of American Football – Week 2
Saturday
Birmingham Iron 12, Salt Lake City Stallions 9
Arizona Hotshots 20, Memphis Express 18
Yesterday
Orlando Apollos 37, San Antonio Commanders 29
San Diego Fleet 24, Atlanta Legends 12


NCAABB – College Baseball
Yesterday
Michigan 12, Binghamton 2
New Orleans 6, Michigan State 4
Arizona State 16, Notre Dame 5
Southeast Missouri State 8, Western Michigan 4 – Game 1
Southeast Missouri State 9, Western Michigan 8 – Game 2
NCAASB – College Softball
Yesterday
North Carolina 4, Michigan 2
Notre Dame 3, Ohio State 2
Florida 8, Central Michigan 0
AHL – American Hockey League
Yesterday
Chicago Wolves 2, Iowa Wild 1 – OT
ECHL – ECHL Hockey
Yesterday
Toledo Walleye 5, Kalamazoo Wings 3
Today
Kalamazoo Wings at Brampton Beast, 2:00 p.m.
MHSAA – High School Sports
Tonight
Boys Basketball
Grand Rapids Homeschool at Benton Harbor, 7:00 p.m.
Berrien Springs at Gobles, 7:00 p.m.
Lawrence at River Valley, 7:00 p.m.
Marshall Academy at Gull Lake, 7:00 p.m.
Otsego at Battle Creek Pennfield, 7:00 p.m.
Sturgis at Edwardsburg, 7:15 p.m.
Decatur at Centreville, 7:30 p.m.
Coldwater at Three Rivers, 7:00 p.m.
Constantine at Vicksburg, 5:45 p.m.
Parchment at Kalamazoo Christian, 6:30 p.m.
Fennville at Galesburg-Augusta, 7:00 p.m.
Girls Basketball
St. Joseph at Kalamazoo Loy Norrix, 7:00 p.m.
Lake Michigan Catholic at Bridgman, 7:30 p.m.
Michigan Lutheran at Lawrence, 6:00 p.m.
New Buffalo at Berrien Springs, 7:00 p.m.
Niles at Edwardsburg, 5:45 p.m.
Decatur at Centreville, 6:00 p.m.
Vicksburg at Brandywine, 6:30 p.m.
South Haven at Watervliet, 5:30 p.m.            
Battle Creek Pennfield at Otsego, 7:15 p.m.
Coldwater at Three Rivers, 5:30 p.m.
Holland West Ottawa at Gull Lake, 5:30 p.m.
Kalamazoo Christian at Parchment 6:30 p.m.
Saugatuck at Delton-Kellogg, 5:30 p.m.