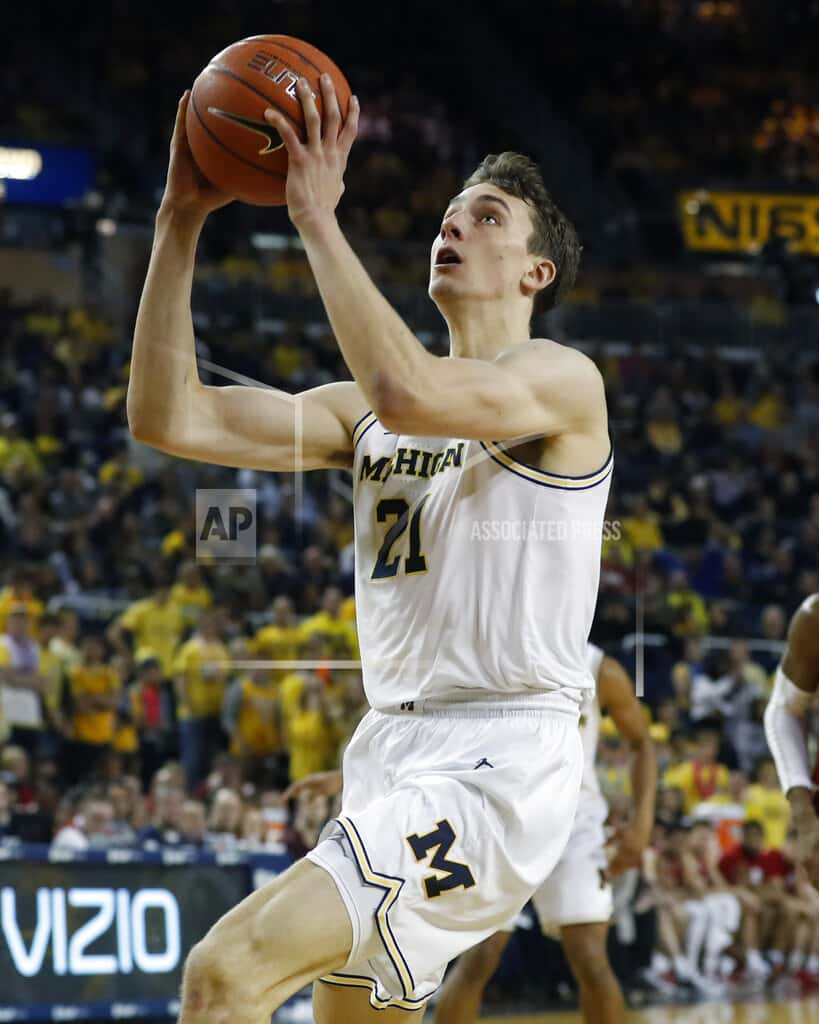 NCAAMBB – Men's College Basketball
Yesterday
Michigan 89, Indiana 65
Michigan 89, Indiana 65 – Michigan routs Indiana 89-65, helps NCAA Tournament chances
Franz Wagner had 16 points and was one of five to score in double digits for Michigan in an 89-65 win over Indiana. The Wolverines have won three straight for the first time since opening the season with seven wins. Michigan's Zavier Simpson had 12 points and 11 assists on Sunday. Reserve Brandon Johns scored 14, Eli Brooks had 13 points and Isaiah Livers added 12 points, appearing to overcome an injury scare late in the game. The Hoosiers have lost five of their last six games, hurting their chances of making the NCAA Tournament.
Tonight
North Carolina at Notre Dame, 7:00 p.m.
NHL – National Hockey League
Yesterday
Pittsburgh Penguins 5, Detroit Red Wings 1
Winnipeg Jets 3, Chicago Blackhawks 2
Penguins 5, Red Wings 1 – Hornqvist has 2 goals, assist and Pens top Red Wings 5-1
Patric Hornqvist had two goals and an assist and the Pittsburgh Penguins defeated the Detroit Red Wings 5-1. Sidney Crosby scored his 11th of the season, Kris Letang added his 14th on the power play and Sam Lafferty also scored for Pittsburgh, which moved within one point of first-place Washington in the Metropolitan Division.  Valtteri Flippula had the lone goal for Detroit, whose season goal differential at -106, the worst in the NHL.
Jets 3, Blackhawks 2 – Beaulieu's 1st goal of season lifts Jets over Blackhawks 3-2
Nathan Beaulieu's first goal of the season early in the third period sent the Winnipeg Jets past the Chicago Blackhawks 3-2. Playing in his 27th game of an injury-riddled season, the defenseman fired a one-timer from the point that hit a Blackhawks player and got by goalie Corey Crawford to give the Jets a 3-2 lead. Beaulieu also had an assist. Patrick Kane had a goal and an assist for Chicago, which completed a 1-4-0 road trip. Crawford stopped 35 shots.
NBA – National Basketball Association
Last Night
2020 NBA All-Star Game – United Center – Chicago, IL
Team LeBron 157, Team Giannis 155
LeBron 157, Giannis 155 – Last shot wins: Team LeBron wins All-Star Game 157-155
Anthony Davis made a game-ending free throw to give Team LeBron a 157-155 win over Team Giannis in the revamped NBA All-Star Game. The game's format was overhauled to put in elements for charity and ensure that someone was going to hit a shot to end the game. That someone was Davis, the Chicago native who missed the first free throw and made the second to end the NBA's midseason showcase that went down as the closest All-Star Game since the Eastern Conference topped the Western Conference 141-139 in 2010.
NBA – Kawhi Leonard wins first Kobe Bryant All-Star MVP award
Kawhi Leonard made it look effortless, nailing one 3-pointer after another and nearly matching an All-Star Game record. The tough part came afterward. Finding the right words to express how he felt after becoming the first Kobe Bryant MVP award winner wasn't so easy. Leonard scored 30 points and hit eight 3-pointers to lead Team LeBron to a 157-155 victory over Team Giannis. He was presented the MVP trophy that the league renamed after Bryant on Saturday, three weeks after the Lakers great and his 13-year-old daughter Gianna were among the nine people killed when their helicopter crashed near Los Angeles.
NASCAR – Daytona 500 postponed by rain
It's going to take another day to determine the winner of the Daytona 500.  NASCAR's season-opening race was postponed following a second rain delay, pushing the event into Monday. It's the second time in 62 years and first time since 2012 that "The Great American Race" will finish on a Monday. Pole-sitter Ricky Stenhouse Jr. was the leader 20 laps into the race when the rain returned, sending drivers back to pit road. The first delay lasted 50 minutes and came moments after the presidential motorcade completed a ceremonial parade lap around the 2 ½ -mile track. The second stoppage was prompted by heavier rain, further soaking a surface that takes hours to dry.
NCAAWBB – Women's College Basketball
Last Night
Rutgers 62, Michigan 41
(9) Louisville 92, Notre Dame 49
Tonight
Minnesota at Michigan State, 7:00 p.m.
MLB – Darvish says Astros should lose World Series title
Yu Darvish has chimed in on Houston's sign-stealing scheme, just over two years after getting rocked by the Astros in the World Series. The Chicago Cubs pitcher says the Astros should be stripped of their 2017 championship, comparing them to an Olympian who loses a gold medal because of cheating. Darvish says he knows the Astros were stealing signs, but he acknowledged that he didn't pitch his best during the 2017 Fall Classic.  Darvish lasted only 1 1/3 innings in both of his 2017 World Series appearances while playing for the Dodgers. He was tagged for four runs and six hits in Game 3 and was the losing pitcher in Game 7 at Dodger Stadium. Meanwhile, commissioner Rob Manfred met with nearly half of the major leagues managers Sunday and told them to knock off any notion of get-even beanballs. Manfred's visits come after Cody Bellinger, Kris Bryant, Trevor Bauer and Carlos Correa were among the All-Stars recently trading threats, accusations and barbs as spring training opened. Manfred said he would personally talk to the managers of the teams that train in Arizona on Tuesday.
MLB – Maybin notices changes as he starts third tour with Tigers
Cameron Maybin is starting his third stint with the Detroit Tigers. This one feels a bit different. The veteran outfielder says there aren't as many familiar faces with the Tigers these days. Maybin began his big league career with Detroit in 2007 and was enough of a prospect that he was traded for Miguel Cabrera. He returned to the Tigers in 2016 after a trade. Now the 32-year-old Maybin is back again after agreeing to a one-year contract. Detroit is rebuilding. The Tigers still have Cabrera, but it's the team's young prospects who may end up getting much of the attention from fans in spring training. Maybin could end up being an important mentor.
XFL – XFL Football
Saturday
DC Defenders 27, New York Guardians 0
Seattle Dragons 17, Tampa Bay Vipers 9
Sunday
Dallas Renegades 25, Los Angeles Wildcats 18
Houston Roughnecks 28, St. Louis BattleHawks 24


MHSAA – High School Athletics
Tonight
Boys Basketball
Brandywine at River Valley, 7:30 p.m.
Portage Central at Three Rivers, 7:15 p.m.
Girls Basketball
Benton Harbor at Buchanan, 7:00 p.m.
Bridgman at Lake Michigan Catholic, 6:00 p.m.
Brandywine at River Valley, 6:00 p.m.
Competitive Cheerleading
Cheer By The Pier at St. Joseph, 6:00 p.m.
St. Joseph, Lakeshore, Lake Michigan Catholic, Buchanan, Coloma, Dowagiac, Mattawan