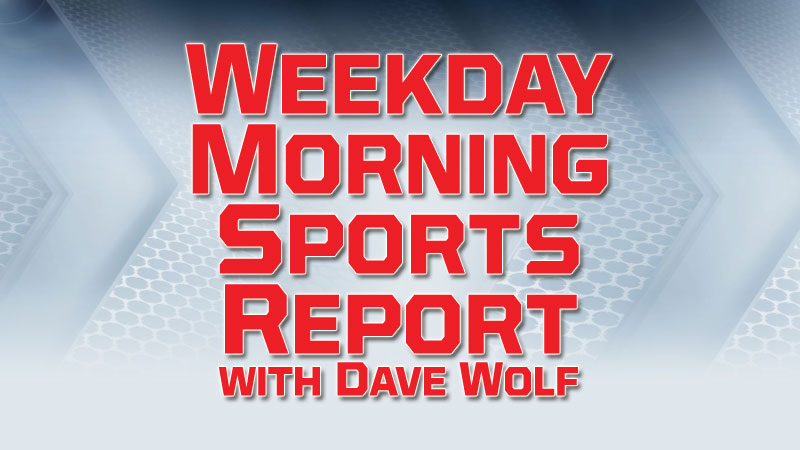 MLB – Major League Baseball
Yesterday
Miami Marlins 5, Detroit Tigers 2
Chicago White Sox 4, Houston Astros 0
Philadelphia Phillies 9, Chicago Cubs 7
Marlins 5, Tigers 2 – Cooper hits slam in 9th, Marlins top Tigers, 6th win in row
Garrett Cooper hit a grand slam with two outs in the ninth inning and the Miami Marlins won their sixth in a row, rallying past Detroit 5-2 Thursday to finish a terrible homestand for the Tigers.  The Marlins, who had the worst record in the majors last week, extended the longest active winning streak in the big leagues.  The Tigers wrapped up an 0-9 stay at Comerica Park against Houston, Oakland and the Marlins. That record doesn't include a suspended game in which Detroit trails Oakland in the late innings.  Miami benefited from a couple of fielding lapses by the Tigers in the ninth to come back against Shane Greene (0-2), who had been 15 for 15 on save chances this season.  Tyler Kinley (1-0) gave up one run in the eighth and got the win. Sergio Romo earned his ninth save with a perfect ninth.  For Detroit, right-hander Matthew Boyd threw six scoreless innings and Miguel Cabrera continued moving up the all-time lists in the loss.
White Sox 4, Astros 0 – Giolito throws 4-hit gem, White Sox blank Astros 4-0
Lucas Giolito pitched a four-hitter for his first major league shutout, rookie Eloy Jiménez hit his third homer in two games and the Chicago White Sox beat the Houston Astros 4-0 on Thursday night.  Yoán Moncada had an RBI double and Tim Anderson added a run-scoring single for the White Sox, who earned a four-game series split by handing Houston its first set of consecutive losses since May 1-2.  Giolito (6-1) struck out a season-best nine and walked one in winning his fourth start in a row and fifth straight decision. In his previous outing last Saturday, the 24-year-old right-hander was credited with his first career complete game when he beat Toronto 4-1 in a game called after 4½ innings because of rain.
Phillies 9, Cubs 7 – Segura helps Phillies beat Lester, Cubs 9-7
Jean Segura and J.T. Realmuto homered off Jon Lester, and the Philadelphia Phillies beat the Chicago Cubs 9-7 on Thursday for a split of the four-game series between division leaders.  Andrew McCutchen added two hits and two RBIs as Philadelphia won for the fifth time in seven games. Aaron Nola (5-0) pitched 5 1/3 innings of three-run ball in his second straight victory.  Anthony Rizzo and Kyle Schwarber hit homers for Chicago, which had won three of four. Rizzo finished with four hits and three RBIs, but the NL Central-leading Cubs were unable to overcome a second consecutive shaky performance by Lester (3-3).  After pitcher Tyler Chatwood's pinch-hit double got Chicago within two in the ninth, Héctor Neris struck out Addison Russell and retired Victor Caratini on a fly ball to left to close out his eighth save in eight chances. Neris entered with runners on first and second in the eighth and retired Javier Báez on a deep fly ball to left.
Today
Cincinnati (DeSclafani 2-2) at Chicago Cubs (Hendricks 4-4), 2:20 p.m.
Detroit (Soto 0-2) at N.Y. Mets (Syndergaard 3-4), 7:10 p.m.      WSJM Sports/Cosy-FM 6:45
Chicago White Sox (Lopez 3-4) at Minnesota (Berrios 6-2), 8:10 p.m.
NBA – 2019 NBA Playoffs – Round 3 – Conference Finals (Best of 7)
Last Night
Toronto Raptors 105, Milwaukee Bucks 99                                             (TOR leads 3-2)
Raptors 105, Bucks 99 – Raptors rally past Bucks for 3-2 lead
Kawhi Leonard scored 35 points and the Toronto Raptors rallied in the fourth quarter to beat the Bucks, 105-99 in Milwaukee and take a 3-2 lead in the NBA's Eastern Conference finals. Leonard showed no obvious signs of the leg soreness that bothered him the previous two games, hitting five 3-pointers and finishing with seven rebounds and nine assists. Giannis Antetokounmpo had 24 points for Milwaukee, which will try to stave off elimination Saturday in Toronto.
NASCAR – Byron youngest to Coca-Cola pole
Charlotte native William Byron has become the youngest driver ever to capture the pole for the Coca-Cola 600. The 21-year-old Byron turned a lap of 183.424 mph in his No. 24 Chevrolet at Charlotte Motor Speedway to start out front Sunday in NASCAR's longest race. Aric Almirola will start alongside Byron on the front row in his No. 10 Ford. It is one of six Fords starting in the top 10. Kyle Busch, Austin Dillon and Kevin Harvick round out the top five qualifiers. Byron has six top 10 finishes in 49 career Cup Series starts without a victory.
IIHF – Canada escapes; US, Sweden fall in world hockey
Damon Severson and Mark Stone helped Canada escape to the world hockey championship semifinals while the United States and defending champion Sweden dropped out. Canada beat Switzerland 3-2 in overtime. Severson tied it with 0.4 seconds left on a goal. Stone ended it at 5:07 of the 3-on-3 overtime. Meanwhile, Russia defeated the United States 4-3, Finland beat Sweden 5-4 and the Czech Republic topped Germany 5-1. In the semifinals Saturday, Canada will face the Czech Republic, and Russia will play Finland.
Golf – PGA – Finau up by 1 through 18
Tony Finau shot a 6-under 64 to take a one-shot lead over local favorite Jordan Spieth and Roger Sloan at Colonial in Fort Worth. Finau had five birdies over seven holes before closing with five straight pars. He hasn't finished higher than 60th in three tournaments since tying for fifth at the Masters. Spieth ended up with seven birdies in a span of 10 holes, the other highlight a 46-foot putt on No. 4.
Golf – Senior PGA Championship – Parel tops senior major
Scott Parel took advantage of ideal scoring conditions Thursday morning to shoot a 4-under 66 and take the first-round lead in the weather-delayed Senior PGA Championship. The gusting afternoon wind hadn't yet fully arrived when Parel closed with birdies on the par-4 17th and 18th. Retief Goosen, Marco Dawson and Ken Tanigawa are a stroke back.
Golf – PGA – Tiger Woods commits to play Memorial
Tiger Woods has decided to play in the Memorial next week ahead of his next chance in a major. Woods is a five-time winner at Muirfield Village. He has never missed it when healthy, except in 2006 when he took time off after his father's death. The Memorial is two weeks before the U.S. Open at Pebble Beach. Woods missed the cut at the PGA Championship. Justin Thomas also has entered the Memorial, his first tournament since the Masters.
NWHL agrees to increase salaries, benefits, revenue sharing
The National Women's Hockey League is increasing salaries, offering a 50-50 split of sponsor-related revenues and improved benefits in an agreement reached with its players' association.  The union did not release any specific monetary figures in announcing the agreement Thursday. It's a one-year deal with the five-team NWHL holding the option to renew it the following season. The NWHL Players' Association calls the agreement a "breakthrough" because it provides "substantial gains" for the first time since the league was founded in 2015.
WNBA – Women's National Basketball Association – Season Openers
Tonight
Indiana Fever at New York Liberty, 8:00 p.m.
Saturday
Chicago Sky at Minnesota Lynx, 8:00 p.m.
NCAABSB – Michigan stays alive in Big Ten Baseball tournament
Jordan Nwogu drilled a two-run double with two outs in the bottom of the ninth to push Michigan past Illinois 5-4 in the Big Ten Tournament. Ako Thomas also had a pair of RBIs for Michigan (39-17), which rallied from a 3-0 hole to solidify its at-large NCAA Tournament hopes.  St. Joe's Jordan Brewer went 0 for 3 and struck out twice.
MWL – Midwest League Baseball
Yesterday
Bowling Green 9, West Michigan 7
Lansing 9, Great Lakes 4
Fort Wayne 3, South Bend 2
Tonight
Lake County at Lansing, 7:05 p.m.
Fort Wayne at Great Lakes, 7:05 p.m.
West Michigan at South Bend, 7:35 p.m..
MHSAA – High School Sports
Yesterday
Girls Soccer – Districts (1st round at local sites)
Division 2 at St. Joseph
Niles 2, Edwardsburg 1
Division 3 at Holland Christian
Hudsonville Unity Christian 4, Otsego 0
Allegan 3, Hopkins 0
Holland Christian 5, South Haven 0
Division 4 at New Buffalo
Michigan Lutheran 6, Lake Michigan Catholic 5
Bridgman 6, Cassopolis 2
Baseball
Edwardsburg 11, Lakeshore 10 – Game 1
Edwardsburg 11, Lakeshore 4 – Game 2
Mattawan 11, Niles 0 – Game 1
Mattawan 12, Niles 0 – Game 2
Dowagiac 15, Cassopolis 5
Buchanan 5, River Valley 2 – Game 1
Buchanan 9, River Valley 4 – Game 2
Lawrence 15, Marcellus 4 – Game 1
Lawrence 10, Marcellus 5 – Game 2
Three Rivers 4, Kal. Loy Norrix 1 – Game 1
Three Rivers 10, Kal. Loy Norrix 2 – Game 2
Softball
St. Joseph 10, Dowagiac 9 – Game 1
St. Joseph 14, Dowagiac 4 – Game 2
Brandywine 5, Lake Michigan Catholic 1 – Game 1
Brandywine 13, Lake Michigan Catholic 2 – Game 2
Mattawan 18, Niles 2 – Game 1
Mattawan 6, Niles 2 – Game 2
Buchanan 10, River Valley 3 – Game 1
Buchanan 5, River Valley 4 – Game 2
Comstock 12, Allegan 2 – Game 1
Allegan 5, Comstock 4 – Game 2
Tonight
Girls Soccer – Districts (1st round at local sites)
Division 2 at Plainwell
Battle Creek Pennfield at Plainwell, 6:00 p.m.
Division 4 at Saugatuck
Covert vs. Lawton, 5:00 p.m. (at Saugatuck)
Baseball
Eau Claire at Benton Harbor, 4:30 p.m.
Berrien Springs at Niles, 4:15 p.m.
Dowagiac at Paw Paw, 4:00 p.m. (DH)
Softball
Portage Central at Lakeshore, 4:00 p.m.
Plainwell at Edwardsburg, 4:00 p.m.