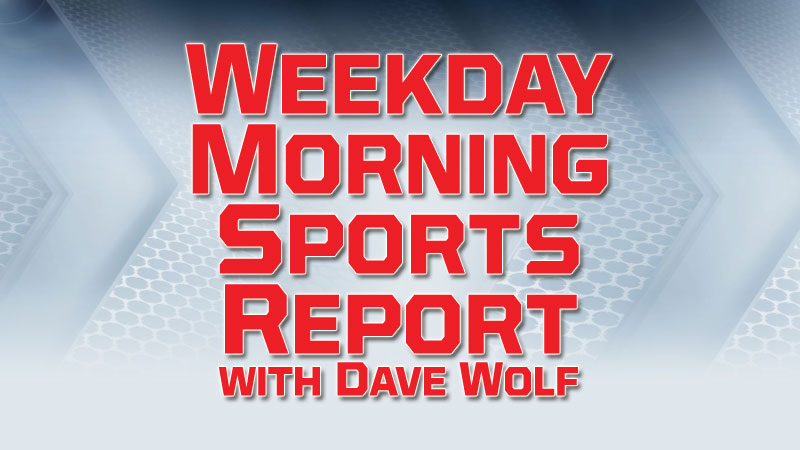 106.1 & 1400 WSJM Sports     @wsjmsports     wsjmsports.com     Friday, April 12, 2019
MLB – Major League Baseball
Yesterday
Cleveland Indians 4, Detroit Tigers 0
Chicago Cubs 2, Pittsburgh Pirates 0
White Sox were off
Indians 4, Tigers 0 – Bieber shuts down Tigers in Cleveland's 4-0 win
Shane Bieber allowed three hits in seven innings, Leonys Martin homered in his return to Detroit and the Cleveland Indians beat the Detroit Tigers 4-0 on Thursday.  Bieber (1-0) struck out six with one walk, improving to 8-0 on the road in his young career. Cleveland has won six of seven after taking two of three in this series.  Martin, traded from the Tigers to Cleveland last year, hit a solo homer in the third. He and Carlos Santana had three hits apiece for the Indians. Spencer Turnbull (0-2) allowed three runs in four innings. Turnbull struck out the game's first two hitters before Jake Bauers singled, stole second and scored on Santana's single. Martin made it 2-0 with his homer, then added an RBI single in the fourth.  Santana hit an RBI single in the seventh.
Cubs 2, Pirates 0 – Quintana strikes out 11 in 7 innings, Cubs beat Pirates 2-0
Jose Quintana struck out 11 in seven innings of four-hit ball and the Chicago Cubs blanked the Pittsburgh Pirates 2-0 on Thursday night.  Daniel Descalso and Victor Caratini each had two hits and an RBI in a game that was delayed 69 minutes by rain before the eighth.  Quintana (1-1) bounced back after being roughed up for eight runs and eight hits in three innings against Milwaukee in his first start of the season last Friday. It was the longest outing by a Chicago starter this season. Steve Cishek pitched the eighth and Pedro Strop got three outs for his first save. The Cubs took two of three in their first home series after opening with a 2-7 road trip.  Pirates starter Joe Musgrove (1-1) allowed two unearned runs and four hits in 6 1/3 innings.
Tonight
Detroit at Minnesota, ppd.
L.A. Angels (Skaggs 1-1) at Chicago Cubs (Hamels 1-0), 2:20 p.m.
Chicago White Sox (Giolito 1-1) at N.Y. Yankees (Happ 0-1), 7:05 p.m.
MLB – Twins postpone Tigers series opener due to wintry weather
The Minnesota Twins have postponed their series opener against the Detroit Tigers because of wintry weather, opting for a doubleheader next month.  The Twins announced Thursday afternoon they were calling off the Friday night's game, a decision made about 28 hours before the scheduled first pitch. The region was blanketed by wet snow, heavy winds and icy roads. The storm was forecast to move out before Friday, but the temperature was predicted to be in the mid-30s. With dry but chilly afternoons on tap for Saturday and Sunday, when the two teams are also set to play, the Twins rescheduled the Friday game for May 11 with a split day-night doubleheader. The Tigers were already for a three-game visit to Target Field that weekend.
MLB – 2026 MLB All-Star Game in Philadelphia
Major League Baseball will play the 2026 All-Star Game in Philadelphia to mark the 250th anniversary of the Declaration of Independence.  A news conference is scheduled for Tuesday and is set to include Commissioner Rob Manfred, Phillies owner John Middleton, Pennsylvania Gov. Tom Wolf and Philadelphia Mayor Jim Kenney.
MLB – Former pitcher Scott Sanderson has died at 62
Scott Sanderson, the right-hander who helped the Chicago Cubs make two playoff appearances and was a member of four postseason teams during a 19-year career, died Thursday. He was 62.  An official with Conway Farms Golf Club in Lake Forest, where Sanderson was a member, told The Associated Press on Thursday the family confirmed the death to the club. The cause of death wasn't provided.  A Chicago-area product, Sanderson was 163-143 with a 3.84 earned-run average for Montreal, the Cubs, Oakland, New York Yankees, Los Angeles Angels, San Francisco, and Chicago White Sox. He made the playoffs with Montreal, the Cubs and Athletics, and was an All-Star with the Yankees.  Sanderson was later an agent.
NHL – 2019 NHL Stanley Cup Playoffs – Round 1 (Best of 7)
Last Night
Toronto Maple Leafs 4, Boston Bruins 2                                                 (TOR Leads 1-0)
Washington Capitals 4, Carolina Hurricanes 2                                       (WSH Leads 1-0)
Calgary Flames 4, Colorado Avalanche 0                                                (CGY Leads 1-0)
Tonight
Columbus Blue Jackets at Tampa Bay Lightning, 7:00 p.m.                       (CBJ Leads 1-0)
Pittsburgh Penguins at New York Islanders, 7:30 p.m.                           (NYI Leads 1-0)
St. Louis Blues at Winnipeg Jets, 9:30 p.m.                                             (STL Leads 1-0)
Vegas Golden Knights at San Jose Sharks, 10:30 p.m.                            (SJS Leads 1-0)
NBA – National Basketball Association
Saturday
Brooklyn at Philadelphia, 2:30 p.m.
Orlando at Toronto, 5 p.m.
L.A. Clippers at Golden State, 8 p.m.
San Antiono at Denver, 10:30 p.m.
Sunday
Indiana at Boston, 1 p.m.
Oklahoma City at Portland, 3:30 p.m.
Detroit at Milwaukee, 7 p.m.
Utah at Houston, 9:30 p.m.
Golf – The Masters – Koepka, DeChambeau share Masters lead
There's a two-way tie for the lead through one round of the Masters, and a popular player is lurking right behind.  Brooks Koepka (KEHP'-kuh) and Bryson DeChambeau each shot a 6-under 66 to move atop the leaderboard at Augusta National, one shot ahead of Phil Mickelson.  The co-leaders made the turn at 1-under before scorching the back nine. Koepka had five birdies on his final nine holes, including four straight from 12-15. DeChambeau ended his round with six birdies on the final seven holes with a bogey on 14 his lone blemish. Phil Mickelson shot a 67 to get within one stroke of the lead. Ian Poulter and Dustin Johnson are two shots back, while Tiger Woods is at minus-2.
NCAAMBB – Woman who alleged rape by ex-MSU players speaks publicly
A Michigan State University student is speaking publicly a year after suing the school, alleging three former men's basketball players raped her in 2015 and that counseling center staff discouraged her from reporting what happened. Twenty-two-year-old Bailey Kowalski said Thursday she came forward because she's "no longer afraid" and hopes to encourage other "silent survivors" to tell their stories. Kowalksi says she was inspired to go public after seeing victims of Larry Nassar speak out. Kowalski and the players aren't named in the lawsuit, which says she met the players at an East Lansing bar and was taken to an off-campus apartment where she was gang raped.  A university spokeswoman declined to comment on the case but said the school
takes sexual assault and Title IX situations "very seriously."
AHL – American Hockey League
Tonight
Manitoba Moose at Grand Rapids Griffins, 7:00 p.m.
ECHL – ECHL Kelly Cup – Round 1 (Best of 7)
Tonight
Kalamazoo Wings at Cincinnati Cyclones, 7:35 p.m.                               (Game 1)
Fort Wayne Komets at Toledo Walleye, 7:35 p.m.                                    (Game 1)
MWL – Midwest League Baseball
Yesterday
West Michigan 7, Lansing 3
South Bend 2, Great Lakes 1

Tonight
Great Lakes at West Michigan, 6:35 p.m.
Lansing at South Bend, 7:35 p.m.
MHSAA – High School Sports
Yesterday
Baseball
St. Joseph 15, Battle Creek Central 0 – Game 1
St. Joseph 14, Battle Creek Central 3 – Game 2
Bridgman 11, Lake Michigan Catholic 2 – Game 1
Bridgman 15, Lake Michigan Catholic 0 – Game 2
Coloma 10, Gobles 0 – Game 1 – 5 Innings
Coloma 6, Gobles 3 – Game 2
Watervliet 15, Martin 0 – Game 1
Watervliet 8, Martin 1 – Game 2
Girls Soccer
St. Joseph 8, Edwardsburg 0
Lakeshore 3, Kalamazoo Loy Norrix 0
Kalamazoo Hackett 6, South Haven 2
Softball
St. Joseph 16, Battle Creek Central 0 – Game 1
St. Joseph 15, Battle Creek Central 0 – Game 1
Bridgman 16, Lake Michigan Catholic 0 – Game 1
Bridgman 18, Lake Michigan Catholic 0 – Game 2
River Valley 7, Hartford 6 – Game 1
Hartford 10, River Valley 8 – Game 2
Brandywine 11, Michigan Lutheran 1 – Game 1
Brandywine 10, Michigan Lutheran 0 – Game 2
Watervliet 14, Martin 8 – Game 1
Martin 9, Watervliet 8 – Game 2
Girls Tennis
St. Joseph 6, Sturgis 2
Brandywine 8, Lake Michigan Catholic/Bridgman 0
Portage Central 8, Niles 0
Tonight
Girls Soccer
Michigan Lutheran at Lake Michigan Catholic, 5:00 p.m.
Mattawan at Niles, 5:30 p.m.
Paw Paw at Kalamazoo Central, 6:00 p.m.
Covert at South Haven, 5:00 p.m.
New Prairie (IN) at New Buffalo, 6:00 p.m.
Berrien Springs at Bangor, 5:00 p.m.
Comstock at Lawton, 6:00 p.m.
Baseball
Michigan Lutheran at Cassopolis, 4:15 p.m.
Dowagiac at South Haven, 4:00 p.m. (DH)
Three Rivers at Edwardsburg, 4:00 p.m. (DH)
Otsego at Paw Paw, 4:00 p.m. (DH)
Sturgis at Vicksburg, 4:00 p.m. (DH)
Plainwell at Allegan, 4:00 p.m. (DH)
Bangor at New Buffalo, 4:15 p.m.
Lawrence at Fennville, 4:30 p.m.
Saugatuck at North Muskegon, 4:00 p.m. (DH)
Softball
Michigan Lutheran at Cassopolis, 4:15 p.m.
Dowagiac at South Haven, 4:00 p.m. (DH)
Three Rivers at Edwardsburg, 4:00 p.m. (DH)
Otsego at Paw Paw, 4:00 p.m. (DH)
Sturgis at Vicksburg, 4:00 p.m. (DH)
Plainwell at Allegan, 4:00 p.m. (DH)
Bangor at New Buffalo, 4:15 p.m.
Lawrence at Fennville, 4:30 p.m.
Saugatuck at North Muskegon, 4:00 p.m. (DH)