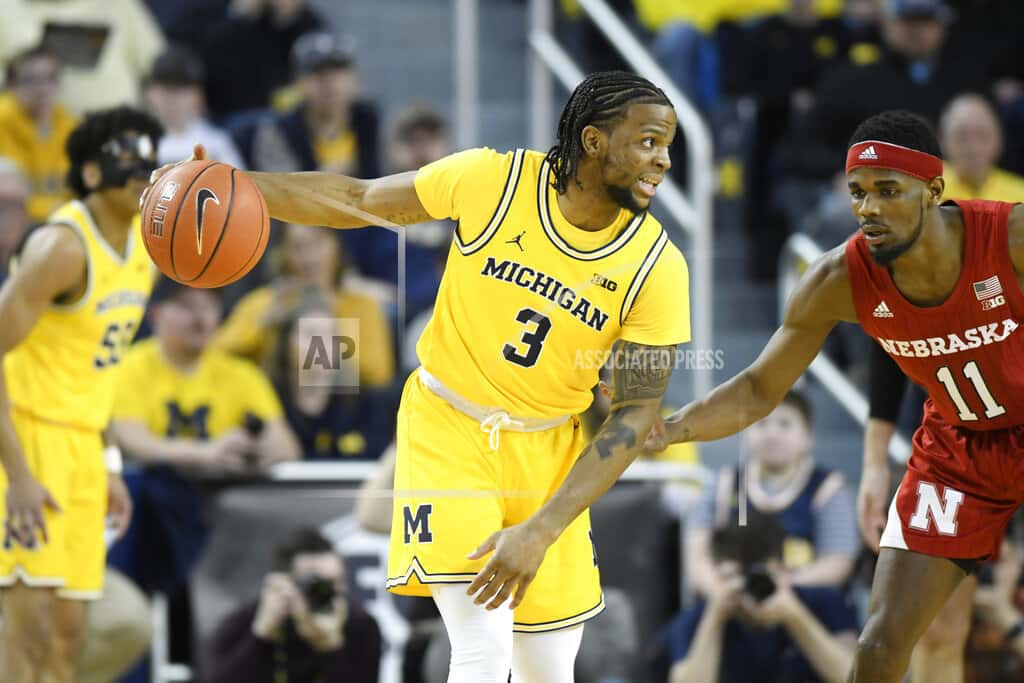 NCAAMBB – Men's College Basketball
Last Night
(25) Michigan 82, Nebraska 58
(25) Michigan 82, Nebraska 58 – No. 25 Michigan beats Nebraska 82-58 with Beilein on hand
Jon Teske scored 12 points and Zavier Simpson added 11 in their home finale, and No. 25 Michigan beat Nebraska 82-58. The Wolverines also welcomed former coach John Beilein back to Crisler Center. Beilein watched from a box about halfway up the seating bowl as his old team closed out its home schedule. Michigan led 32-28 at halftime before starting the second with an 18-4 run. Nebraska was without guard Cam Mack, suspended for a violation of team rules. The Cornhuskers have lost 15 straight. Isaiah Livers had 18 points and 10 rebounds for Michigan. Haanif Cheatham led Nebraska with 19 points.
Tonight
Western Michigan at Central Michigan, 7:00 p.m.
Eastern Michigan at Toledo, 7:00 p.m.
Sunday
(25) Michigan at (9) Maryland, 12:00 p.m.                          106.1 & 1400 WSJM Sports 11:30
(19) Ohio State at (16) Michigan State, 4:30 p.m.              Superhits 103.7 Cosy-FM 3:30
NCAAWBB – Women's College Basketball
Last Night
Big Ten Tournament – Round 2 – Bankers Life Fieldhouse, Indianapolis
9Purdue 72, 8Michigan State 63
7Michigan 81, 10Nebraska 75
Purdue 72, Michigan State 63 – Purdue women top Spartans 72-64 in Big Ten tourney
Karissa McLaughlin scored 17, Ae'Rianna Harris and Fatou Diagne posted double-doubles and ninth-seeded Purdue defeated eighth-seeded Michigan State 72-63 in the second round of the Big Ten Conference tournament. Harris scored 15 points, grabbed 10 rebounds and blocked seven shots, which was one short of her Purdue record in the tournament set when she was a freshman in 2017. Diagne came off the bench to get 11 points and 12 rebounds.  Purdue never trailed. Shay Colley and Nia Clouden had 14 points each for the Spartans.
Michigan 81, Nebraska 75 – Dilk, Hillmon lift Michigan women past Huskers in Big Ten
Amy Dilk scored 22 points, Naz Hillmon added 20 and seventh-seeded Michigan used a strong third-quarter to defeat 10th-seeded Nebraska 81-75 in the second round of the Big Ten Tournament. Leigha Brown and Isabelle Bourne combined for 22 points to put Nebraska on top 42-34 at halftime but the Wolverines took the lead for good with a 13-2 run to open the second half. Hilmon contributed five points, Akienreh Johnson tied it at 44 with a layup and Maddie Nolan followed with a 3-pointer for the lead. Brown finished with 22 points and Bourne 16.
Tonight
Big Ten Tournament – Round 3 – Bankers Life Fieldhouse, Indianapolis
7Michigan vs. 2Northwestern, 6:30 p.m.
NHL – National Hockey League
Last Night
Chicago Blackhawks 4, Edmonton Oilers 3
Blackhawks 4, Oilers 3 – DeBrincat helps Blackhawks top Oilers to win 4th straight
Alex DeBrincat scored two goals, rookie Adam Boqvist had two assists, and the Chicago Blackhawks beat the Edmonton Oilers 4-3. It was the fourth straight victory for the Blackhawks as they climbed within four points of the second wild-card spot in the Western Conference. Patrick Kane and Jonathan Toews also scored for Chicago. Ryan Nugent-Hopkins, Josh Archibald and Kailer Yamamoto had goals for Edmonton.
Tonight
Chicago Blackhawks at Detroit Red Wings, 7:30 p.m.


NBA – National Basketball Association
Tonight
Indiana Pacers at Chicago Bulls, 8:00 p.m.
MLB – Spring Training Baseball
Yesterday
Detroit Tigers 15, New York Yankees 11
Texas Rangers (ss) 5, Chicago Cubs 0
Chicago White Sox 7, Colorado Rockies (ss) 6
Today
Philadelphia Phillies vs. Detroit Tigers at Lakeland, Fla., 1:05 p.m.
Chicago White Sox vs. Chicago Cubs at Mesa, Ariz., 3:05 p.m.
MLB – Cubs' Happ says minor league stay made him better
Ian Happ was one of baseball's top prospects. Then he had a very uncertain future after he was sent down to the minors again. Then he made his way back to the Chicago Cubs. It has been quite a ride for Happ, who was selected by Chicago with the No. 9 pick in the 2015 draft. But he thinks he is a better player after spending much of last year with Triple-A Iowa.
MLB – AP sources: White Sox, Moncada agree to $70M, 5-year deal
People with direct knowledge of the negotiations say the Chicago White Sox have agreed to a $70 million, five-year contract with Yoán Moncada, locking up another one of their promising young hitters. The people spoke on condition of anonymity because the move had not been finalized. The White Sox acquired the 24-year-old Moncada in the December 2016 trade that sent Chris Sale to the Boston Red Sox. Moncada broke out last season when he set career highs with a .315 batting average, 25 homers and 79 RBIs.
NCAAFB – Kelly pleased as Irish begin journey toward 2020 CFP berth
Brian Kelly already knows the outcome of Notre Dame's next football game in 2020. It's the 14 that could follow that matter, however, as the Fighting Irish continue their quest for their first national championship since 1988. "In spring practice we're not out to win – we've already won the spring game," Kelly said Wednesday morning following the first of 14 practices which will lead up to the annual Blue-Gold Game April 18 inside Notre Dame Stadium. Notre Dame finished 12th in the final Associated Press poll following its 11-2 campaign.
NFL – CBA ballots set to players
The NFL Players Association has sent ballots to members for voting on the proposed collective bargaining agreement.  The NFLPA announced that votes would be accepted through March 12 at one minute before midnight. The more than 2,000 members will have a window of about 7 1/2 days to examine the 439-page document and cast a yes or no vote. Ratification requires a simple majority based on the number of returned ballots.  The union says every player who was a dues-paying member during the 2019 season was sent a ballot. Votes will be confidential and received by an independent auditor.
Golf – PGA – Every leads Palmer by 1 over McIlroy
Matt Every owns the first-round lead at the Arnold Palmer Invitational, one shot ahead of world No. 1 Rory McIlroy. The 309th-ranked Every played in the tough afternoon wind while firing a 7-under 65. It was Every's lowest round at Bay Hill, 20 shots better than his last round six days ago in the Honda Classic.  McIlroy's 66 came during morning play. He hasn't finished out of the top 10 in any tournament since September.  Talor Gooch and Scottie Scheffler share third at minus-5.
ECHL – ECHL Hockey League
Tonight
Wheeling Nailers at Kalamazoo Wings, 7:35 p.m.
AHL – American Hockey League
Tonight
Grand Rapids Griffins at Rockford IceHogs, 8:00 p.m.


MCCAA – Junior College Athletics
Yesterday
Men's Baseball
Lake Michigan College 5, (13) Frederick Community College 4
Lake Michigan College 2, Vermillion Community College 1
Women's Softball
Lake Michigan College vs. Enterprise State Community College, PPD Rain
Today
Men's Baseball
Lake Michigan College vs. Vermillion Community College, 1:30 p.m.
Women's Softball
Lake Michigan College vs. Lurleen B Wallace Community College, 3:00 p.m./5:00 p.m.
MHSAA – High School Athletics
Last Night
Boys Basketball
SMAC
Portage Northern 56, St. Joe 53
Non-Conference
Benton Harbor 82, Wyoming 72
Coldwater 71, Portage Central 49
Muskegon 49, Kalamazoo Central 45
Harper Creek 53, Battle Creek Central 51
Marshall 59, Lakeview 57
Quincy 67, Mendon 57
BCS
Lawrence 50, Michigan Lutheran 23
Howardsville Christian 46, Countryside 45
Brandywine 68, Berrien Springs 63 – 2OT
River Valley 50, New Buffalo 29
Comstock 50, Parchment 37
SAC
Kalamazoo Hackett 65, Coloma 64
Constantine 47, Gobles 39
Fennville 56, Delton-Kellogg 45
Lawton 66, Saugatuck 53
Martin 59, Galesburg-Augusta 27
Wolverine
Otsego 81, Edwardsburg 55
Dowagiac 74, South Haven 61
Plainwell 64, Vicksburg 57
Three Rivers 66, Allegan 53
Tonight
Girls Basketball – District Championships
Division 1 at Lakeshore
Portage Central vs. Kalamazoo Central, 7:00 p.m.
Division 1 at Gull Lake
Battle Creek Central vs. B.C. Lakeview, 7:00 p.m.
Division 2 at Coloma
Coloma vs. Hamilton, 6:30 p.m.
Division 2 at Buchanan
Three Rivers vs. Edwardsburg, 6:00 p.m.
Division 2 at Harper Creek
Plainwell vs. Harper Creek, 7:00 p.m.
Division 3 at Lawton
Bloomingdale vs. Gobles, 6:00 p.m.
Division 3 at Cassopolis
Brandywine vs. Decatur, 7:00 p.m.
Division 3 at Constantine
Centreville vs. Schoolcraft, 7:00 p.m.
Division 3 at Kalamazoo Christian
Kalamazoo Hackett vs. Kalamazoo Christian, 7:00 p.m.
Division 4 at River Valley
Michigan Lutheran vs. New Buffalo, 6:00 p.m.  106.1 & 1400 WSJM Sports
Division 4 at Colon
Mendon vs. Colon, 6:00 p.m.
Division 4 at Wyoming Tri-Unity
Martin vs. Bryon City Zion Christian, 7:00 p.m.