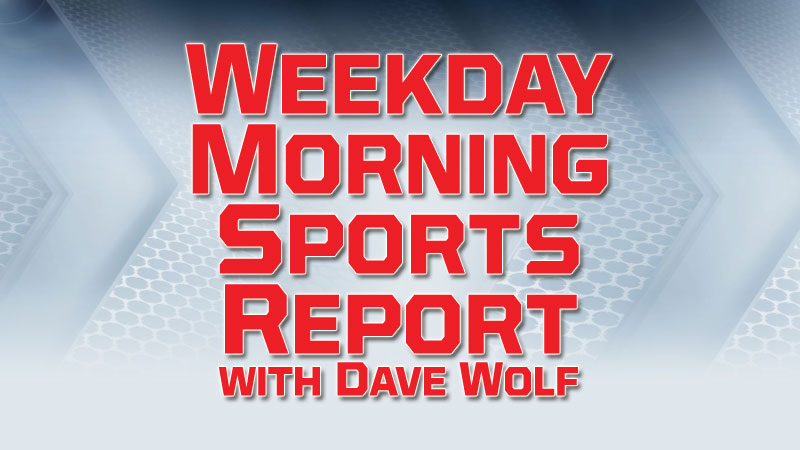 NCAAMBB – Men's College Basketball
Last Night
(9) Michigan 82, Nebraska 53
(9) Michigan 82, Nebraska 53 – No. 9 Michigan beats Nebraska 82-53 in home finale
Jon Teske scored a career-high 22 points, and No. 9 Michigan easily rebounded from its loss to Michigan State with an 82-53 victory over Nebraska on Thursday night. The Wolverines were without Charles Matthews, out with a right ankle injury, but Isaiah Livers replaced him in the starting lineup and had 12 points and 10 rebounds.  Livers started 22 games last season as a freshman, but this season, Michigan's starting five for its first 28 games was Matthews, Teske, Iggy Brazdeikis, Jordan Poole and Zavier Simpson. That finally changed because of the injury to the 6-foot-6 Matthews, who had a boot on the injured ankle. Coach John Beilein didn't give any details on Matthews' prognosis.  The Wolverines (25-4, 14-4 Big Ten) raced out to a 22-point halftime lead behind Teske and Brazdeikis. It was the last home game for Michigan, which finishes the regular season with trips to Maryland and Michigan State.  Nana Akenten scored 11 points for Nebraska.
Saturday
(6) Michigan State at Indiana, 12:00 p.m.                 Superhits 103.7 Cosy-FM 11:00
Eastern Michigan at Northern Illinois, 3:00 p.m.
Ball State at Western Michigan, 4:30 p.m.
Toledo at Central Michigan, 4:30 p.m.
Sunday
Notre Dame at Louisville, 1:30 p.m.
(9) Michigan at Maryland, 3:45 p.m.                         106.1 & 1400 WSJM Sports 3:15
NBA – National Basketball Association
Last Night
Indiana Pacers 122, Minnesota Timberwolves 115
Pacers 122, Timberwolves 115 – Bogdanovic has season-high 35 points, Pacers top Wolves
Bojan Bogdanovic scored a season-high 35 points and Pacers beat the Timberwolves 122-115 on Thursday night. Minnesota's Karl-Anthony Towns' Towns had 42 points and 17 rebounds, scoring 23 points and grabbing seven rebounds in the first quarter.  Indiana played without Domantas Sabonis (sprained left ankle), and Tyreke Evans (food poisoning).  TJ Leaf added a career-high 18 points for Indiana. The Pacers overcame an early 12-point deficit and led 64-60 at halftime.
Tonight
Chicago Bulls at Atlanta Hawks, 7:30 p.m.
NCAAWBB – Women's College Basketball
Saturday
Ball State at Western Michigan, 2:00 p.m.
Central Michigan at Eastern Michigan, 2:00 p.m.
Sunday
Virginia at (4) Notre Dame, 12:30 p.m.
Wisconsin at Michigan, 2:00 p.m.
Michigan State at Minnesota, 4:00 p.m.
MLB – MLB Spring Training
Yesterday
Detroit Tigers 7, Atlanta Braves 6
Oakland A's 10, Chicago Cubs 3
Seattle Mariners 8, Chicago White Sox 3
Today
New York Mets vs. Detroit Tigers at Lakeland, Fla., 1:05 p.m.
Chicago White Sox vs. Texas Rangers at Surprise, Ariz., 3:05 p.m.
Chicago Cubs vs. Arizona Diamondbacks at Scottsdale, Ariz., 3:10 p.m.
MLB – AP source: Harper, Phillies agree to $330M, 13-year deal
It appears that former Nationals' slugger Bryce Harper is going to the City of Brotherly Love. A person familiar with the negotiations tells The Associated Press that Harper and the Philadelphia Phillies have agreed to a $330 million, 13-year contract, the largest deal in baseball history. The person spoke to the AP on condition of anonymity Thursday because the agreement is subject to a successful physical. A 26-year-old All-Star outfielder, Harper topped the $325 million, 13-year agreement outfielder Giancarlo Stanton reached before the 2015 season with the Miami Marlins.  Harper gets a $20 million signing bonus, a $10 million salary this year, $26 million in each of the following nine seasons and $22 million in each of the last three years. None of the money is deferred.
NFL – Patriots owner pleads not guilty to prostitution charges
New England Patriots owner Robert Kraft has pleaded not guilty to two counts of misdemeanor solicitation of prostitution in a Florida case. The 77-year-old Kraft is requesting a non-jury trial. Kraft was among hundreds of men charged in a crackdown on massage parlor prostitution and an investigation into human trafficking at Florida spas.
NFL – Witten leaving broadcast booth for field of play
Jason Witten is coming out of retirement and rejoining the Dallas Cowboys after one season as a television analyst. The Cowboys announced Thursday that the 11-time Pro Bowl tight end had agreed to a one-year contract. When he retired last May to become the lead analyst for "Monday Night Football," Witten shared the club record with three others at 15 seasons with Dallas.
Golf – Jhonattan Vegas shoots 64 to take Honda Classic lead
Jhonattan Vegas shot a bogey-free 6-under 64 on Thursday to take a two-stroke lead after the first round of The Honda Classic. Zach Johnson, Ernie Els, Lucas Glover and Ben Silverman were tied for second. Brooks Koepka, Rickie Fowler and Sergio Garcia were in a large group at 67, and defending champion Justin Thomas shot 68.  Also at 68 was Sam Saunders, the grandson of golf great Arnold Palmer. Saunders birdied all three holes in the famed "Bear Trap" stretch at PGA National, the run of holes 15 through 17 where a par 4 is sandwiched by a pair of par 3s that can be treacherous even without much wind.
AHL – American Hockey League
Tonight
Grand Rapids Griffins at Rockford IceHogs, 8:00 p.m.
Chicago Wolves at Texas Stars, 8:00 p.m.
ECHL – ECHL Hockey
Tonight
Fort Wayne Komets at Kalamazoo Wings, 7:30 p.m.
MCCAA – Junior College Sports
Saturday
Women's Basketball
Lake Michigan College at Mott Community College, 3:00 p.m.
Winner wins MCCAA Conference Championship
Sunday
Men's Basketball
Lake Michigan College at South Georgia State College, 1:00 p.m./3:00 p.m. (doubleheader)
Women's Softball
Lake Michigan College vs. Spartansburg Methodist, 2:00 p.m. (at Gulf Coast State College)
Lake Michigan College at Gulf Coast State College, 6:00 p.m.
MHSAA – High School Sports
Last Night
Girls Basketball
Michigan Lutheran 53, Lawrence 23
Delton-Kellogg 51, Fennville 44
Martin 41, Galesburg-Augusta 34
Saugatuck 68, Lawton 36
Coldwater 73, Portage Central 35
Grand Rapids Union 62, Loy Norrix 30
Holland West Ottawa 45, Battle Creek Central 40
Bloomingdale 44, Kalamazoo Christian 40
Hartford 38, Cassopolis 29
Mendon 40, Decatur 20
Wolverine Conference
Edwardsburg 55, Otsego 35 (Championship)
Three Rivers 54, Plainwell 40 (3rd Place)
Sturgis 35, South Haven 33 (5th Place)
Allegan 49, Vicksburg 39 (7th Place
Dowagiac 35, Paw Paw 28 (9th Place
Tonight
Boys Basketball – District Championships
Division 1 at Mattawan
St. Joseph vs. Mattawan, 7:00 p.m.                           Updates on 106.1 & 1400 WSJM Sports
Division 2 at Lakeshore
Benton Harbor vs. Lakeshore, 7:00 p.m.                   Live on 106.1 & 1400 WSJM Sports
Division 4 at New Buffalo (1st round at host sites)
River Valley vs. New Buffalo, 7:00 p.m.
Division 1 at Kalamazoo Loy Norrix
Coldwater vs. Gull Lake, 7:00 p.m.
Division 2 at Dowagiac
Paw Paw vs. Three Rivers, 7:00 p.m.
Division 2 at Comstock
Otsego vs. Hastings, 7:00 p.m.
Division 3 at Brandywine
Hartford vs. Brandywine, 7:00 p.m.
Division 3 at Marcellus
Centreville vs. Cassopolis, 7:00 p.m.
Division 3 at Gobles
Bloomingdale vs. Schoolcraft, 7:00 p.m.
Division 4 at Mendon
Kalamazoo Phoenix vs. Howardsville Christian, 7:00 p.m.