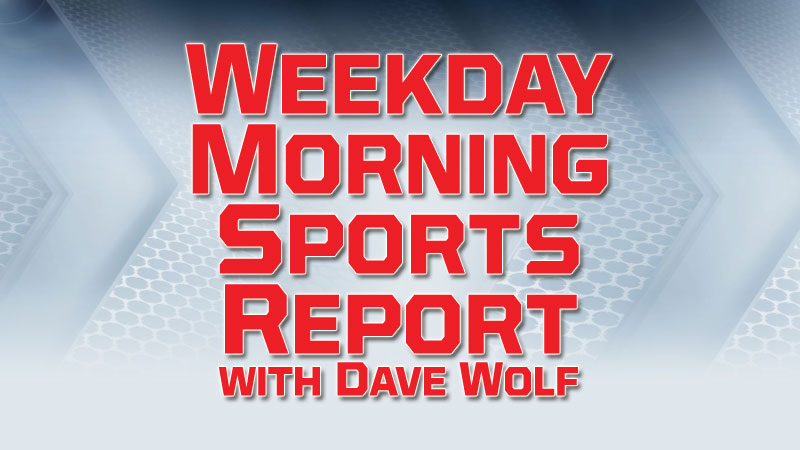 MLB – Major League Baseball
Yesterday
Philadelphia Phillies 7, Detroit Tigers 3
Chicago Cubs 11, Seattle Mariners 0
Baltimore Orioles 5, Chicago White Sox 4 – Game 1
Chicago White Sox 7, Baltimore Orioles 6 – Game 2
Phillies 7, Tigers 3 – Franco, Hoskins lead Phillies over Tigers 7-3
Maikel Franco hit a bases-clearing double in the seventh, Rhys Hoskins homered and the Philadelphia Phillies beat the Detroit Tigers 7-3 on Wednesday night.  Aaron Nola pitched 5 2/3 innings of one-run ball, helping the Phillies earn a split of their two-game interleague series. The ace right-hander allowed seven hits and struck out six.  NL East-leading Philadelphia had scored one run or less in five of the previous nine games and had a tough time against Tigers starter Daniel Norris, who gave up one run and five hits in five innings. But the offense tagged Detroit's bullpen for six runs in two innings. After Ronny Rodriguez gave the Tigers a 2-1 lead in the seventh with an RBI single off Seranthony Dominguez (2-0), the Phillies answered in the bottom half. J.T. Realmuto hit a one-out double to right off Buck Farmer (1-2) and Sean Rodriguez was hit by a pitch on his hand. Daniel Stumpf entered and Cesar Hernandez singled to load the bases.
Orioles 5, White Sox 4 – Game 1 – Villar, Orioles beat White Sox 5-4 in doubleheader opener
Jonathan Villar hit a tiebreaking sacrifice fly, and the Baltimore Orioles stopped a four-game slide by rallying for a 5-4 victory over the Chicago White Sox on Wednesday in the opener of a doubleheader.  Richie Martin opened the eighth inning with a triple into the right-field corner off Kelvin Herrera (0-1). Villar then hit a fly ball to center, and Martin scored easily when Adam Engel's throw landed up the third base line.  Branden Kline (1-0) pitched two scoreless innings for the win. Mychal Givens got four outs for his second save in three chances, striking out Jose Abreu with a runner on first to end the game.  Chicago had won three in a row and four of six. Abreu extended his hitting streak to nine games and drove in two runs, but the White Sox blew a 4-0 lead. Martin hit an RBI double as Baltimore chased Carlos Rodón with a three-run fourth. Dwight Smith Jr. tied it at 4 with a run-scoring double in the seventh.
White Sox 7, Orioles 6 – Game 2 – White Sox rally for doubleheader split against Orioles
Yonder Alonso hit a two-run single with two out in the ninth inning, and the Chicago White Sox salvaged a split of their doubleheader with the Baltimore Orioles with a 7-6 victory on Wednesday night.  Leury Garcia sparked the winning rally with a leadoff walk. Adam Engel then reached on a bunt when Evan Phillips (0-1) threw late to first. With two down and runners on second and third, Jose Abreu was walked intentionally to get to Alonso, who lined a game-ending single into left field.  Thyago Vieira (1-0) pitched two scoreless innings for the win, and then was returned to Triple-A Charlotte after the game.
Cubs 11, Mariners 0 – Cubs jump on Mariners, Lester allows 1 hit in 11-0 rout
Jon Lester and two relievers combined on a one-hitter, Javier Baez homered and doubled during Chicago's six-run second inning, and the Cubs beat the Seattle Mariners 11-0 on Wednesday for their 13th win in 17 games.  The Cubs handed Seattle starter Marco Gonzales his first loss of the season, thanks to the big second inning when 12 batters came to the plate. Gonzales (5-1) failed to make it out of the inning after giving up five hits and walking two.  Baez led off the second with a homer to deep right-center field — his 10th of the season — and later added an RBI double just inside third base. Jason Heyward also had an RBI single, and two of the walks came with the bases loaded. Lester (2-1) cruised after the early run support, allowing one hit in seven innings. Pitching in his home state for the first time since September 2014, Lester struck out eight and walked only one. Seattle's only hit off the left-hander was a looping single from Ryon Healy in the second inning.
Tonight
Boston (Price 1-2) at Chicago White Sox (Giolito 2-1), 8:10 p.m.
Cubs and Tigers are off
NBA – National Basketball Association
Last Night
Portland Trailblazers 97, Denver Nuggets 90                                        (Series tied 1-1)
Blazers 97, Nuggets 90 – Blazers beat Nuggets
CJ McCollum scored 20 points and the Portland Blazers evened their NBA Western Conference semifinal series at a game apiece by holding off the Denver Nuggets, 97-90. McCollum picked up the offensive slack for backcourt mate Damian Lillard, who added 14 points but was just 5 of 17 from the floor and 1 of 7 from 3-point range.  The Trail Blazers led by 17 in the third quarter and carried a 14-point advantage into the final period, but the Nuggets used a 19-9 run to get within 95-90 before Rodney Hood iced the victory by hitting two free throws with 17 seconds to play.
Tonight
Toronto Raptors at Philadelphia 76ers, 8:00 p.m.                                  (Series tied 1-1)
NBA – Pistons planning G League franchise for Detroit
The Detroit Pistons are planning to bring an NBA G League affiliate to Detroit.  The Pistons announced Wednesday their G League team would play in a new arena that Wayne State University is planning to build for its basketball programs. The school's board of governors has approved the facility. It's not clear when Detroit would begin hosting G League games. The Pistons said there are ongoing discussions with G League officials about an expansion team _ and the Pistons' current G League affiliate, which plays in Grand Rapids. The Pistons and the Grand Rapids Drive have an agreement that runs through the 2020-21 G League season.  The G League is the NBA's developmental league.
NHL – 2019 NHL Stanley Cup Playoffs – Round 2 (Best of 7)
Last Night
Carolina Hurricanes 5, New York Islanders 2                                        (CAR leads 3-0)
Dallas Stars 4, St. Louis Blues 2                                                           (Series tied 2-2)
Hurricanes 5, Islanders 2 – Canes in command
Curtis McElhinney stopped 28 shots and Justin Williams snapped a 2-2 tie midway through the third period before the Carolina Hurricanes completed a 5-2 victory over the New York Islanders to take a 3-0 lead in the NHL second-round series. The 35-year-old McElhinney picked up his second straight win since replacing injured netminder Petr Mrazek in the second period of Game 2. Carolina wasted a pair of one-goal leads before Williams beat Robin Lehner off a bad clear by the netminder with 9:46 remaining.
Stars 4, Blues 2 – Stars knot Blues
Dallas and St. Louis are now tied at two games apiece in their NHL second-round series following the Stars' 4-2 win over the Blues. Rookie Roope Hintz notched his fifth goal of the postseason after being put on a line with Alexander Radulov and captain Jamie Benn. Radulov finished with two assists, and Tyler Seguin also set up two goals after trading places with Hintz.
Tonight
Boston Bruins at Columbus Blue Jackets, 7:30 p.m.                                (CBJ leads 2-1)
San Jose Sharks at Colorado Avalanche, 10:00 p.m.                               (SJS leads 2-1)
NHL – Bettman can't see ban on hits to head
NHL Commissioner Gary Bettman says it would be impossible to ban all hits to the head and maintain hockey as a physical game.  Bettman told the Parliament of Canada in testimony Wednesday that larger players would inevitably land blows on smaller players' heads in the normal course of play. He says the game is safer for players and different in terms of physical contact from football, where there are repeated blows to players' heads. Bettman also says he hasn't seen any evidence to link long-term brain damage and multiple blows to the head while playing the game. The special committee of parliament is looking at the issue of concussions, including options for treatment, prevention and what, if anything, the federal government should be doing about sports-related head injuries.
Horse Racing – Derby favorite scratched
Kentucky Derby favorite Omaha Beach has been scratched from Saturday's race because of a breathing problem.  The colt from Southern California was made the 4-1 early favorite for
Saturday's 145th Derby. Omaha Beach galloped Wednesday morning without any problem and trainer Richard Mandella said everything was fine, but that changed by late afternoon when Rogers said Omaha Beach has an entrapped epiglottis.
MWL – Midwest League Baseball
Yesterday
West Michigan 9, Clinton 7 – Game 1
Clinton 13, West Michigan 2 – Game 2
Wisconsin 8, Lansing 3 – Game 1
Wisconsin 2, Lansing 1 – Game 2
Great Lakes 12, Beloit 8 – Game 1
Great Lakes 3, Beloit 2 – Game 2
Burlington 2, South Bend 1 – Game 1
South Bend 2, Burlington 0 – Game 2

Today
Beloit at Great Lakes, 10:35 a.m.
South Bend at Burlington, 12:30 p.m.
Wisconsin at Lansing, 7:05 p.m.
West Michigan at Clinton, 7:30 p.m.
MHSAA – High School Sports
Michigan Lutheran 8, New Buffalo 0
Bridgman 4, Lake Michigan Catholic 2
Lakeshore 8, Niles 0
Mattawan 8, Battle Creek Central 0
Gull Lake 8, Battle Creek Lakeview 0
Portage Central 7, Potage Northern 0
Plainwell 2, Vicksburg 0
Otsego 6, South Haven 1
Allegan 7, Dowagiac 0
Paw Paw 7, Edwardsburg 0
Kalamazoo Hackett 7, Saugatuck 0
Coloma 6, Constantine 0
Girls Tennis
Lakeshore 7, Niles 1
Today
Baseball
Benton Harbor at Brandywine, 4:15 p.m.
St. Joseph at Kalamazoo Loy Norrix, 4:00 p.m. (DH)
Lakeshore at Portage Central, 4:00 p.m. (DH)
Gull Lake at Niles, 4:00 p.m. (DH)
Portage Northern at Mattawan, 4:00 p.m. (DH)
Plainwell at Edwardsburg, 4:00 p.m. (DH)
Coloma at Saugatuck, 4:30 p.m. (DH)
Kalamazoo Hackett at Lawton, 4:30 p.m. (DH)
Softball
St. Joseph at Kalamazoo Loy Norrix, 4:00 p.m. (DH)
Lakeshore at Portage Central, 4:00 p.m. (DH)
Gull Lake at Niles, 4:00 p.m. (DH)
Portage Northern at Mattawan, 4:00 p.m. (DH)
Plainwell at Edwardsburg, 4:00 p.m. (DH)
Coloma at Saugatuck, 4:30 p.m. (DH)
Kalamazoo Hackett at Lawton, 4:30 p.m. (DH)
Girls Tennis
Lakeshore at Edwardsburg, 4:00 p.m.
Niles at Buchanan, 4:00 p.m.
Girls Soccer
Kalamazoo Central at Kalamazoo Loy Norrix, 6:30 p.m.
Sturgis at Three Rivers, 6:30 p.m.
Fennville at Hartford, 6:00 p.m.