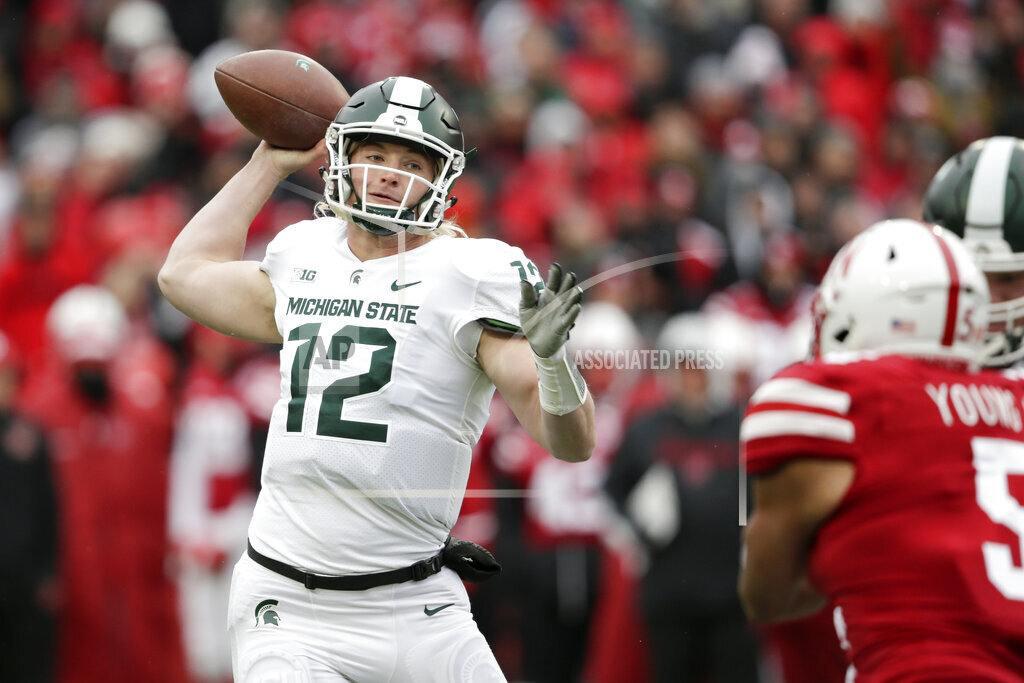 NCAA Football – Tucker still mum on QB as Michigan State opener approaches
Mel Tucker's success in his first season as Michigan State's coach may be determined in large part by who is playing quarterback. Right now, there's no indication of who that's going to be. Tucker inherited a program rife with uncertainty, and the quarterback spot is just one glaring area that must be resolved. Gone is Brian Lewerke, who started 38 games and became the school's career leader in total offense. Rocky Lombardi and Theo Day return after playing a bit last season. Redshirt freshman Payton Thorne is also an option, and Tucker mentioned freshman Noah Kim as well when assessing the position.
NCAA Football – Driving range: Notre Dame's Doerer gets kick out of golf
Notre Dame kicker Jonathan Doerer pays careful attention to the nuances of his stance, swing path and ball contact — and not just in football. He also frequents the driving range in golf. The Charlotte, North Carolina, native says the practice helps with both sports. He was 17 for 20 on field-goal tries last season. Through four games this season, Doerer is 15 for 15 on extra points and 5 for 7 on field goals. The third-ranked Fighting Irish visit Pittsburgh this weekend.
MLB – MLB Postseason – World Series (Best of 7)
Last Night
2020 World Series – Globe Life Park, Arlington, Texas
Los Angeles Dodgers 8, Tampa Bay Rays 3                                            (LAD leads 1-0)
Dodgers 9, Rays 3 – Fall Classic begins with Dodgers rout of Rays
The Los Angeles Dodgers are three wins away from their first World Series title in 32 years. Cody Bellinger and Mookie Betts homered to support Clayton Kershaw as the Dodgers whipped the Tampa Bay Rays, 8-3 at Globe Life Park in Arlington, Texas.  The Dodgers went ahead, 2-0 on Bellinger's two-run homer in the fourth before tacking on four more runs in the fifth. Bellinger was fit to play after suffering a right shoulder injury while celebrating his tiebreaking home run in Game 7 of the NLCS two nights earlier.  Bellinger went deep off Tyler Glasnow, who struggled with his command. Glasnow was reached for six runs on three hits and six walks in 4 1/3 innings.  Kevin Kiermaier's solo blast in the fifth pushed Tampa Bay within a run before Betts scored on a fielder's choice in the bottom half to restore L.A.'s two-run lead. Will Smith, Chris Taylor and Kike Hernandez followed with RBI singles. Betts led off the bottom of the sixth with a blast to widen the gap. Justin Turner and Max Muncy added consecutive doubles to give Los Angeles an 8-1 lead.  Kershaw limited the Rays to two hits and a walk while striking out eight over six innings. Kershaw is 3-1 this postseason.
Tonight
2020 World Series – Globe Life Park, Arlington, Texas
Tampa Bay (Snell 4-2) vs. Los Angeles Dodgers (Gonsolin 2-2), 8:08 p.m.  (LAD leads 1-0)
MLB – Pandemic World Series draws smallest crowd in over century
A crowd of 11,388 attended the World Series opener between the Los Angeles Dodgers and Tampa Bay Rays, the lowest count in a Fall Classic since Game 6 in 1909. They spread in groups of up to four, mostly in alternate rows and none directly behind each other among the forest green seats. Major League Baseball made about 28% available of the 40,518 capacity at the new retractable-roof stadium of the Texas Rangers. World Series games are usually festive. This one had a surreal feel caused by the coronavirus pandemic.
MLB – Manfred likes larger playoff, runner in extras
Baseball Commissioner Rob Manfred says he hopes to keep two of this year's innovations: expanded playoffs and starting extra innings with runners on second base. Manfred also says the 30 teams combined for $3 billion in operating losses due the pandemic, which caused all 898 regular-season games to be played in empty ballparks without fans. After opening day was delayed from March 26 to July 23, MLB and the players' association agreed to expand the number of teams in the playoffs from 10 to 16. Manfred has previously advocated a future expansion of the playoffs to 14 teams.
NFL – Bears sign former Notre Dame star LB Teo to practice squad
The Chicago Bears signed former Notre Dame star linebacker Manti Teo to their practice squad on Tuesday. A 2012 Heisman Trophy finalist also known for his internet relationship with a person falsely posing as a woman stricken with leukemia, Teo has made 48 starts and 62 appearances over seven seasons with the then-San Diego Chargers (2013-16) and New Orleans Saints (2017-19). He has 307 tackles — 22 for loss — along with 13 pass breakups and two interceptions. He takes the practice squad spot of kicker Kai Forbath, signed Tuesday to the Los Angeles Rams' active roster.
NFL – NFL teams going for 2 at record-setting rate
Never before have NFL teams gone for 2-point conversions as often as they have this season, even if the decision sometimes has backfired. The 58 attempts through six weeks are the most at this juncture of the season since the NFL adopted the 2-point conversion in 1994. Going for 2 was a big part of the story line from this past weekend, with failures by Houston and Washington leading to losses.
NFL – New Orleans Mayor agrees to start allowing fans at Saints' home games
The New Orleans Saints will start having fans in the stands for home games after the mayor agreed with the team on a phased plan starting Sunday against Carolina. The plan announced Tuesday will start with 3,000 tickets for Sunday's game, increasing to 6,000 fans for November games with San Francisco and Atlanta and up to 15,000 in December for games against Kansas City and Minnesota barring any changes in local health and safety guidelines. The Saints had been talking to LSU about possibly playing games in Baton Rouge before this plan was approved.
NFL – California will allow fans at pro sports but not Disneyland
California will allow fans to attend outdoor professional sporting events in areas at less risk for the coronavirus even as it prohibits larger theme parks from reopening. But Tuesday's announcement by the state's top health official may have little immediate effect for sports fans. Some teams are done for the year and the home of football's 49ers won't immediately ease restrictions. San Francisco meanwhile moved into the state's least restrictive tier, the first urban area to join much geographically larger and far more rural areas scattered near the Oregon border or in the Sierra Nevada mountain range.
NBA – Indiana Pacers tab Raptors assistant Nate Bjorkgren as coach
The Indiana Pacers have hired Nate Bjorkgren as their new coach. The decision ends a search that began Aug. 26 after the Pacers fired longtime coach Nate McMillan. Bjorkgren spent the past two seasons as an assistant to Toronto coach Nick Nurse and was part of the Raptors 2018-19 title run. Bjorkgren also spent four seasons as Nurse's assistant with the Iowa Energy of the G-League.


MHSAA – High School Sports
Yesterday
Boys Soccer – District Semifinals
Division 1 at Portage Northern
Mattawan 3, Kalamazoo Loy Norrix 1
Portage Northern 3, Portage Central 0
Division 2 at Hastings (final round only)
Gull Lake 6, Otsego 0
Plainwell 2, Middleville Thornapple-Kellogg 1
Division 3 at Brandywine (final round only)
Dowagiac 8, Coloma 1
South Haven 3, Watervliet 2
Division 3 at Grand Rapids South Christian
Hudsonville Unity Christian 4, Fennville 1 – OT
G.R. South Christian 1, Wyoming-Lee  0
Division 4 at Michigan Lutheran (final round only)
Hartford 1, New Buffalo 0
Michigan Lutheran 3, Bridgman 0
Division 4 at Bloomingdale
Bangor 2, Holland Black River 1
Bloomingdale 5, Saugatuck 0
Division 4 at Lawton
Kalamazoo Heritage Christian 4, Cassopolis 3
Howardsville Christian 5, Schoolcraft 3
Girls Volleyball
Watervliet 3, Lawton 1
Cross Country
Wolverine Conference Championships at Three Rivers
Boys Team

Boys Top 10

Girls Team

Girls Top 10

1. Otsego          25
2. Allegan          55
3. Three Rivers   84
4. Vicksburg       93
5. Paw Paw         147
5. Sturgis          147
7. Edwardsburg 189
Dowagiac           DNF
Plainwell did not compete (Covid)

1 Colin Mulder OTS 16:19.0
2 Cole Parker DOW 16:25.0
3 Connor Harlan ALL 16:35.6
4 Mason Kolhoff OTS 16:42.3
5 Blane Johnson ALL 17:00.9
6 Nick Cockerel OTS 17:05.5
7 Isaiah Wilkins OTS 17:20.8
8 Mason Kleeves ALL 17:22.3
9 Kyler Dean VICK 17:25.9
10 Tremaine Brown STU 17:28.3

1.Otsego           15
2.Vicksburg        69
3.Sturgis           98
4.Allegan          116
5.Three Rivers    118
6.Paw Paw          153
7.Edwardsburg   172
Dowagiac           DNF
Plainwell did not compete (Covid)

1 Elizabeth Burrill OTS 20:15.9
2 Chelsea Glessner OTS 20:31.5
3 Claudia Stachura OTS 20:39.8
4 Joy Wolfe OTS 20:51.8
5 Megan Germain OTS 21:12.1
6 Logan Brazee OTS 21:13.9
7 Anezka Pradna T.R. 21:15.2
8 Meah Yunker STU 21:20.7
9 Sam Richardson VICK 21:27.5
10 Ashley Goodrich OTS 21:30.7
River Valley Invitational
Boys Team

Boys Top 10

Girls Team

Girls Top 10

1. Bridgman        34
2. Lake Mich. Cath. 36
3. Constantine    68
4. River Valley    93
5. Brandywine    118

1 Walker Barz BUCH 17:19.1
2 Luke Blesy BRID 17:19.1
3 Nathaniel Bittner BSPR 17:44.9
4 Sam Markle BSPR 18:08.9
5 Michael Golden LMC 18:09.1
6 John Sanderson BRID 18:14.6
7 Ethan Glick CONST 18:18.1
8 Matthew Lage LMC 18:22.1
9 Emerson Barnes NB 18:37.4
10 AJ Hackett BRID 18:40.7

1. Bridgman        30
2. Buchanan       63
3. Lake Mich. Cath.89
4. River Valley    90
5. Brandywine    118
6. Constantine    150
7. Berrien Springs 165

1 Karsyn Stewart BRID 20:32.7
2 Eleanor Young BUCH 20:33.9
3 Allison Glendening LMC 20:40.5
4 Arie Hackett BRID 20:48.4
5 Summer Fast BRID 21:38.0
6 Jane Kaspar BRID 21:53.4
7 Allison Lauri BWINE 22:07.3
8 Eliza McGinn NB 22:11.8
9 Morgan Horvath BWINE 22:16.8
10 Rylee Rogers RV 22:17.5
Today
Girls Volleyball
Kalamazoo Loy Norrix at Lakeshore, 6:30 p.m.
St. Joseph at Kalamazoo Central, 6:30 p.m.
Michigan Lutheran at Eau Claire, 5:00 p.m.
New Buffalo at Countryside, 6:00 p.m.
Brandywine at Bridgman, 6:00 p.m.
Berrien Springs at Buchanan, 6:00 p.m.
Watervliet Grace Christian at Covert, 6:00 p.m.
Battle Creek Lakeview at Mattawan, 6:30 p.m.
Battle Creek Central at Portage Northern, 6:30 p.m.
Schoolcraft at Constantine, 6:30 p.m.
Boys Soccer – District Semifinals
Division 4 at Kalamazoo Christian
Kalamazoo Hackett vs. B.C. Calhoun Christian, 3:00 p.m.
Kalamazoo Christian vs. Vermontville Maple Valley, 5:00 p.m.
Cross Country – Pre Regionals
Division 4 at Decatur, 5:00 p.m.
Decatur, Cassopolis, Eau Claire, Lawrence, Marcellus, Howardsville Christian, Watervliet Grace Christian, White Pigeon.