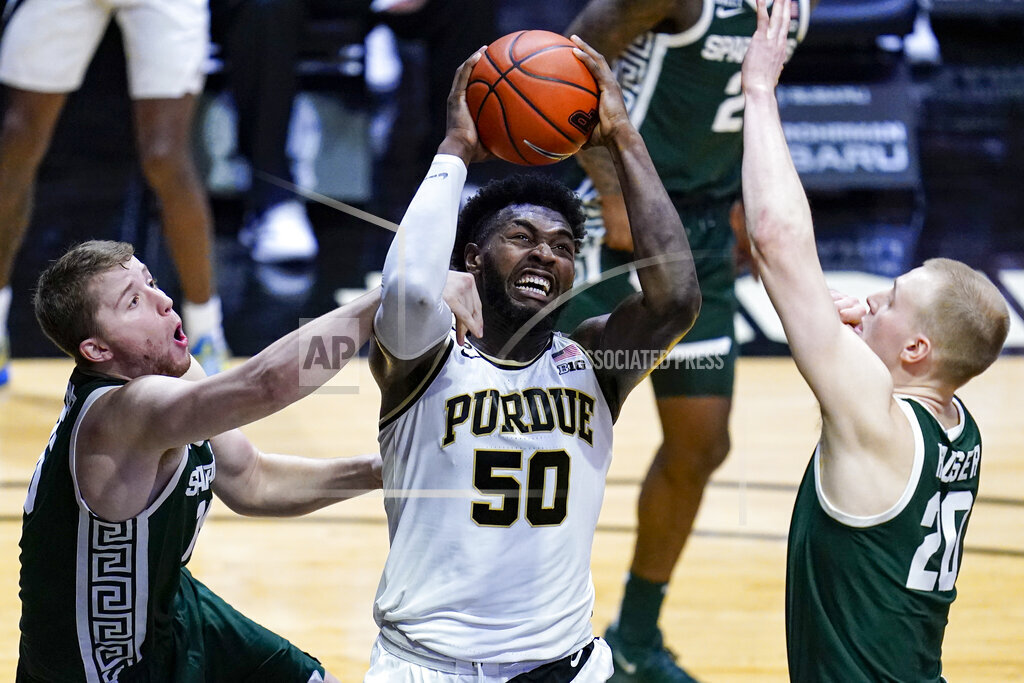 NCAAMBB – Men's College Basketball
Last Night
Purdue 75, Michigan State 65
Kent State 76, Western Michigan 69
Buffalo at Eastern Michigan, PPD
Central Michigan at Ohio, PPD
Purdue 75, Michigan State 65 – Williams takes lead late lifting Purdue past Michigan St.
Trevion Williams scored 28 points and Eric Hunter Jr. scored 15 and Purdue pulled away from Michigan State for a 75-65 win. Williams, who shot 13 for 21, scored 10 of Purdue's last 18 points in the game's final 4:45. Aaron Henry led Michigan State with 15 points. Based on rankings as of today, Michigan State's last five contests include matchups against No. 3 Michigan, No. 4 Ohio State and No. 5. Illinois. Purdue faces Nebraska on the road on Saturday. The Boilermakers haven't won consecutive games since Jan. 17 and Jan. 20.
Kent State 76, Western Michigan 69 – Santiago scores 22 to lead Kent St. past W. Michigan 76-69
Giovanni Santiago had a career-high 22 points as Kent State defeated Western Michigan 76-69.  Malique Jacobs had 17 points and seven rebounds for Kent State (13-5, 10-4 Mid-American Conference). Danny Pippen added 15 points. Justyn Hamilton had 10 points. B. Artis White tied a career high with 20 points and had six rebounds for the Broncos (4-13, 3-9). Greg Lee added 19 points.
Tonight
Clemson at Notre Dame, PPD
NCAAWBB – Women's College Basketball
Yesterday
(11) Michigan 86, Michigan State 82
(11) Michigan 86, Michigan State 82 – Hillmon, No. 11 Michigan women beat rival Michigan State
Naz Hillmon had 31 points and seven rebounds, Leigha Brown added 20 points, five rebounds and four assists, and No. 11 Michigan beat rival Michigan State 86-82. Hillmon and Brown combined for a 7-0 run to give Michigan a 79-69 lead with 3:09 remaining. The duo scored 12 of Michigan's final 14 points despite both playing the entire fourth quarter with four fouls. Hillmon scored six points in five fourth-quarter minutes and Brown added six points in seven minutes. Nia Clouden led Michigan State with a career-high 34 points.
Today
Kent State at Western Michigan, 1:00 p.m.
Central Michigan at Bowling Green, 7:00 p.m.
Eastern Michigan at Akron, PPD
NHL – National Hockey League
Tonight
Chicago Blackhawks at Detroit Red Wings, 7:30 p.m.
NBA – National Basketball Association
Last Night
Detroit Pistons at San Antonio Spurs, PPD
Tonight
Detroit Pistons at Chicago Bulls, 8:00 p.m.
Indiana Pacers at Minnesota Timberwolves, 8:00 p.m.
NFL – Girl hurt in crash involving Chiefs coach Britt Reid awake
family of a 5-year-old girl left in a coma following a crash involving Kansas City Chiefs assistant coach Britt Reid says the girl is now awake. The news was delivered Monday in a post on the GoFundMe page for Ariel Young. The girl has been hospitalized since the Feb. 4 crash. Reid is head coach Andy Reid's son. Britt Reid was initially placed on administrative leave following the multi-vehicle crash. He's no longer employed by the team. Police said the crash happened near the team's training complex next to Arrowhead Stadium when Reid's truck slammed into two cars on the side of the road. Police say Reid admitted to having "two or three drinks" before the crash.
MLB – Tigers' GM says team considering 6-man rotation
The Detroit Tigers are considering using a six-man rotation for at least some of this season as they return to a normal-length schedule. General manager Al Avila spoke with reporters Tuesday, the day before Detroit's first workout for pitchers and catchers. Last year's abbreviated schedule lightened the workload for pitchers throughout baseball. Matthew Boyd led the Tigers in innings with 60 1/3. It remains to be seen how easily pitchers can re-adjust to a 162-game schedule. Detroit has several young options who are still trying to establish themselves as big leaguers — and whose arms may need to be handled carefully.
MLB – Cubs' Hoyer to discuss futures with Bryant, Baez, Rizzo
Jed Hoyer plans to chat with Kris Bryant about his future during spring training. Also on deck for the Chicago Cubs president of baseball operations are similar discussions with Javier Báez and Anthony Rizzo. All three sluggers have contracts set to expire after the upcoming season. Hoyer says he would "love to have that continuity" and retain all three, though he acknowledged the odds are slim. Their futures are big questions hanging over the Cubs with the team set to open spring training in Arizona. Pitchers and catchers begin workouts on Wednesday, with position players starting next week.
Tennis – Australian Open quarterfinals underway
Karolina Muchova has moved into the semifinals of the Australian Open after a surprising win over the world's No. 1 player.  Muchova took an injury early in the second set and rallied to a 1-6, 6-3, 6-2 win over Ash Barty. Her comeback win ended Barty's bid to become the first Australian woman to win the title in Melbourne since Chris O'Neil in 1978. 
MHSAA – High School Sports
Last Night
Boys Basketball
BC Lakeview 53, Mattawan 41
Buchanan 61, Bridgman 46
New Buffalo 79, River Valley 60
Marcellus 69, Bangor 43
Girls Basketball
South Haven 50, Comstock 9
BC Lakeview 53, Mattawan 38
New Buffalo 51, River Valley 38
Marcellus 29, Bangor 21
Boys Wrestling
Paw Paw 58, Niles 18
Dowagiac 43, Niles 26
Paw Paw 50, Dowagiac 27
Tonight
Boys Basketball
Dowagiac at Benton Harbor, 7:00 p.m. News/Talk/Sports 94.9 WSJM (Online at wsjm.com)
Brandywine at St. Joseph, 7:00 p.m.
Paw Paw at Edwardsburg, 7:15 p.m.
Three Rivers at Allegan, 7:15 p.m.
Plainwell at Sturgis, 7:15 p.m.
Otsego at Vicksburg, 7:15 p.m.
Berrien Springs at Hartford, 7:30 p.m.
Countryside at New Buffalo, 6:00 p.m.
Lawton at Coloma, 7:30 p.m.
Parchment at Delton-Kellogg, 7:00 p.m.
Saugatuck at Fennville, 7:00 p.m.
Schoolcraft at Gobles, 7:00 p.m.
Watervliet at Martin, 7:00 p.m.
Constantine at Kal. Hackett, 7:00 p.m.
Girls Basketball
St. Joseph at Gull Lake, 7:00 p.m.
Vicksburg at Otsego, 7:15 p.m.
Allegan at Three Rivers, 7:15 p.m.
Edwardsburg at Paw Paw, 7:15 p.m.
Sturgis at Plainwell, 7:15 p.m.
Coloma at Lawton, 6:00 p.m.
Hartford at Comstock, 7:00 p.m.
Galesburg-Augusta at Kal. Christian, 7:00 p.m.
Constantine at Kal. Hackett, 7:00 p.m.
Delton-Kellogg at Parchment, 5:30 p.m.
Fennville at Saugatuck, 7:00 p.m.
Gobles at Schoolcraft, 7:00 p.m.
Martin at Watervliet, 7:00 p.m.