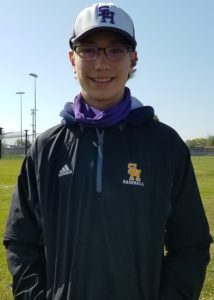 Trent Till of South Haven High School Football is our WSJM Sports Van Buren/Cass Student Athlete of the Week for the week of September 20, 2020.
In the Rams' win over Niles, Trent rushed for 112 yards on 15 carries and scored a touchdown. He also threw for another score. On special teams, Trent returned three kicks for 92 yards and two punts for 35 yards. In all, he accounted for 239 all-purpose yards. On defense, he recorded five tackles.
Trent is also a member of the South Haven Wrestling and Baseball teams. In the classroom, he carries a 3.9 grade point average.
Trent is the son of Chris and Sarah Till of South Haven.
Another finalist for the week was Aaron Robles of Hartford Soccer.
Catch Trent's conversation with Phil McDonald below…
Podcast: Play in new window | Download | Embed
Subscribe: Apple Podcasts | Android | Email | Google Podcasts | Stitcher | Spotify | RSS | More