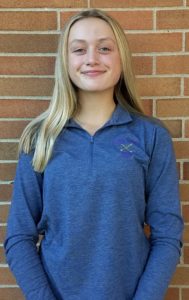 Sydney Barnes of South Haven High School Golf is our WSJM Sports Van Buren/Cass Student Athlete of the Week for the week of September 27, 2020.
Sydney won the Kalamazoo Valley Association individual conference championship by firing an 89 at the league championship match. She followed that up by tying for third place at regionals. Her effort helped South Haven qualify for the State Finals in Girls' Golf for the first time in school history.
Sydney is also a member of the South Haven Marching Band, Jazz Band, Orchestra, and Tri Music Honor Society. In the classroom, she carries a 4.25 grade point average.
Sydney is the daughter of Jason and Nancy Barnes of South Haven.
Other finalists for the week were Gavin Etter of Marcellus Football, Elinor Frost of South Haven Swimming, and Wesley Franzel of Howardsville Christian Soccer.
Catch Sydney's conversation with Phil McDonald below…
Podcast: Play in new window | Download | Embed
Subscribe: Apple Podcasts | Android | Email | Google Podcasts | Stitcher | Spotify | RSS | More