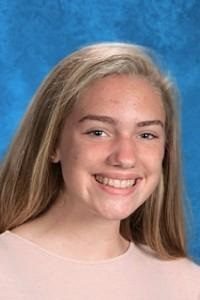 Marnie Frost of South Haven High School Cross Country is our WSJM Sports Van Buren/Cass Student Athlete of the Week for the week of October 21, 2018.
Marnie placed 14th overall at the Division 2 Regional Meet with a season best time of 20:32. With her performance, she qualified for a third trip to the MHSAA State Meet.
Marnie is also a member of the South Haven Track team, National Honor Society, Music Honor Society, Orchestra, and Student Council. In the classroom, she carries a 4.2 grade point average.
Marnie is the daughter of John and Carey Frost.
Another finalist for the week was MacKenzie Buck of Marcellus Volleyball.
Congratulations to Marnie Frost from 95.7 & 1400 WSJM Sports.