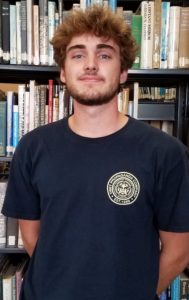 Luke Muvrin of Paw Paw High School Soccer is our WSJM Sports Van Buren/Cass Student Athlete of the Week for the week of September 6, 2020.
In the Red Wolves' 1-1 tie with Otsego, Luke faced 23 shots on goal and made 22 saves, including a diving one handed save late in the second half to preserve the tie. He then made 17 saves on 18 shots in a win over Niles.
Luke also serves as a Peer Assistant Leader and is a member of the Paw Paw Track team, National Honor Society, and Key Club. In the classroom, he carries a 3.68 grade point average.
Luke is the son of Joe and Jen Murvin of Paw Paw.
Other finalists for the week were Christian Johnson and Kendrick Brown of Paw Paw Tennis, and Hannah Richmond of Paw Paw Cross Country.
Catch Luke's conversation with Phil McDonald below…
Podcast: Play in new window | Download | Embed
Subscribe: Apple Podcasts | Google Podcasts | Spotify | Stitcher | Email | RSS | More