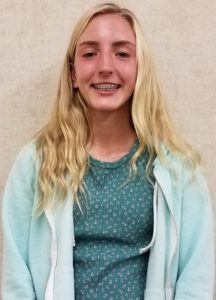 Kendra Koster of Lawton High School Cross Country is our WSJM Sports Van Buren/Cass Student Athlete of the Week for the week of September 13, 2020.
Kendra placed first at the Watervliet Quad with a time of 21:36. She followed that up with another first place finish at the Decatur Quad with a time of 20:51. Previous to these two meats, she also won the Lawrence Quad.
As a freshman, Kendra also intends on being a member of the Lawton Basketball, Track, and Soccer teams.
Kendra is the daughter of Steve and Julia Koster of Lawton.
Other finalists for the week were Josie Buchkowski of Lawton Volleyball and Wes Franzel of Howardsville Christian Soccer.
Catch Kendra's conversation with Phil McDonald below…
Podcast: Play in new window | Download | Embed
Subscribe: Apple Podcasts | Google Podcasts | Spotify | Stitcher | Email | RSS | More