Justin Gale of Decatur High School Basketball is our WSJM Sports Van Buren/Cass Student Athlete of the Week for the week of December 9, 2018.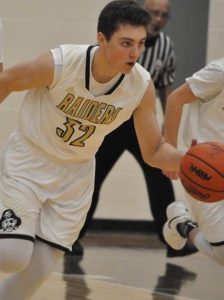 In the Raiders' win over Bangor, Justin turned in 17 points, six rebounds, two steals, and one blocked shot. Then in their win over Centreville, he scored 15 points to go along with seven rebounds and three steals.
Justin is also a member of the Decatur Baseball team and Environmental Club. In his spare time, he volunteers at challenge basketball camps helping children with disabilities learn about basketball. In the classroom, he carries a 4.01 grade point average.
Justin is the son of Scott and Sandra Gale of Decatur.
Another finalist for the week was Josue Pena of Decatur Wrestling.
Congratulations to Justin Gale from 95.7 & 1400 WSJM Sports.