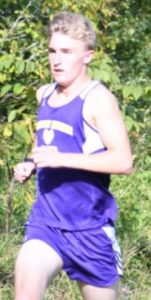 Joe Nelson of South Haven High School Cross Country is our WSJM Sports Van Buren/Cass Student Athlete of the Week for the weeks of August 12, 19, and 26, 2018.
Joe won his first ever high school cross country meet as the Rams defeated Three Rivers. He finished with a time of 19:00 which was 12 seconds faster than the second place finisher.
Joe is also a member of the South Haven soccer, swim, track, and robotics teams, Marching Band, Student Council, and Boy Scouts. In the classroom, he carries a 4.21 grade point average.
Another finalist for the week was Katie Schooley of South Haven Cross Country.
Joe is the son of Mike and Nancy Nelson.
Congratulations to Joe Nelson from 95.7 & 1400 WSJM Sports.