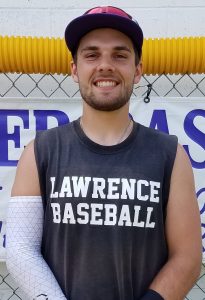 Ethan Payment of Lawrence High School Baseball is our WSJM Sports Van Buren/Cass Student Athlete of the Week for the week of May 19, 2019.
Ethan helped lead the Tigers to doubleheader sweeps of Watervliet and Marcellus. In game one against Watervliet, he delivered a game winning RBI single. He pitched three innings in game two in picking up the win on the mound. In the doubleheader against Marcellus, he was a combined 5-8 at the plate including three doubles, eight RBIs, and two stolen bases. He also picked up the win on the mound in game two.
Ethan is also a member of the Lawrence Football and Basketball teams, and National Honor Society. In the classroom, he carries a 3.85 grade point average.
Ethan is the son of Brad and Allison Payment.
Another finalist for the week was Libbee Nason of Gobles Softball.
Congratulations to Ethan Payment from 106.1 & 1400 WSJM Sports.