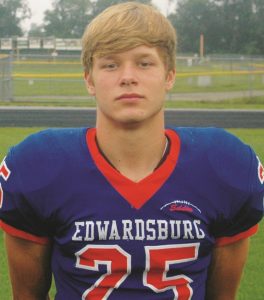 Caden Goggins of Edwardsburg High School Football is our WSJM Sports Van Buren/Cass Student Athlete of the Week for the week of September 23, 2018.
In the Eddies' 58-6 win over Plainwell, Caden rushed for 113 yards and two touchdowns on just seven carries. He wound up averaging just over 16 yards per carry on the night. He also caught a pass for 55 yards and returned a kick 85 yards for a touchdown. On defense, he recorded three tackles and forced a fumble.
Caden is also a member of the Edwardsburg Baseball team, National Honor Society, and SADD. In the classroom, he carries a 3.9 grade point average.
Other finalists for the week were Regan Rose of Decatur Volleyball, Grady Lycan of Lawton Soccer, and Caroline Meyer of South Haven Swimming.
Caden is the son of Kevin and Cher Goggins.
Congratulations to Caden Goggins from 95.7 & 1400 WSJM Sports.