Amy Steinkraus of Marcellus High School Track is our WSJM Sports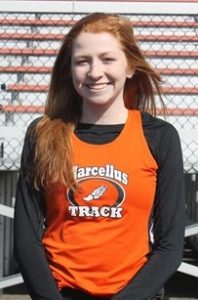 Van Buren/Cass Student Athlete of the Week for the week of May 13, 2018.
Amy helped lead the Wildcats' 1600 and 3200 Meter Relay teams to victories over Bloomingdale and Eau Claire. Later in the week, she once again led the 1600 and 3200 Meter Relay teams as they both captured Regional Championships. During the season, she also turned in first place finishes in the 800 and 1600 Meter Runs, and 800 Meter Relay.
Amy is also a member of the National Honor Society, Spanish National Honor Society, Marching Band, and Quiz Bowl team. In the classroom, she carries a 4.0 grade point average.
Amy is the daughter of Jeff and Wendy Steinkraus of Marcellus.
Other finalists for the week were Marshall Weber of Bangor Baseball and Jordyn Holland of South Haven Softball.
Congratulations to Amy Steinkraus from 95.7 & 1400 WSJM Sports.