Tyler Starbuck of Bloomingdale High School Basketball is our WSJM Sports Van Buren/Cass Student Athlete of the Week for the week of December 15, 2019.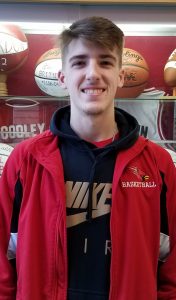 Tyler scored a school record 47 points in the Cardinals' win over Hartford. He also added two assists, seven rebounds, and eight steals. He followed that up with 28 points, two assists, five rebounds, six steals, and a blocked shot in a win over Mendon.
Tyler is also a member of the baseball team and an All-Conference and All-Regional member of the cross country team, and the National Honor Society. In the classroom, he carries a 3.99 grade point average.
Tyler is the son of Aaron and Amy Starbuck of Grand Junction.
Catch Tyler's conversation with Phil McDonald below…
Podcast: Play in new window | Download | Embed
Subscribe: Apple Podcasts | Google Podcasts | Spotify | Stitcher | Email | RSS | More