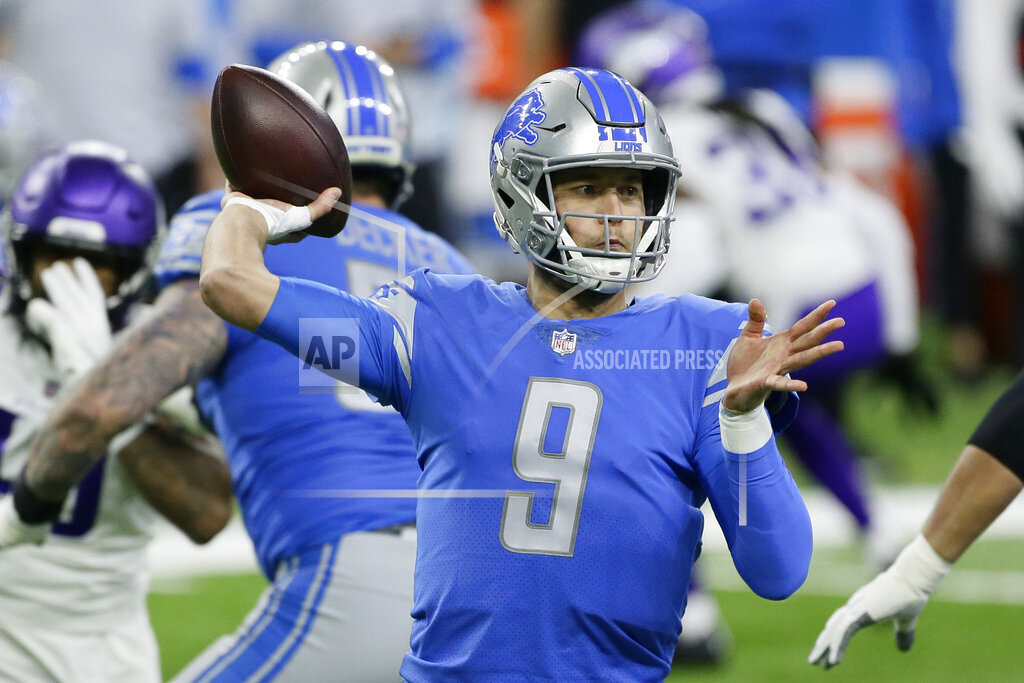 NFL – Lions entering their biggest rebuild since drafting Stafford
The previous time the Detroit Lions went into an offseason with a rebuilding project this large they drafted Matthew Stafford with the No. 1 overall pick in 2009. Detroit's new general manager and coach will have to decide if Stafford is part of their plans for a franchise in desperate need of major changes after losing 33 games in three seasons. Stafford has two years left on his $135 million, five-year deal. The new leaders of the Lions may opt to reshape the roster by trading him to acquire draft picks. And Stafford may simply say he's ready to move on.
NFL – Chargers' Lynn, Jags' Marrone get the boot
'Tis the season to be firing NFL head coaches. Two more were shown the door on Monday after the New York Jets said goodbye to Adam Gase. The Chargers have fired head coach Anthony Lynn after four years and a 33-31 record in regular-season games. The Chargers went 21-11 with one playoff appearance in their first two seasons under Lynn, but that was followed by consecutive losing campaigns. Los Angeles won its last four games this season to end up 7-9.  Jaguars head coach Doug Marrone has been dismissed, a little more than 12 hours after ending the season with a 15th consecutive loss. Marrone went 24-43 in four seasons with the Jaguars, falling a few plays shy of the team's first Super Bowl in 2017. Jacksonville has dropped 21 of Marrone's final 24 games, including 15 by double digits.   Three teams fired their coaches earlier this season, Detroit, Atlanta, and Houston will also be looking for new coaches.
NFL – NFL sets order for non-playoff teams to draft in April
The NFL confirmed the order for next April's draft picks for the 18 non-playoff qualifiers with tiebreakers determined by the ease of a team's schedule. Jacksonville (1-15), which won its opener and lost its next 15 games, has the top selection, which it clinched in Week 16. The Jaguars, who fired coach Doug Marrone on Monday and previously let go general manager Dave Caldwell, are expected to take Clemson quarterback Trevor Lawrence.  The New York Jets (2-14) were the only two-win team and will go second in the April 29-May 1 draft scheduled to occur in Cleveland.  The Lions will pick 7th.
NBA – National Basketball Association
Last Night
Milwaukee Bucks 125, Detroit Pistons 115
Indiana Pacers 118, New Orleans Pelicans 116 – OT
Bucks 125, Pistons 115 – Giannis scores 43 as Bucks beat Pistons 125-115
Giannis Antetokounmpo scored 43 points and the Milwaukee Bucks defeated the Detroit Pistons 125-115 to move above the .500 mark for the first time this season. The reigning two-time MVP scored 30 points by halftime, shot 17 of 24 from the floor overall and finished with nine rebounds. The Bucks have won their last eight regular-season meetings with the Pistons, which represents the longest streak for either team in the history of the series. Detroit played without two of its top three scorers in Blake Griffin and Josh Jackson. Jerami Grant and Derrick Rose led the Pistons with 24 points each.
Pacers 118, Pelicans 116 – OT – Brogdon hits OT winner as Pacers top Pelicans 118-116
Malcolm Brogdon capped a 21-point, 11-assist performance by hitting a one-handed floater with 1.7 seconds left in overtime, and the Indiana Pacers beat the New Orleans Pelicans 118-116. Victor Oladipo scored 25 points for Indiana. He hit a 29-foot 3-pointer and followed that up with a steal from Lonzo Ball to spark a six-point comeback in the final 20 seconds of regulation. Myles Turner made the game-tying 3 with 8.2 seconds left in regulation and had 17 points and three blocks. Brandon Ingram scored 31 points and Zion Williamson added 24 points and 10 rebounds for New Orleans.
Tonight
Chicago Bulls at Portland Trailblazers, 10:30 p.m.
NBA – NBA takes tougher stance on masks
The NBA is adopting a tougher policy regarding masks. The league has told teams Monday players on the active roster will have to wear the face coverings in the bench area until they enter games.  That memo was obtained by The Associated Press and was released on the same day the Brooklyn Nets ruled All-Star forward Kevin Durant out for Tuesday's game against Utah in accordance with the league's health and safety protocols for dealing with coronavirus. Beginning Tuesday, players who are dressed for games and eligible to participate must wear a face mask until they enter the game. All players and coaches must wear face masks when outside the team environment if they are around other players and coaches. Players must report the names of any private trainer, therapist, chiropractor or other specialist who they work with outside of the team facility.
NCAAMBB – Men's College Basketball
Tonight
Central Michigan at Bowling Green, 6:00 p.m.
Akron at Eastern Michigan, 7:00 p.m.
Western Michigan at Ball State, 7:00 p.m.
(15) Rutgers at (23) Michigan State, 9:00 p.m.                  Superhits 103.7 Cosy-FM 8:00
NCAAMBB – Indiana will host all tournament games
Indiana will host all 67 games of the upcoming NCAA men's basketball tournament. Games will be played on two courts inside Lucas Oil Stadium with only game at a time being played. Iconic Hinkle Fieldhouse will be among the venues, along with Bankers Life Fieldhouse, Indiana Farmers Coliseum, Mackey Arena at Purdue and Assembly Hall in Bloomington. Championship weekend is still scheduled for April 3 and April 5. Preliminary round dates have not yet been determined.
NCAAFB – Ohio State coach Day expects QB Fields to play vs Alabama
Ohio State coach Ryan Day says he expects Justin Fields to play in the College Football Playoff national championship game against Alabama after the quarterback was banged up during the semifinals. Day declined to give specifics of Fields' injury. The junior took a hard hit to his right side from Clemson linebacker James Skalski in the Sugar Bowl on Saturday. Fields missed only one play and finished with six touchdown passes in Ohio State's 49-28 victory. Fields later said he was aching the whole game after the hit and he had received a shot to from medical staff to deal with the pain.
NHL – No word on Toews as Blackhawks begin on-ice practices
The Chicago Blackhawks held their first on-ice practice of training camp. A number of familiar faces were not there. Goaltender Corey Crawford signed with New Jersey in free agency and Brandon Saad was traded to Colorado in October. Defenseman Brent Seabrook and forward prospect Pius Suter were absent. Also missing was captain Jonathan Toews, who announced last week that he would be away from the team while he dealt with an unspecified illness. The Blackhawks open the season Jan. 13 at defending Stanley Cup champion Tampa Bay.
AHL – American Hockey League
The American Hockey League announced the framework on how the league will proceed for the 2021 regular season.   Three of the league's teams have opted to not play this season leaving 28 of the 31 clubs.  The Charlotte Checkers, Milwaukee Admirals, and Springfield Thunderbirds are the three teams to opt out but, will return for the 2021-22 season.   Four teams will be temporarily relocating to be closer to their NHL parent club.  The league is scheduled to begin the season on February 5th with 5 divisions, including a 4 team Canadian Division, however those are dependent on provincial health departments allowing them to play.  The league also has not announced any details about a league schedule, playoff format, or if fans will be allowed in the arenas.  Grand Rapids will be in the AHL's Central Division with Chicago, Cleveland, Iowa, Rockford, and Texas.
NCAAHKY – College Hockey
Last Night
Michigan State 5, Penn State 1