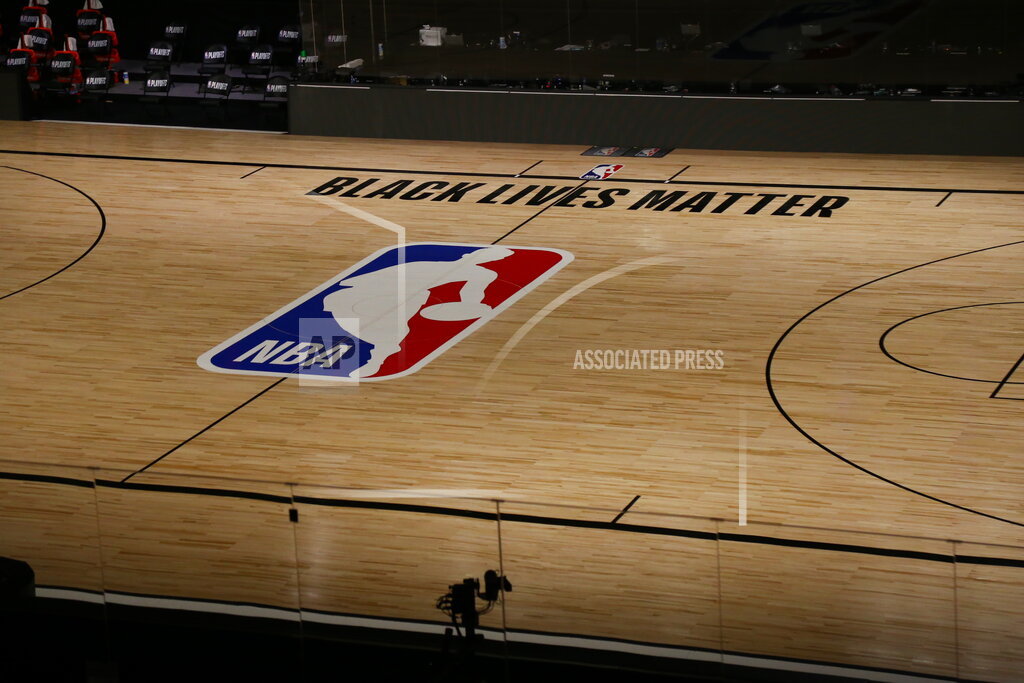 NBA
Playoff games called off amid player protest
Three NBA games were expected to be played on Wednesday. The players thought otherwise. The games were postponed as players around the league chose to boycott in their strongest statement yet against racial injustice. The dramatic series of moves began when the Milwaukee Bucks declined to take the court against Orlando in the early game. The state of Wisconsin has been rocked in recent days by the shooting by police officers of Jacob Blake, a Black man. Players had been discussing boycotting games in the bubble after the shooting of Blake by police in Kenosha, Wisconsin. The Rockets and Thunder were slated to play, as were the Lakers against the Trail Blazers. The NBA said all three games would be rescheduled, yet did not say when.  The WNBA followed suit by postponing its Wednesday games. Five of the six scheduled MLS games were postponed, as were three Major League Baseball games.
Pacers fire head coach Nate McMillan
The Indiana Pacers have fired coach Nate McMillan two weeks after announcing he would keep the job for two more years. Team officials made the announcement less than 48 hours after the Pacers suffered their second straight sweep in the first round of the playoffs. McMillan went 183-136 in four seasons with the Pacers, going to the playoffs each season. But Indiana never reached the second round and endured the first three four-game sweeps in the franchise's NBA history. McMillan was just 3-16 with Indiana in the postseason.
Major League Baseball
Last Night
Tigers 7, Cubs 6
White Sox 10, Pittsburgh 3
Tigers 7, Cubs 6 
Niko Goodrum hit a two-run double to cap Detroit's five-run sixth inning, and the Tigers rallied past the Chicago Cubs 7-6. Three major league games were postponed Wednesday as players reacted to the weekend shooting by police of Jacob Blake, a Black man, in Wisconsin. The Tigers and Cubs played on, but Chicago outfielder Jason Heyward was scratched from the lineup prior to the game. The Cubs said Heyward talked with manager David Ross and decided not to play. Kyle Schwarber homered for the Cubs, who led 3-1 before imploding in a sloppy sixth inning.
White Sox 10, Pirates 3 
José Abreu hit his seventh homer in five games, Dallas Keuchel pitched six dominant innings, and the surging Chicago White Sox pounded the Pittsburgh Pirates 10-3 for their ninth win in 10 games. Abreu's 12th home run was Chicago's fourth of the game and broke it open. Eloy Jiménez, Danny Mendick and Edwin Encarnacion also homered for Chicago, which leads the AL with 60 home runs. Keuchel (5-2) allowed two runs on four hits and struck out seven in his third straight win. Trevor Williams (1-5) took the loss and Jacob Stallings had a two-run single and Erik González hit a solo homer for Pittsburgh.
Tonight
Minnesota at Tigers, 7:10 – on 94.9 WSJM
Cubs and White Sox are off
NFL 
Bears running back David Montgomery limped off the field at practice Wednesday after injuring his groin when making a cut on a running play. Montgomery, a second-year pro who is expected to carry much of the load in the running game, went down in a non-contact drill. After he took a handoff from Mitch Trubisky and ran to his left, Montgomery fell as he cut.  He later was carted to Halas Hall to be examined by the medical staff. Coach Matt Nagy said it was uncertain how severe the injury is.
NHL Stanley Cup Playoffs – Round 2 (Best of 7)
Last Night
Philadelphia 4, NY Islanders 3 – OT  (Series tied 1-1)
Tampa Bay 7, Boston 1  (TBL leads 2-1)
Colorado 6, Dallas 4  (DAL leads 2-1)
Tonight
NY Islanders vs. Philadelphia, 7:00  (Series tied 1-1)
Vegas vs. Vancouver, 9:45  (Series tied 1-1)
NHL 
NHL players are discussing options to protest racial injustice after the NBA and other professional sports leagues postponed games, according to a person with knowledge of those talks. The subject rose to the forefront as multiple leagues called off games and two prominent Black NHL players expressed frustration that the predominantly white league went ahead Wednesday with two games preceded by moments of reflection. Minnesota's Matt Dumba and San Jose's Evander Kane, founding members of the Hockey Diversity Alliance, criticized the NHL for going ahead with games while every NBA playoff game, plus three in Major League Baseball and others in Major League Soccer and the WNBA, were postponed.
The NHL has stripped the Arizona Coyotes of their 2020 second-round pick and 2021 first-round pick for violating the scouting combine policy by conducting physical tests of draft-eligible players. Commissioner Gary Bettman determined the organization broke the rules by physically testing prospects outside of the combine. Bettman decided to use his powers to take away draft picks rather than impose a fine of $250,000 or more "given the specific circumstances of this case." The league opted not to discipline any individual members of the organization involved in the situation because Bettman believes it was gross negligence rather than intentional wrongdoing.
NCAA Football 
The weekly college football poll published by USA Today will be run differently this year because of the pandemic. The Big Ten, Pac-12, Mid-American, Mountain West and other schools are not playing this fall. That means those teams will not be eligible for the coaches' poll once the season begins. The decision echoes that of The Associated Press for its Top 25. The number of coaches voting will also be reduced from 65 to 42.
Golf – Champions 
Phil Mickelson closed with a 5-under 66 to reach 22 under, leaving him three shots clear of Tim Petrovic and giving him a wire-to-wire win in his debut on the PGA Tour Champions. Mickelson became the 20th player to win on the 50-and-over tour in his first start. He also earned some much-needed confidence after a missed cut at The Northern Trust knocked him from the FedEx Cup Playoffs. Mickelson is trying to fine-tune his game for the U.S. Open.
Tennis – US Open 
Former U.S. Open runner-up Kei Nishikori said he tested negative for COVID-19 after having two positive tests but still decided to withdraw from the Grand Slam tournament that begins next week. Nishikori wrote Wednesday on his mobile app that he is ready to "slowly" return to practice but added he isn't not prepared to compete in best-of-five-set matches.
Cycling 
The Tour de France sets off shrouded in uncertainty and riding in the face of the coronavirus pandemic and mounting infections in France. Failure to safely steer the Tour to the finish on the cobbles of Paris' Champs-Elysées avenue on September 20 could cast further doubt on the feasibility of holding other sporting mega-events. Amid the pandemic, the usually boisterous celebration of cycling that for decades has drawn densely packed throngs of cheering roadside spectators promises to be strange and more subdued. The 176 riders are expected to be largely sealed off from the outside world except while out on the roads.
High School Sports
Yesterday
Cross Country (low score wins)
Boys
Bridgman      30
Watervliet   34
Eau Claire    69
Top 10 Finishers
1          Luke Blesy                      Bridgman           18:23.2
2          German Casiano              Watervliet         19:32.2
3          Ezra Troyer                    Watervliet         19:50.2
4          John Sanderson              Bridgman           19:59.6
5          Camdon Geisler               Watervliet         20:10.2
6          Edward Lopez                 Eau Claire          20:17.7
7          Nathan Blied                  Bridgman           20:37.9
8          Jayce Warren                  Bridgman           20:45.5
9          Adam Blankenship             Eau Claire          20:55.7
10         AJ Hackett                     Bridgman           20:59.7

Girls
Bridgman      16
Watervliet   48
Top 10 Finishers
1          Karsyn Stewart  Bridgman           22:22.9
2          Arie Hackett       Bridgman           23:21.7
3          Summer Fast       Bridgman           23:53.5
4          Jane Kaspar        Bridgman           25:26.1
5          Morgan Lowell    Watervliet         26:17.3
6          Khloe Davis        Bridgman           26:53.9
7          Gracie Tate        Bridgman           26:56.0
8          Aria Richards     Watervliet         29:54.9
9          Abby Lomoro       Watervliet         30:33.0
10         Megan Trapp       Watervliet         30:34.3
Boys Tennis
Portage Northern 7, Lakeshore 1
Portage Central 6, Mattawan 2
Today
Girls Golf
SMAC at Stonehenge North, 9:00 a.m.
Niles at Edwardsburg, 9:30 a.m.
Boys Tennis
Buchanan, Brandywine, Harper Creek at Niles, 9:30 a.m.