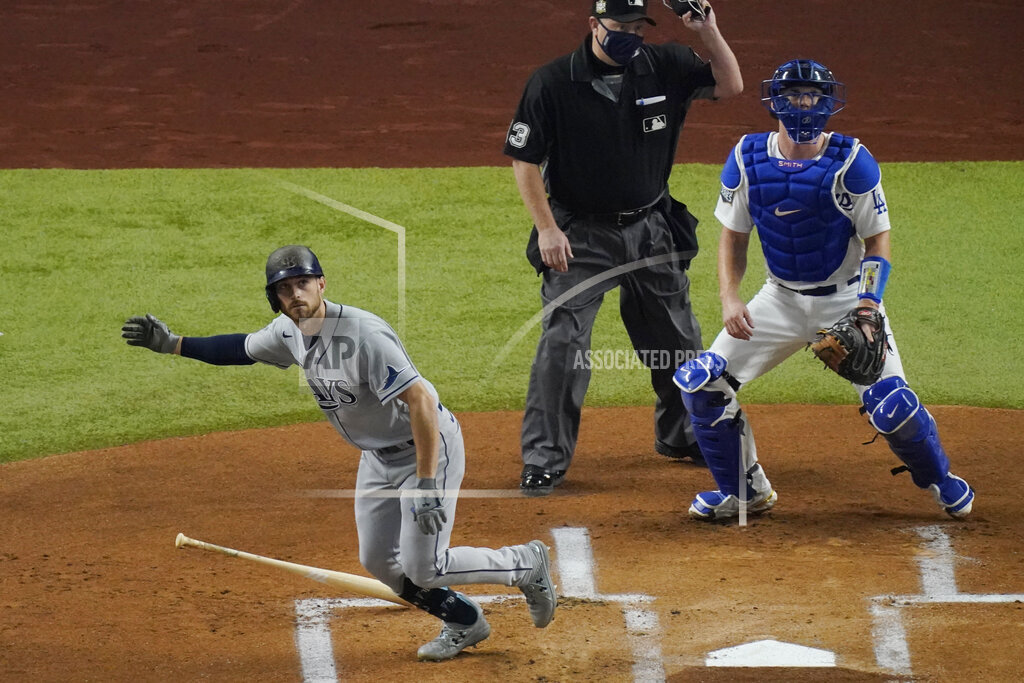 MLB – MLB Postseason – World Series (Best of 7)
Last Night
2020 World Series – Globe Life Park, Arlington, Texas
Tampa Bay Rays 6, Los Angeles Dodgers 4                                             (Series tied 1-1)
Rays 6, Dodgers 4 – Rays square series
The World Series is tied at a game apiece after Brandon Lowe broke out of a three-week slump.  Lowe homered twice and had three RBIs as the Rays downed the Dodgers, 6-4. He put the Rays ahead with a first-inning blast and added a two-run shot that made it 5-0 in the fifth. Lowe was hitting just .107 this postseason, including an 0-for-4 performance in Game 1. Joey Wendle laced a two-run double and a sacrifice fly for Tampa Bay, which bounced back from Tuesday's 8-3 loss. Rays starting pitcher Blake Snell had a no-hitter until Chris Taylor unloaded a two-out, two-run homer in the bottom of the fifth. Snell followed that with a walk and another hit before leaving the game without a chance to pick up the victory. Will Smith hit a solo homer in the sixth and Corey Seager did likewise in the eighth before the Rays' bullpen closed it out. Diego Castillo struck out the only batter he faced to pick up the save. Tony Gonsolin took the loss. The series continues Friday.
NFL – National Football League – Week 7
Tonight
New York Giants at Philadelphia Eagles, 8:20 p.m.             News/Talk/Sports 94.9 WSJM 8:00
NFL – NFC "Least" leader could come out of Giants-Eagles game
It's so fitting to call the NFC East the NFC Least this season. Just adding an L to the division makes sense: Dallas, Washington, Philadelphia and the New York Giants have been collecting losses. On Thursday night, the nation will be treated to (subjected to?) Giants at Eagles. In some ways, it is a potential battle for first place in the NFL's worst division. With the Cowboys and Washington going at it on Sunday, the winner at the Linc has a shot at the top spot should Dallas lose.
NFL – Lions put Julian Okwara on IR, sign CB Chris Jones
The Detroit Lions put rookie defensive end Julian Okwara on injured reserve and signed free agent cornerback Chris Jones. Okwara limped off the field with a leg injury in Sunday's victory at Jacksonville. The Lions also announced Wednesday that defensive end Austin Bryant, currently on the reserve/physically unable to perform list, was returning to practice. Detroit signed tackle Dan Skipper and tight end Matt Sokol to the practice squad and released punter Arryn Siposs from the practice squad. The Lions play at Atlanta on Sunday.
NFL – Buffalo Bills apply to trademark fan base's Mafia nickname
The Mafia is becoming legitimate in Buffalo — the Bills Mafia that is. The NFL team last week filed an application to trademark its fan base's adopted nickname in preparation to launch a series of branded merchandise and apparel available at its store and sold online. The nickname first became popular in 2011 and for years was considered taboo by the Bills and NFL because of its connotation of organized crime. Now, the phrase will be featured on everything from T-shirts to potentially pajamas, and available as early as this week.
NBA – Stan Van Gundy agrees to become New Orleans Pelicans' coach
Stan Van Gundy has agreed to become the next coach of the New Orleans Pelicans, where he'll get the chance to work with 2019 No. 1 overall draft pick Zion Williamson. Van Gundy agreed to a four-year contract, said to a person who spoke Wednesday to The Associated Press on condition of anonymity because the contract terms have not been formally announced.  Van Gundy spent parts of 12 seasons coaching Miami, Orlando and Detroit, winning 58% of his games and going to the playoffs eight times.
NCAA Football – Crunch time for Harbaugh and Wolverines
The game of the week in the Big Ten has No. 18 Michigan at No. 21 Minnesota on Saturday. The Wolverines' last four seasons have ended with consecutive losses and fans are getting antsy as Jim Harbaugh enters his sixth year. Michigan is breaking in a new quarterback, presumably Joe Milton, in the Little Brown Jug game. Iowa will have a new quarterback for the first time in four years, with Spencer Petras making his starting debut on the road against Purdue. No. 5 Ohio State is a 26-point favorite for its home game against Nebraska.
NCAA Football – LSU working with NCAA to self-impose penalties for football
LSU has self-imposed penalties for NCAA rules violations by the football program that include a reduction of scholarships and a two-year ban from its athletic facilities for Cleveland Browns star and former Tigers receiver Odell Beckham Jr., according to a report by Sports Illustrated. LSU acknowledged it was working the NCAA and had self-imposed penalties, but provided no other details. The violation involving Beckham, who was seen handing out cash to LSU players on the field after last year's College Football Playoff national championship game, is considered minor. A more serious violation involves an LSU booster paying $180,000 that was embezzled from a charity to the father of a former LSU football player.
NCAA – Merritt Norvell, first Black AD at Michigan State, has died
Merritt Norvell Jr., the first Black athletic director at Michigan State, has died. He was 79. A spokesman at the University of Nevada confirmed Wednesday that football coach Jay Norvell, who is Merritt Norvell's son, took some time away from the team because of his father's death. He left Reno on Monday to go to Michigan and was expected back either Wednesday night or Thursday morning. Norvell was appointed to Michigan State's AD spot in 1995 and served until 1999. Michigan State reached the Final Four in volleyball, hockey and men's basketball during his tenure. Norvell graduated Wisconsin in 1963 after playing on the team that reached that year's Rose Bowl.
NCAA Basketball – Penn State coach Pat Chambers resigns after investigation
Pat Chambers resigned as Penn State's basketball coach Wednesday following an internal investigation by the school into allegations of inappropriate conduct. The 49-year-old Chambers had been at the school for nine years and was coming off the team's best season under his directions. Penn State athletic director Sandy Barbour said in a statement that assistant coach Jim Ferry was being elevated to interim coach for the coming season. NCAA basketball season starts Nov. 25.
Golf – Former Masters champ Scott tests positive for coronavirus
Former Masters champion Adam Scott has tested positive for the coronavirus and has pulled out of the Zozo Championship at Sherwood. Scott is the second high-profile golfer to test positive in as many weeks. World No. 1 Dustin Johnson tested positive last week in Las Vegas.
NASCAR – Jones lands iconic No. 43 with RPM
Richard Petty Motorsports will enter the next chapter of its storied history with driver Erik Jones. The pairing gives Petty a proven winner to replace Bubba Wallace, who is leaving at the end of the season. His departure could have crippled the cash-strapped Petty organization, but the team instead landed one of the top available talents. Jones was dropped by megateam Joe Gibbs Racing in August after six seasons.
MHSAA – High School Sports
Yesterday
Girls Volleyball
Lakeshore 3, Kalamazoo Loy Norrix 0
St. Joseph 3, Kalamazoo Central 2
Michigan Lutheran 3, Eau Claire 0
New Buffalo 3, Countryside 0
Berrien Springs 3, Buchanan 0
Mattawan 3, Battle Creek Lakeview 0
Gull Lake 3, Portage Central 0
Portage Northern 3, Battle Creek Central 0
Schoolcraft 3, Constantine 0
Boys Soccer – District Semifinals
Division 4 at Kalamazoo Christian
Kalamazoo Hackett 9, B.C. Calhoun Christian 1
Kalamazoo Christian 8, Vermontville Maple Valley 0
Cross Country – Pre Regionals
Division 4 at Decatur
Decatur, Cassopolis, Eau Claire, Lawrence, Marcellus, Howardsville Christian, Watervliet Grace Christian, White Pigeon.
Boys Team Results

Boys Top 10

Girls Top 10

1.Lawrence 31
2.Cassopolis 37
3.Eau Claire 75
4.Marcellus 84

1 Isaiah Beiter Lawrence 17:34.6
2 Charlie DeGraves Lawrence 18:33.3
3 Robert Ward Cassopolis 18:38.6
4 Brody Amthor Lawrence 18:46.6
5 Joel Chandler Grace Christian 18:53.2
6 Cole Millirans Cassopolis 18:56.0
7 Edward Lopez Eau Claire 19:13.0
8 William Westphal Cassopolis 19:19.2
9 Adam Blankenship Eau Claire 19:26.2
10 Cordell Jones-McNally Marcellus 19:57.4

1 Ericka Lopez Eau Claire 21:03.9
2 Lauren Anderson Cassopolis 21:22.8
3 Addie Curtis Marcellus 22:31.7
4 Madeline Madsen Lawrence 22:39.3
5 Breanna Franks Decatur 23:27.8
6 Alexis Millirans Cassopolis 24:19.5
7 Clare Flory Marcellus 25:31.6
8 Ellie Pachay Marcellus 25:32.8
9 Naomi Norris Lawrence 26:10.9
10 Jian Toy Lawrence 26:51.0

Girls Team Results

1. Marcellus 25
2. Lawrence 30
Today
Boys Soccer – District Championship
Division 2 at Vicksburg
St. Joseph vs. Three Rivers, 6:00 p.m.
Division 2 at Gull Lake (Hosted by Hastings)
Plainwell vs. Gull Lake, 5:00 p.m.
Division 3 at Brandywine
Dowagiac vs. South Haven, 5:00 p.m.
Division 4 at Bloomingdale
Bloomingdale vs. Bangor, 7:00 p.m.
Girls Volleyball
Watervliet at Coloma, 6:30 p.m.
Delton-Kellogg at Fennville, 6:30 p.m.
Gobles at Lawton, 6:30 p.m.
Martin at Saugatuck, 6:30 p.m.
Mattawan at Schoolcraft, 5:00 p.m.
Dowagiac at Constantine, 5:30 p.m.
Paw Paw at Edwardsburg, 6:00 p.m.
Plainwell at Sturgis, 6:00 p.m.
Allegan at Three Rivers, 6:00 p.m.
Otsego at Vicksburg, 6:00 p.m.
New Buffalo at Colon, 6:00 p.m.
Howardsville Christian at Lawrence, 5:00 p.m.
Girls Swimming and Diving
Mattawan at Kalamazoo Central, 6:00 p.m.