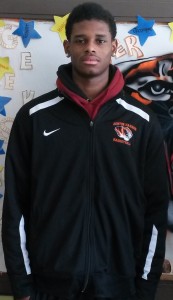 Malik Hall of Benton Harbor High School Basketball is Berrien County's Student Athlete of the Week for the week of February 1, 2015. In the Tigers' win over Muskegon Heights, Malik finished with 13 points, 17 rebounds, six blocked shots, four steals, and three charges taken. Then in a win over Portage Central, he turned in another double-double with 21 points and 16 rebounds to go along with four blocked shots and three charges taken.
Malik is also a member of the Tiger Football and Track teams, and is involved with the Boys and Girls Club and J.A.G. In the classroom, he carries a 3.3 grade point average.
Malik is the son of Sharon Daigle of Benton Harbor.
Another finalist for the week was Brad Dalrymple of St. Joseph Swimming.